Another Lost Opportunity
An essay by Husain Abdulla, director of Americans for Democracy and Human Rights in Bahrain, for Bahrain Observer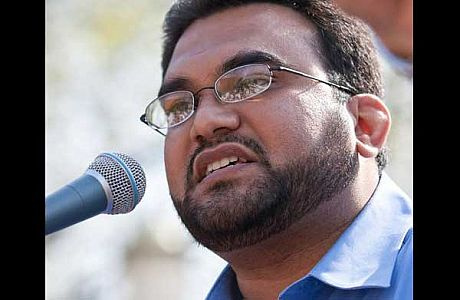 The Government of Bahrain is no stranger to accusations of human rights abuses. From the initial crackdown on protesters that saw detainees tortured and 46 protesters killed, to the wrongful termination of more than 4,000 employees who participated in protests, the struggle for freedom of expression is ongoing. In recent months, human rights defenders have come under renewed attack; Bahrainis have been sentenced to prisons for writing so-called "defamatory" Tweets about the king and 31 Bahraini citizens have had their citizenship revoked.
On January 7, an appeals court in Bahrain upheld prison sentences for the "Bahrain Thirteen," a group of opposition leaders and human rights activists convicted by a special military court in 2011 of plotting to overthrow the government after participating in protests that broke out in early 2011.
The recent unrest in Bahrain began with mass protests on February 14, 2011, calling for political, economic and social reform. Peaceful protesters were met with a brutal government crackdown. A state of emergency was declared a month into the protests, granting broad authority to security personal to repress protests, sometimes violently. Arrests and detentions rose, doctors who attempted to treat wounded protesters were persecuted, detained protesters alleged that they were subject to torture, and hundreds of activists were subject to unfair trials before pseudo-military courts.  
Faced with considerable pressure from the international community, King Hamad bin Isa al-Khalifa established the Bahrain Independent Commission of Inquiry (BICI) by royal decree on July 1, 2011. Tasked with investigating the causes of the protests and identifying reforms that would ensure that such protests never recur in November 2011, the Commission published a report containing 26 key recommendations for the Government of Bahrain to address the concerns of protesters and to heal the division between the government and opposition. Unfortunately, more than one year since the BICI released its report; most of its recommendations have yet to be fully implemented. Indeed, according to ADHRB's own analysis, only one recommendation had been fully implemented as of the one-year anniversary of the BICI report in November 2012.
The situation in Bahrain has worsened in recent months, as pledges by the government to implement reforms appear to have been neglected, and attacks against protesters and arrests of activists continue to occur. Bahrainis are still being arrested for "defaming" the king, "spreading false rumors," "inciting violence," and other spurious charges. Likewise, many opposition leaders and human rights activists arrested in connection with protests have yet to be released.
The widely-prevailing attitude among many in the human rights field is that the Government of Bahrain simply cannot be taken seriously when it pledges to implement reforms and engage in dialogue. The recent appeals court verdict is yet another demonstration of the Government of Bahrain's insouciance toward making any real and lasting changes. Paramount to its stance is the silence with which Bahrain's human rights violations have been met by the international community in recent months, particularly the United States and the United Kingdom.
Bahrain is also home to the United States' Navy's Fifth Fleet, which conducts regular patrols along regional shipping lanes, monitors the situation in Iran, and assists with missions in Iraq and Afghanistan. The United States considers Bahrain an ally in the region and a partner in a volatile region.
Even with the NGO community bringing Bahrain's egregious human rights record to the mainstream media, Bahrain shows no intention of engaging in meaningful dialogue or taking the opposition's concerns seriously. The window of opportunity for resolving the conflict is dwindling, and without a firmer stance from the international community, a peaceful resolution will be very difficult, if not impossible, to obtain.
Initially posted on www.bahrainobserver.com on Tuesday, January 8th, 2013