Don't Make Us Look Ridiculous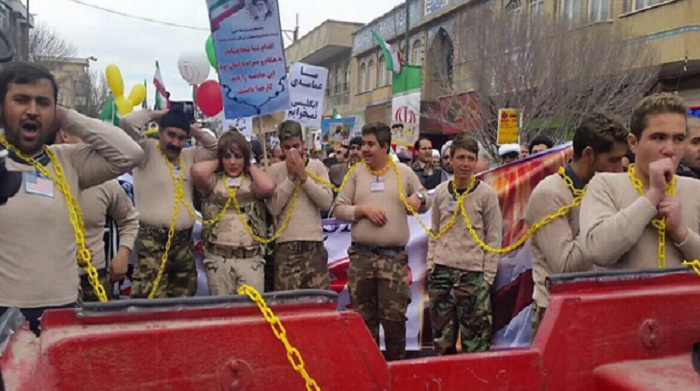 During the Islamic Revolution anniversary celebrations held on Thursday, a group of demonstrators in the holy city of Qom reenacted the capturing of ten US sailors around Farsi island by the IRGC navy forces, last month. This has sparked reactions inside and outside Iran.
"Playing to the crowd, teenagers were seen on their knees with guns being pointed to their heads. Earlier in the procession, the group of 'captives' wearing the U.S. Presidential Seal on camosuits were dragged in front of the crowds with sacks over their heads," a Daily Mail report on the episode reads. The gesture came a day after Iran's state TV broadcast footage of the captive Americans in tears.
US officials have repeatedly called the move 'disgusting propaganda'. In an extensive statement Wednesday, Cmdr. Kevin Stephens, spokesman for Naval Forces Central Command, said the Iranians should have escorted the riverines into international waters and offered assistance for mechanical issues, if necessary.
"Professional mariners understand that it is a duty and obligation to assist other mariners who suffer mechanical problems or who find themselves off track at sea," Stephens said, according to Navy Times. "We are grateful diplomacy worked at the end of the day, but it would never have come to that had the Iranian maritime forces involved behaved professionally and responsibly," Fox News quoted him as saying.
Many Iranians took to social media in reactions. As some social media are blocked in Iran, the reactions are not broadly representative of views inside the country.
"What a cheap, ugly and ridiculous move!" one Iranian said on Twitter, as quoted by BBC. "What are they trying to prove by this ridiculous show," one user added on Facebook. "Even if Iran and America are at war against each other, which they are not, what kind of messages are these kinds of cheap acts trying to convey to the American people, who like us, love their soldiers?"
"Let's not mix them up. The capture of US sailors was a very good thing but showing them in tears was unfair at least for us who claim to be Muslims," wrote a user on Twitter.
"I wish no one in the world could see the reenactment of the US sailors' capture or at least that I wasn't an Iranian," wrote an embarrassed Iranian.
One thing that received widespread attention was a curious turn of fate for cross-dressing in Iran. 20 years ago, people in Qom sat in strike protesting a movie starring Akbar Abdi that featured cross-dressing. Now, a teenager in Qom has worn makeup and dyed his hair to look like the American woman sailor, perhaps the most controversial of all the impersonations.
"Cross-dressing of Akbar Abdi (famous Iranian comedian) sparked a strike in Qom. Cross-dressing in Bahman 22 demos prompts selfies", tweeted an Iranian.
Others are comparing the recent episode with a similar one with the roles reversed. U.S. sailors rescued 13 of the Middle Eastern country's sailors from a hijacked fishing boat, in January 2012. Several viral telegram messages are comparing the two episodes slamming the propaganda over the latter.
Public reactions on social media vary widely ranging from ardent defense to hate comments. The stereotypical Iranian reaction however is to poke fun at such occasions.
Here are a few funny responses:
*It is a double standard that we had an appropriate response when US sailors were captured but we share footage of them crying a day before the Bahman 22 demos.
*US Navy Commander said they are ready to swap the real woman sailor with the fake one in Iran.
*Why is the Iranian officer who was sitting between them not included in the enactment?? They are distorting history!! That's not right!!
*Some of the simulated sailors were blond-haired. How come they brought the thick-mustached guy?
*Next time, US sailors will fight to the death and die to avoid being impersonated.
*This sailors episode is not enough to be proud of. I only feel proud of being Iranian when they occupy embassies and set them on fire.
*Now you're making fun of the guy playing the woman sailor, but some years later, you suddenly see him turned into the biggest importer of Maseratis.
*I'd like to ask US sailors to be more careful when crossing our water borders. If you don't care about your own face, think about ours.
*The makeup was still better than that of Kimia (a popular TV series).
*Every year, during the Bahman 22 demos, they do stunts to humiliate the US in a way that ends up with embarrassment for Iranians.
*I can't believe some of the gestures. If the sailors were Afghan, nobody could care less.
*We aren't saying you shouldn't mock Americans. What we are saying is don't do something that makes us look ridiculous. Now, if one sees this, they won't laugh at the US, they say look at these …