Vetting Time for Sanction Years: Why was Yasin Ramin detained by the judiciary?
Son of an ultraconservative politician and husband of a Reformist celebrity has been taken into custody for murky business conduct during the sanctions.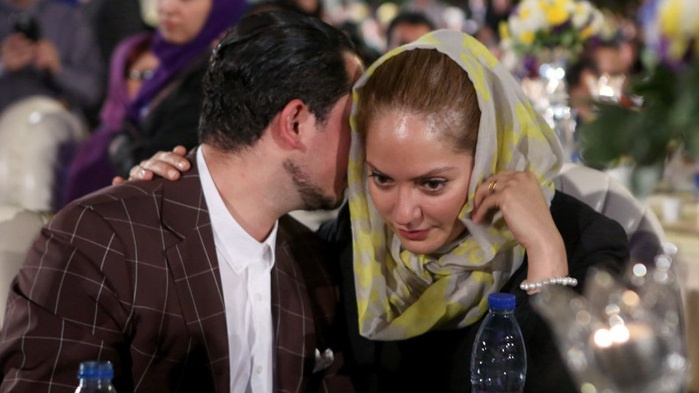 (Picture: Yasin Ramin (L) and his wife, cinema celebrity Mahnaz Afshar, in National Day of Cinema fete, September, 2015).
When he came to power in mid-2013, as part of his main agenda to end the decade-long conflict over Iran's nuclear program, Hassan Rouhani added a new phrase to Iran's political jargon: kaseban-e tahrim, "sanction beneficiaries". The label was used against opponents of a nuclear deal between Iran the West, accusing them of having vested economic interests in prolongation of the stringent sanctions against Iran that had cut off its fiscal transactions with the world, set a limit its oil exports -a vital source of income, stonewalled procurement of strategic commodities, and inevitably led to emergence of a group of middlemen who helped bypass the restrictions with lucrative kickbacks in return.
Since then, the catchy phrase has been applied to a wide range of political and economic figures, and not only from the Principlist camp, where voices against the nuclear deal virtually exclusively comes from: Mohammad Mohajerani, son of Ataollah Mohajerani, Minister of Culture in Mohammad Khatami's Reformist administration, was temporarily arrested over the notorious case of "the missing rigs" for one example. The best-known case among this sanction beneficiaries is probably Babak Zanjani, a 42-year businessman, who was recently sentenced to death by the Iranian judiciary on a wide range of charges, the most important of which is refusing to return 2 billion dollars of oil money he had sold on behalf of the Iranian government. The most recent figure accused of profiteering during the sanctions, Yasin Ramin, comes from an ambivalent background, which has turned him into a favorite target of attack for both Reformist and Principlist media.
Yasin Ramin grabbed attention of the domestic media first time in November 2010, when Fars published a picture of him accompanying his father, Mohammad-Ali Ramin, during a visit to the international press exhibition in Tehran. Mohammad-Ali Ramin, the father, then served as deputy culture minister on press affairs in Ahmadinejad's administration, tightening the noose around the neck of Reformist media following the 2009 controversial presidential elections. Publishing Yasin's picture enraged his father, so much so that he called Fars, a news agency on the extremes of Principlism, an 'agent of Zionists'. "My son has valuably served the establishment" Mohammad-Ali Ramin said, pointing to Yasin's engagement in importation of medical equipment to Iran despite sanctions. By publishing Yasin's photo, Fars had tipped off Israel, deputy minister believed. Six years later, Ramin Senior had an interview with the same 'Zionist' news outlet, Fars, this time to disavow his son. "Regarding my son, Mr. Yasin Ramin […] I have not been engaged in his personal and professional affairs for years now" he said.
It is not only Mohammad-Ali Ramin who has distanced himself from Yasin. Hours after his detention was confirmed by the judiciary, media one both sides of the spectrum kicked off the renunciation race. This proved not to be difficult, thanks to the divergence between Yasin Ramin's familial background and his personal choices. His father, Mohammad-Ali Ramin, has built up reputation as a firebrand anti-Zionist and is known as the mastermind of Ahmadinejad's fiery anti-holocaust and anti-Israel rhetoric. Yasin, however, does not reflect any traces of Principlism in his lifestyle: He has married Mahnaz Afshar, popular actress and outspoken supporter of the Reform front and his marriage to the megastar was ordained by Former Reformist President Mohammad Khatami. So while the Reformist media framed the story as detention of the son of Mohammad-Ali Ramin, member of Ahmadinejad's administration, Principlists prefer to say that a Reformist actress' husband has been taken into custody, since he couldn't afford a substantial 8-million-dollar bail.
Yasin Ramin was detained following a complaint registered by the Red Crescent Society of Iran Tehran Prosecutor General Abbas Jafari Dolatabadi confirmed on Tuesday, August 16. Reports by Iranian media said that up to 2011, Roshd, a Germany-based company owned by Yasin Ramin, was assigned by the Iranian Red Crescent to procure medicine for Iranian citizens who, under tight sanctions, could hardly gain access to critical medicine for illnesses such as cancer. Nonetheless, the opaque nature of medicine import business had triggered alert, inside the parliament, among others, though an investigation bill proposed in Majles eventually failed to garner enough votes to kick off.
Last autumn, head of Iran's Red Crescent Society Amir-Mohsen Ziaei disclosed some details of the controversy in an interview with Fars. According to Ziaei, the main challenge between the organization and Ramin Jr. was non-transfer of a two-million-dollar bill by Roshd. The money, deposited to Roshd GmbH by the Red Crescent, was to reach the bank accounts of an unnamed international company in return for medical equipment it had sold to Iran's Red Crescent. However, the money was stuck somewhere in the middle of transaction and never reached the foreign company. Yasin Ramin promptly rejected such claims, urging Ziaei to register any likely complaint with the court for further investigation. Ziaei has followed the advice as it seems, and put the young businessman under the bars, at least for now. Will Yasin Ramin legally obtain the 'sanction beneficiary' title?
By: Ali Attaran