Nuclear Negotiator Arrested over Espionage; Fact or Fiction?
A Hollywood-style scenario is revolving around a member of Iran's team of nuclear negotiations, apparently sold down the river by the Post's Jason Rezaian. It is yet to unfold, but for now, the dust has settled.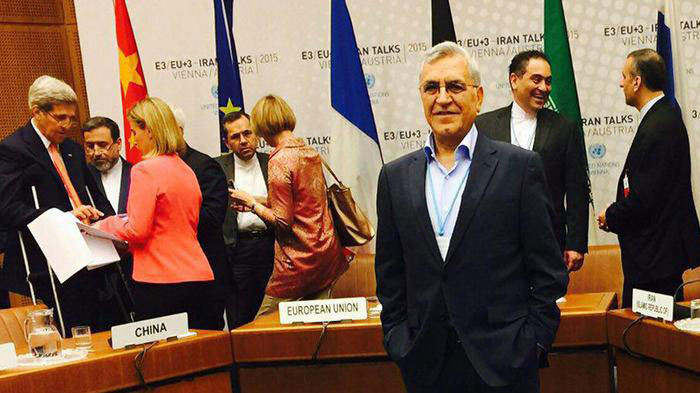 On August 16, Tehran's attorney general, Abbas Jafari Dolatabadi, told a presser that a dual national has been arrested on charges of espionage. This immediately raised a myriad of speculations in Principlist media outlets, which had already had their own suspicions. On August 23, unverified reports started to make the rounds in Principlist websites and Telegram channels that the dual national arrested was a member of Iran's team of negotiators during the historic nuclear talks who worked under Hamid Baeidinejad, the Director-General for Political Affairs and International Security Affairs in the Ministry of Foreign Affairs.
The name that later came out was Abdolrassoul Dorri Esfahani, with charges becoming more and more fantastical, unmatched with Iran's proudly tangled web of intelligence and security organizations.
An informed official in the foreign ministry soon dismissed the reports as mere lies.
However, Principlist media outlets were soon piling charges in the case, including not only espionage, but also financial corruption, mostly marked as yet another episode in the pay slip scandal series.
Former MP Hamid Rasaei, affiliated with the hardliner division of the Principlist camp known as the Paydari Front, blew the whistle on Esfahani saying he was in charge of an important committee in the negotiating team and represented the Central Bank during negotiations but at the same time had received "a salary of £7000" per month from British and American institutes. He went on branding Esfahani as one of the 'establishment's resources', a sarcastic reference to Mohammd-Bagher Nobakht's alleged advocacy of those who received astronomical pay slips. Nasim Online also reported that Dorri Esfahani received the salary in exchange for "sensitive financial and economic information about the Islamic Republic".
The next day, reports from the same media outlets said Esfahani had been "released following hours of interrogations," and was under supervision as the case was being investigated.
The whole story was not much of a shock, seen against a backdrop of increasing attacks on the Rouhani administration launched over what is seen as the JCPOA's failure to offer at length Iran's slice of the cake, namely the removal of sanctions.
Back in late June, conservative Raja News had accused Esfahani of being a British spy. The website then demanded that the Intelligence Ministry and the Central Bank provide clarification on some key questions about Esfahani and his role in negotiations as well as about his competence for the job. 
"How could a person who owns a foreign passport and lacks background in banking be given the sensitive position of working out the banking consequences of the JCPOA?" the report asked.
In retrospect, Esfahani had given, in an interview with Donyaye-Eghtesad daily, his own account of the competence needed to fill the vacancy for banking experts in Iran's side, ten months earlier than the report appeared on Raja News.
Apparently, Esfahani has graduated in accounting from Tehran's Petroleum University of Technology, funded by the country's Petroleum Ministry. He also holds a master's degree in accounting from an unnamed UK-based university, and is a member the Institute of Chartered Accountants in England and Wales, the Chartered Professional Accountants of Ontario, and the Iranian Institute of Certified Accountants.

Apart from his financial background, back in 2006 he was seemingly involved with Moshar Iran studio, which lends cutting-edge filming equipment to ad agencies.
 
In February, after the implementation of the nuclear deal, Hassan Rouhani had decorated Esfahani with a third-order legion of merit for his role on the negotiating team.
Esfahani's candle is now burning at both ends. His alleged role in helping companies bypass EU- and US-imposed sanctions against Iran has already received extensive coverage by Iranian and international media. Raja News itself makes a passing reference that Esfahani, formerly a member of Iranian private bank Saman's board of directors, helped Iran purchase "essential goods and medications" from the Toronto-based Universal Health and Pharma Private Ltd. The company's website lists Esfahani as one of its directors. The firm was officially incorporated on 28 October 2013 in Mumbai, India.
What makes the case even more intricate is Saman Bank's statement in response, issued a week later. According to the statement, Abdolrasoul Dorri Esfahani had resigned from the bank's board of directors following recommendations from Iran's Central Bank.
Like many other dual nationals, Esfahani, now accused of espionage, was also charged for violating Iran sanctions in a February-2015 US Congressional report, which named him in connection with a German MCS Technologies, under scrutiny for suspected dealings with Iran on its nuclear program. The company produced high-pressure gas tanks and dual-use equipment that could be used in nuclear centrifuges and missile production. "A former sister company in Iran, Pars MCS, was designated by the Canadian government in 2010 as a possible contributor to 'Iran's proliferation-sensitive nuclear activities," a Washington Post article revealed in April 2013.
In March 2013, MCS in Germany was forced to close after it unsuccessfully tried to transport some of its equipment to Iran. At that point, Iranian Pars MCS put all of its shares up for auction. The tender was managed by a company affiliated with the religious endowment of the holy city of Qom run by the former Intelligence Minister Mohammad Mehdi Reyshahri.
"Before the revolution, Dorri Esfahani worked for the US Treasury," Javad Karimi Ghoddousi, who represents Mashhad in the Majlis, told Principlist magazine Ramze Obour (literally 'passcode') on August 23. He went on saying that Esfahani was arrested based on the confession of Washington Post's Jason Rezaian who himself had been convicted of espionage in a closed-door trial in Iran in 2015. "After the revolution he was hired by the Iranian Defense Ministry to oversee the financial claims of Iran against the US." According to Ghouddousi, ministry's officials eventually fired him, accusing him of under-performing, and Esfahani then moved to Canada. Ghoddousi said the information had been relayed to lawmakers through IRGC's intelligence division.
Dorri Esfahani claims he has represented Iran at the Iran-United States Claims Tribunal in The Hague for 10 years, and helped lodge Iran's £400 million claim against the United Kingdom for undelivered Chieftain tanks. For 15 years, Esfahani has worked as "the senior coordinator of international affairs at one of the biggest ministries in the Islamic Republic."
Karimi Ghoddousi also said that Dorri Esfahani had accompanied Foreign Minister Mohammad Javad Zarif on his visit to Turkey "10 days ago," and that while he was on the plane, the warrant for his arrest was issued. "He did not get off the plane in Turkey and was returned to Iran," Ghoddousi said. Zarif traveled to Turkey on August 12. Iran's foreign ministry has categorically denied that Dorri Esfahani accompanied Zarif on his trip.
Despite allegations on links between Esfahani and Hassan Rouhani's brother Hossein Fereidoun, Esfahani's own account indicates that his involvement in nuclear negotiations goes back to late 2014. "A committee from the president's office was formed under Mr. Nahavandian," he told Hesabdar, an accounting magazine. "I was also invited to participate," he said, adding that the Rouhani administration had decided to seek the help of banking and financial experts. "Mr. Seif asked me to help Iranian negotiators and I accepted willingly…In the final round I was at the service of Dr. Zarif and other friends and helped in financial and banking areas."
For now, the Principlist media outlets have withdrawn a little in the wake of recent remarks by Iran's Supreme Leader Grand Ayatollah Ali Khamenei, who spoke during a meeting with President Rouhani and his cabinet on the occasion of Iran's Administration Week. The Supreme Leader made it clear that his criticism of the nuclear deal is not intended on the Iranian side but untrustworthy western powers, led by the US. In the meantime, the administration is strengthening its media team, making a strong comeback with revelations of weird financial corruptions occurred during ex-president Ahmadinejad's second term in office.