Senior Nuclear Negotiator: Ahmadinejad did not believe in secret talks with US
Ali Akbar Salehi, head of Iran's Atomic Energy Organization (IAEO), says ex-president Mahmoud Ahmadinejad had no faith in secret talks with the US.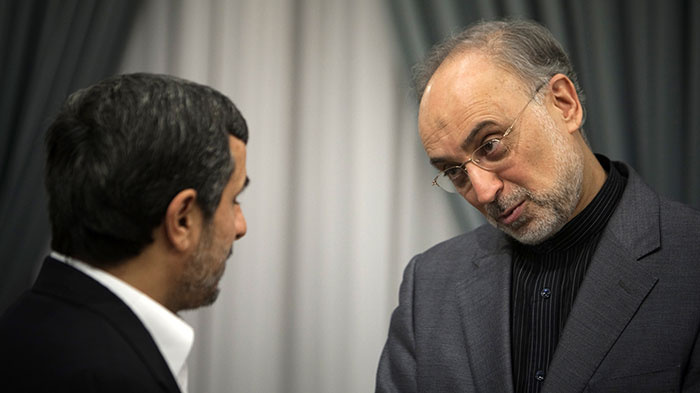 On Thursday evening, Ali Akbar Salehi, current head of Iran's Atomic Energy Organization and one of the most prominent forces behind the nuclear deal in Iran, appeared on a local TV talk show to discuss the nuclear deal.
Speaking on a live talk show aired on Iranian state TV, Salehi said that even before President Rouhani took office in 2013, Supreme Leader Ayatollah Ali Khamenei had permitted the country's foreign ministry to secretly negotiate with the US, in parallel with the nuclear talks that was administered by Supreme National Security Council (SNSC).
Salehi was then Iran's foreign minister working for Mahmoud Ahmadinejad.
"There had to be someone to coordinate the two lines and that was the president," Fararu quoted Salehi as saying. When asked to elaborate on the 'quadruple' conditions set by the Supreme Leader for the secret talks starting in Persian calendar year 1390 (2011-2012), Salehi said one condition for the talks was that it should not be pursued at the ministerial level. Yet another condition was that the talks had to focus on the nuclear dossier, and not deviate towards political or non-nuclear issues. "No talks for the sake of talks, as was the case with the P5+1, which had taken years," Salehi added.
The Supreme Leader's fourth condition was that the president had to coordinate the two lines of talks. "Mr. President had no belief in talks with the US in that manner. He kept telling me that we were making a mistake. He neither stopped nor encouraged us."
Arguing that the talks could cultivate much more at the time, in comparison with what has been achieved in the Joint Comprehensive Plan of Action (JCPOA), he implied that Ahmadinejad's failure to cooperate had made coordination between the foreign ministry and the SNSC quite difficult.
Other highlights of Salehi's TV interview follow:
Iran's production of stable isotopes at Fordow operational for medical use will begin within a month.
Iran accepted limitations under the JCPOA, many of which do not impede the nuclear industry's main missions, but we achieved concessions in return. The stable isotopes and the other side's contribution in producing nuclear fuel are among them.
We (Salehi and U.S. Energy Secretary Ernest Moniz) signed no secret agreement. When a country signs the Additional Protocol, it submits its long-term plan to the IAEA. Iran has submitted its program for the next fifteen years but has asked them not to make some details public.
There are limitations [on Iran's nuclear activities] within the framework of safeguards, which will undergo inspections regardless of the JCPOA. Other limitations are under the Additional Protocol, with more than 130 signatories, and Iran complies just like all the other countries.
Two limitations are set for fifteen years. Iran is not allowed to produce uranium and plutonium. Iran has no plutonium at all.
One restriction will go on for 25 years. Iran transports the uranium it extracts from mountains to Ardakan (60 kilometers northwest of Yazd). Uranium is crushed and then turned into yellowcake there. Then, it is transported to Isfahan, a stage that should be monitored.
I should warn that if the other side fails to keep its vows, Iran will not return to its previous state but one quite different with what it was before the deal.
As the Supreme Leader has said, in the case of their failure to comply, we will reach 100,000 separate work units (SWU) within one and a half year.
To be fair, the deal has made plenty of breakthroughs. Iran does not need to go through complicated courses for its purchases.
The parties have no trust in each other. This is a reality.
Reports of layoffs and abandonment of projects in the nuclear industry are not true. Over the past 25 years, Iran has spent 6 to 7 billion dollar on its nuclear industry while it plans to invest $10 b in the next ten years.
Changing the Visa Waiver Program was among the areas the US failed to comply with its commitments. In the past, European academics easily travelled to Iran and universities could cooperate. Now, many of them have given up travelling to Iran, fearing that they will have difficulties upon their return to the US.