Friday Prayers across Iran: Denunciation of the United States
Friday prayers on October 28, 2016.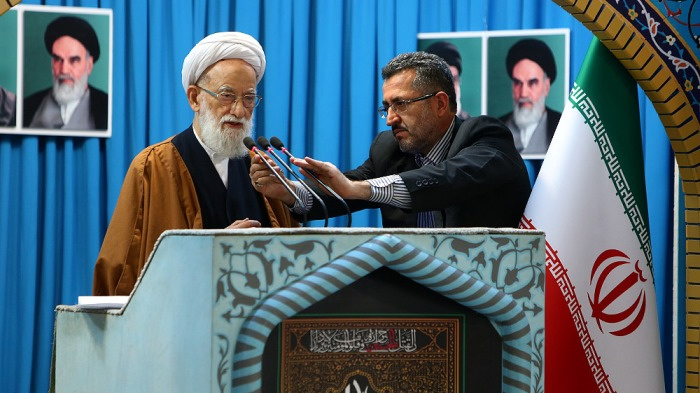 (Mohammad Emami-Kashani led this week's Friday prayers in Tehran. Source: Saeid Rabiei/YJC)
One week before the anniversary of US embassy seizure in Iran, Friday prayers' speeches were replete with denunciation of the United States historical and present conduct in Iran and the Middle East, while Washington's allies also received their fair share of criticism.
In Tehran, Mohammad Emami-Kashani accused Washington of being behind "crimes committed by the House of Saudi against the Yemeni nation." Kashani also slammed the two major US presidential election candidates, Hillary Clinton and Donald Trump, calling them "irrelevant, good-for-nothing persons" whose electoral slogans revolve around crime and massacre. "If the people of Europe and the US return to their human nature, they would never vote for such people" he said. Addressing the anniversary of occupying "the den of espionage", Washington's embassy in Tehran, on November 4, 1979, Emami-Kashani also expressed satisfaction that the people of Iraq, Bahrain, Yemen and Syria have risen against the United States' tyranny.
In Kermanshah, west of Iran, Friday prayers' leader Mostafa Olama denounced the US government for freezing Iranian assets. "They are always touting human rights, but their [version of] human rights contains nothing but ruthless massacre of the people of Syria, Yemen, Iraq and Afghanistan" he added. Olama warned the congregation that Washington has only changed its tactics, not its strategy of obliterating the Islamic Republic of Iran.
In Zanjan, northwest of Iran, Friday prayers' leader Ali Khatami warned those Iranian politicians who are optimistic about rapprochement with the United States. "After 37 years of hostility, the US has not turned into our friend" he said. "We may be unsuspecting towards the enemy, but they will not be like that." In Sari, center of the northern Mazandaran Province, Ayatollah Tabarsi led the Friday prayers. Tabarsi called Daesh/ISIS a product of the United States and Saudi Arabia, created to provide a respite for Israel. "You see that with formation of Daesh, Israel found a breathing space, and massacre of Muslims in Yemen, Syria, and Iraq began [instead]" he said.
IRD/66