Will Former Head of State-Run TV Challenge Hassan Rouhani in 2017 Presidential Election?
Former IRIB director Ezzatollah Zarghami is believed to be preparing for a presidential campaign.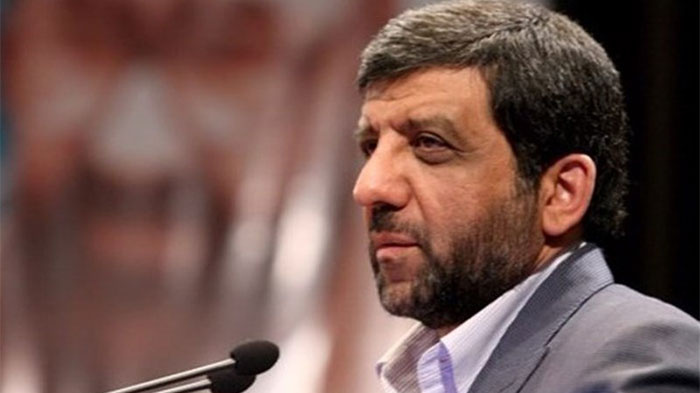 One month ago, during to a visit to the Principlist news agency Tasnim, former director of IRIB, Iran's state-run TV and radio broadcasting, Ezatollah Zarghami denied any plans to run for president for now. And now is a short span of time in Iran's political scene, especially when it comes to elections. "For the moment, I feel obliged to reinforce the revolutionary movement and group," he said.
Zarghami was introduced as a presidential contender as early as the penultimate day of the year 2014, when a self-proclaimed Principlist coalition named him their candidate. Rumors of Zarghami's intention to challenge President Rouhani's reelection resurfaced in media outlets in mid-August. Nameh News, an online outlet affiliated with Justice Minister Mostafa Pourmohammadi, broke the news that Ahmadinejad and Zarghami held several meetings as the ex-president planned to groom the latter for the upcoming presidential race. The website went on saying that Zarghami was the only option that could bridge the gap between, and unite, Principlists and Ahmadinejad against Rouhani. The reasons they would, Nameh News argued, were his amicable relation with both sides of the likely coalition, his good public relations, and his clean record of candidacy (unlike most other likely Principlist nominees, Zarghami has never run for an elective public office.)
After Ahmadinejad's highly anticipated campaign came to an abrupt end when the Supreme Leader openly advised against it, saying it could render the society divided, it became clear that the Principlists had close to no options: Rouhani or Qalibaf.
Many observers, including pro-reform university professor Sadegh Zibakalam, saw the camp's chances null. Voices within the camp like ex-Deputy Parliament Speaker Mohammad-Reza Bahonar also signaled that those with a record of electoral defeat in their portfolio should not step forward or expect support. The message seemed to be addressing the likes of Tehran mayor Mohammad-Bagher Qalibaf and ex-nuclear negotiator Saeed Jalili. It was perhaps then that Zarghami became the one and only man under the spotlight.
Recently, he has increasingly appeared on social media and Principlist news websites, too often for a man with little executive responsibilities after he left state-run TV in 2014. In spite of what is hailed as his public relations and elocutionary capabilities that may come handy in presidential debates, his image has seen denting blows from different sides.
Flash back to the days before his IRIB immediate successor, Mohammad Sarafraz, stepped down. Tensions bubbling beneath the surface between the two turned into an open fight after Mohammad Tajik, director of Mostanad (Documentary) Channel, lashed out at Zarghami who had mildly criticized Sarafraz' abrupt decision to shut down a number of channels due to critical budget deficit. Tajik blamed Zarghami for fiscal problems of the state-run TV (including hundreds of billions of tomans in debt), and for his "irrational" increase of the number of TV channels. He implicitly called Zarghami the culprit for transfer of the rich pre-Revolution archive of the organization to Manoto TV, a popular, pro-monarchy satellite channel aired from London.
Speculations that Zarghami was preparing to throw his hat into the ring found concrete ground when President Rouhani's advisor Hessameddin Ashena took to his Twitter account, urging Zarghami to wait four more years for his own sake. Zarghami facetiously responded by advising Mr. Advisor to mind his own business. Later on, he posted a backstage video of the 2013 presidential debates, stressing the role they can play in the voters' decision. While hailing Rouhani's handling of the debate, he expressed hope that the President's advisors do not dissuade him from taking part in electoral debates next year. This was seen as his first demo of a prefight theatrics yet to come.
Aftab News, a website that still bears banners of Hassan Rouhani's 2013 presidential campaign, seems to welcome Zarghami's candidacy. "Perhaps, seen from a Principlist point of view, Ezzatollah Zarghami is so smart and tactful an individual that he will not step in a game Mahmoud Ahmadinejad has devised. He could be a candidate with a Principlist consensus behind him, not one to carry out Ahmadinejad's plans," Aftab wrote back in mid-August. After a passing reference to Zarghami's role in the US embassy occupation in 1982, the website then anticipated a similar plot like that of the Hashemi-Rouhani duet in the 2013 election, where the former's disqualification and later support led to Rouhani's hairbreadth victory. Mahmoud Ahmadinejad did not even reach the disqualification stage this year, but could he become a president-maker the way Hashemi Rafsanjani is?