It is Too Early for Iran to Judge Trump: Deputy FM
In a forum held by Iranian Diplomacy on Tuesday, diplomats and experts recommend track II diplomacy as a way for Iran to counter potential hostile measures by Trump administration.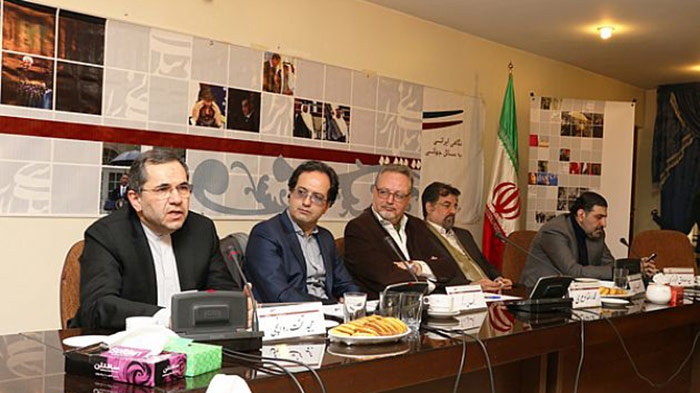 The new US President Donald Trump has already found phenomenal reputation for his upset decisions, including an executive order that banned entry to the US for citizens of six countries, the construction of Mexican border wall, call for a reconsideration on collaboration with Nato and the EU, threats posed against China, and inattention to the United Nations. This phenomenon requires a more specific approach on the part of Iran.
On Tuesday, Iranian Diplomacy held a conference in the Ettelaat Newspaper auditorium, during which experts and diplomats addressed the question, 'What to do with Trump's America?'
Nasser Hadian, political sciences and international relations professor at the University of Tehran, began his remarks noting that no one, including Donald Trump himself, knows what he is capable of. He argued that Trump made various promises during his presidential campaign that he will not be able to keep because he did not imagine to win the election in the first place. Hadian went on to say Trump's plans would revolve around five premises: a profit-oriented mindset, commercialized security, construction of walls, unrealistic promises to create jobs for American citizens, and prioritization of action over thought. "Trump does not have the patience needed for complicated time-consuming decisions and is not familiar with the process of strategic decision-making through US congress and White House advisors," the university professor said. "The truth is Trump is not mentally stable and Iran can take advantage of his instability," he added.
Hadian concluded his remarks proposing four strategies Iran could pursue vis-à-vis Trump. First, he recommended that Iran avoid falling into Trump's radar, despite efforts by Saudi Arabia and Israel. Then, Hadian called on Iranian officials to make the necessary preparations and economic opportunities to attract Trump, as he is a pragmatist with no real partisan standing who only cares about economic interests. Thirdly, Hadian proposed the establishment of a national decision-making headquarters led by the Supreme Leader in order to avoid any accidental war or measure that may provoke the Trump administration. Hadian's third proposed strategy was a shift from state-to-state diplomacy toward state-to-people and people-to-people diplomacy. "We should boost people-people communication as far as possible to influence public opinion in the US," Hadian said, suggesting that auteur Asghar Farhadi and classical singer Mohammadreza Shajarian as potential commanders of Iran's cultural diplomacy.
International relations' professor at the World Studies faculty of Tehran University Kayhan Barzegar, a second speaker of the conference, said Trump has remained in his campaign days, still vehemently stressing on a unilateral approach, in a clear break from President Obama's foreign policy doctrine. "Trump makes decisions by his own impulses and prejudices, without a knowledge of other players' identity and history," he said. While admitting that unilateralism has a long history in the US, Barzegar said Trump would fail to implement such an approach because coexistence in a new era stands against totalitarianism and unilateralism. He further pointed out Trump's confusion in his decision-making as he has undergone a remarkable change after only 50 days in office, best reflected in his stances regarding the Palestinian crisis, the Syrian crisis, and ties with Egypt.
Speaking about Trump's foreign policy, Barzegar enumerated four contradictions that should be taken into account. According to Barzegar, the first contradiction that impedes Trump's most significant foreign policy tactic lies in his vows to cooperate with all the sides involved in the fight against terrorism, while he refuses to join the Iran-Russia-Syria-Iraq axis. The university professor went on to say that Trump's handling of traditional US allies could be problematic, as the US President has put emphasis on domestic economy and cutting free support for allies, which contradict with the realities to continue cooperation. Barzegar also noted that Trump's third major contradiction involved the methods and forces he would use in his fight against terrorism. The last contradiction, Barzegar argued, is the United States' cooperation with Russia, a traditional rival.
Explaining Trump's strategy against Iran, the expert said the nuclear deal provides no good pretext for the US to act against Tehran. "Trump has come to the understanding that he cannot use the nuclear deal as a way to confront Iran. As a result, he would try to control Iran in the region, which will be detrimental to Tehran and in the interest of Saudi Arabia," he said. To fight back, Barzegar said, Iran should disrupt the coalition among Saudi Arabia, Israel, and Turkey, undermining the rationale behind it. He further suggested that Iran should keep Russia involved in the Middle East and try to pull other countries such as China and India in the region too.
At the end of his remarks, Barzegar called commitment to the nuclear deal, increased regional cooperation and détente with neighbors, and a more active role in the fight against terrorism as three solutions Iran could use under the Trump administration.
The third speaker was veteran diplomat Sadegh Kharazi, Iran's former envoy to the UN and ambassador to France, who also underlined the unpredictable character of Trump saying individuals of his kind tend to reject categorization and adopt impulsive and emotional decision. He noted that there are five decision-making layers in the United States. According to Kharazi, the first two layers include a business-minded president, i.e. Trump, who lacks an ideological strategy or familiarity with the American society, the State Department whose main mission under Trump is economy. Kharazi called the Department of Defense as the third layer, which is more familiar with the realities of the Middle East. The veteran diplomat said a convergence between Iran and the US was foreseeable if Trump was serious about the fight with terrorism. Intelligence services, as the fourth decision-making layer, are undergoing their most unstable era as they have been weakened by Trump's words and actions, according to Kharazi. The last layer, National Security Council, has an extremely anti-Iran line-up which could be dangerous for Iran as the country has little influence in the Congress and Senate, Kharazi argued.
After this prelude, Kharazi said Iran should not let these layers of power reach a consensus over animosity with Iran, proposing that pro-Iran lobbies inside the US should highlight the difference in between. The veteran diplomat further recommended Iran's Track II diplomacy, as a boost for bilateral relations with Russia, China, and the EU. He also highlighted Iran's need to regulate relations, reduce threats, and increase opportunities through an accurate understanding of regional strategy.
The last speaker of the conference was Iran's Deputy Foreign Minister Majid Takht-Ravanchi who began his remarks saying it is too early to judge Donald Trump. Referring to Trump's decision and remarks during the 50 days since his inauguration, Ravanchi said Trump has instigated chaos and confusion in the US. Dismissing that the situation has been planned, he said the age of unilateral order has come to an end in the 21st century, adding that a unity is emerging the global scene against US unilateralism.
He further argued that Iran's security and young population as well as its military and economic capabilities have rendered the country an indispensable part of regional equilibrium. "The Americans know that Iran's influence and role cannot be eliminated. They know that threats and sanctions against the Iranian nation will not work," he reiterated. Referring to what brought the US to the table for the nuclear deal, he said the US had reached the conclusion that Iran had gone beyond a certain limit and it was already too late to close the nuclear dossier.
"The realities on the ground in the region demonstrate that any formula for stability should come from the region and the players involved, not through outside forces," Ravanchi said. Stressing that zero-sum policies do not work in Iran's doctrine of foreign policy and the country believes in talks without intervention by foreign forces, he called for increased national solidarity and a single voice in foreign policy.
The conference ended in a Q&A session where speakers answered reporters from Iranian and foreign media outlets. Here are a few highlights:
Takht-Ravanchi: Iran's armed forced actively participate in waters surrounding the country. They are naturally prepared for everything.
Hadian: We should act wisely. We should not retaliate Trump's visa ban. There is nothing in it for us. The media have turned against Trump and we should use the opportunity.
Kharazi: We should retaliate the executive order. We have paid heavy costs whenever we showed submission. We helped the Americans in Iraq and they stabbed us in the back. They used Iranian facilities in Afghanistan and we pitied them, but President Bush named us an 'axis of evil' on January 29, 2002. We should not compromise vis-à-vis the US. If they wreak havoc on us, we would wreak havoc on them.
Takht-Ravanchi: We should not take Democrat and Republican administration very differently. The may have different approaches but no fundamental differences.
Takht-Ravanchi: We want the nuclear deal to go on and we have remained committed according to IAEA reports. However, the Americans and Europeans have failed to remain fully committed. If we cannot enjoy the interests included in the deal, we will naturally move toward other options.
Takht-Ravanchi: The model used in the JCPOA had its certain characteristics that cannot be extended to other issues. We have no plans to talk with Americans over the fight against terrorism. We do not see them trust-worthy in their approach to ISIS and other terrorist organizations.