Rouhani's Taciturn Chief of Staff May Finally Come into the Spotlight
Seldom does he appear behind a lectern or become controversial. His appearances in media either depend on situations which call for comments or action relegated to him because of his position. Mohammad Nahavandian is not a man of controversy. His position and political posts have brought him under the radar of media outlets.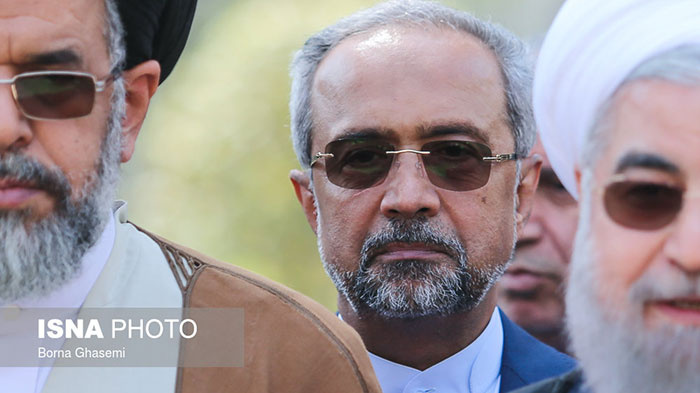 Rumors are making the rounds about the cabinet line-up of the twelfth administrations, Rouhani's second in a row. Nahavandian, the chief of the presidential bureau under the first Rouhani administration is at the same time rumored to be leaving the Pasteur Street palace and nominated for direction of one of the economic ministries. Here is a brief profile.
Bio
Mohammad-Agha Nahavandian was born in Tehran (1954). His father, Haj Jafar, was a prominent merchant, known as the founder of Zanjanis Imambara located in Tehran. He completed his primary education in Jafari school, a top-rated Islamic school of the time.
Later, he went to Alavi high school, partly sponsored by his father, where he became a disciple of Allamah Ali-Asghar Karbaschian. Nahavandian is an ardent follower of the school's intellectual notions, so much so that he MCed a TV program on IRIB Channel 4, discussing Mahdiism, the return of the 12th Shia Imam, in English as recently as eight years ago. After graduating high school in the early 1970s, he followed his father's advice and went to a seminary school, studying Islamic jurisprudence. At the same time, he enrolled for a university degree in economy. His visits to the seminary school and contacts with Morteza Motahari, later a key ideologue of the Islamic Revolution, gave him and his friends the idea of an Islamic Economics Council.
In early 1975, Nahavandian and others started talks with the dean of Tehran University Faculty of Economics Dr. Meshkat to hold courses in Islamic Economics. Beside his frequent meetings with Morteza Motahari, he attended preaching sessions by clerics Beheshti and Bahonar, later two senior politicians in the Islamic Republic and assassinated by the opposition. Seminary school became a bridge for Nahavandian to boost his sociopolitical status.
As revolution gained momentum in 1977, Nahavandian abandoned both of his educational pursuits. Although son of a charitable merchant and believer of Islamic economics, he joined the religious left and armed groups in battle against the Shah regime.
Seven years after the Revolution, he went to the US with his wife and four children to resume his education in economics at the George Washington University. Before his return with a PhD in economics, he lived there for eight years, also obtaining a Green Card which proved useful during the nuclear talks in the mid-2000s.
Little is known about his wife and children, except for his second son, Mohsen, who is better known due to his position in the chamber of commerce. Mohsen Nahavandian has been a board of directors member of Arian Foulad Gharb (involved in steel industry), which is based in Malaysia and works with a host of countries including Taiwan, China, India, Kazakhstan, Russia, Ukraine, UAE, Germany, Lebanon, Austria, and Belorussia.
Special mission
Nahavandian's first post-revolution position was membership in the News Council of the IRIB. Because of differences with the then director Sadegh Ghotbzadeh, he did not remain in the post for long and soon resigned. Upon his exit, he was invited by then Minister of Commerce Reza Sadr to join the ministry as PR director. He was promoted as the deputy minister for planning later. However, he did not last long and abandoned this post, too, in his own words due to differences.
Some of his seminary teachers invited him to Qom for a mission to organize talks to include Islamic economy in academic curricula. He lived in Qom for two years. In 1985, he traveled to the US to continue his education. He founded an institution called Islamic Information and Research in Washington which managed to establish ties with 40 other Islamic centers in the US, paving the ground for cooperation. Hence came the Council of Islamic Cooperation, which held a general summit in a different state every month. After about eight years in the US, he came back to Iran and was immediately invited to work in the ministry of commerce by then minister Yahya Ale Eshaq. He remained in his position when Mohammad Shariatmadari took over under the Khatami administration until 2001, when he once again left for differences with the minister.
During the ninth presidential campaigns in 2005, he managed Ali Larijani's economic plans. When Larijani's presidential aspirations fell to pieces, Nahavandian was asked to take over as the secretary-general of the Securities and Exchange Organization in Mahmoud Ahmadinejad's government. He brushed aside and preferred to work as Larijani's deputy for economic affairs in the Supreme National Security Council.
His collaboration with Larijani consolidated Nahavandian's political status. The apex of his political endeavors came in 2006, when his controversial visit to the United States brought his name to a global foreground. Amid sensitive talks between Iran and the US over Iraq, Nahavandian made headlines, forcing high-ranking Iranian and American officials to comment. Some considered his visit personal while others believed it was intended to lobby about Iran's nuclear dossier, which allegedly included a few good links, too.
Speculations about Nahavandian's abrupt visit in international outlets went so far that the then SNSC secretary Ali Larijani had to respond. "Since the US does not issue visas for Iranian diplomats, we used the visit to communicate our stance to Iran's ambassador to the UN, Mohammad Javad Zarif," media quoted Larijani as saying. Thus, Nahavandian had the chance to negotiate with US diplomats and influence the dossier to some extent. In the same year he had become Larijani's economic advisor in the SNSC, he was chosen as the director of Iran's chamber of commerce, a position in which he remained until late 2013.
In 2009, as Larijani went to the Parliament as Speaker, Nahvandian was again appointed as an advisor to the economic committee and the speaker. He continues to serve in the same positions at the present. In the 2013 presidential race, he allied with Hassan Rouhani and was appointed by the new President's first order as his bureau chief. Nahavandian's Green Card came of use under the Rouhani administration too. Over the past four years, he has frequently visited European countries, particularly the UK. In the recent presidential election too, Nahavandian was one of Rouhani's active supporters, who accompanied him in almost every speech he made. This was once again criticized by moderate and pro-reform figures. Turning a blind eye to such backlashes, he continues to back Hassan Rouhani today. Now that time is ripe for picking up members of the second Rouhani administration, Nahavandian's next post is one of the main questions for the media. Ministry of Commerce, expected to be separated from the Industry, Mines, and Commerce Ministry by parliamentary vote, is the most frequent destination anticipated for Nahavandian.
* This piece was originally published in Shargh newspaper on Monday, July 3, 2017.