Turkey's Shift toward Iran, Russia, and its Motives
An article published on Fararu takes a second look at Turkey's recent shift toward Iran and Russia.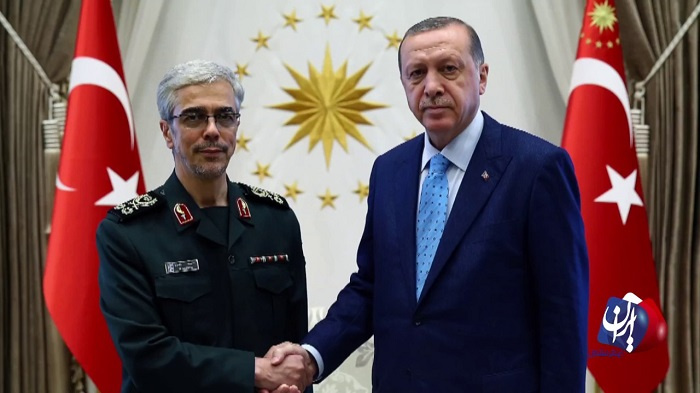 (Picture: Chief of Staff for the Armed Forces of the Islamic Republic of Iran meets Turkish PM Erdogan in unprecedented visit to Turkey on August 15, 2017.)
In a sequel to their previous trilateral cooperation, Iran, Russia, and Turkey agreed on yet another de-escalation zone to reduce intensity of the battles in Syria, this time in Idlib. The new agreement was reached in a more tranquil atmosphere in comparison with previous talks. Since the sides' agreement on de-escalation zone, battles in Syria have been alleviated.
The trilateral agreement on de-escalation zone could be interpreted as one of the signs that suggest Turkey is leaning toward Iran and Syria. Things have happened in recent months that clearly indicate fresh developments in Turkey's ties with Iran and Russia.
On September 12, Turkish media outlets reported a quote by President Erdogan saying Ankara had finalized a deal to purchase a number of Russian S400 missile systems, the country's a first major weapons purchase from Russia. Erdogan said Turkey has paid a deposit for the purchase.
Russian Tass News Agency also quoted Vladimir Kozhin, a military advisor to the Russian President Vladimir Putin, saying the deal was strictly compatible with Moscow's strategic interests. "On that score, one can quite understand the reaction of some Western countries who are trying to put pressure on Turkey," he added.
Turkey's purchase comes after when the US, Germany, and Netherlands, a NATO member like Turkey, decided to withdraw two Patriot missile-defense batteries from southern Turkey.
In late August, Iran's Chief of Staff for Armed Forces, Major General Mohammad Bagheri visited Ankara to meet political and military officials including President Erdogan. The unprecedented visit's stated objectives were to expand security cooperation and to negotiate the Iraqi Kurdistan's independence referendum.
Turkey's relations with the West has been quite tense lately. The EU has called for the suspension of Turkey accession talks. Germany has been bashing Ankara for measures undertaken by Erdogan's government. Neither is the US on amicable terms with Turkey over its support of the Syrian Kurds and prosecution of Turkish politicians and businessmen over Reza Zarrab's alleged evasion of Iran's sanctions.
What are Turkey's motives?
Moderate news website Fararu has consulted Iranian pundit on international affairs, Shoaib Bahman. "Turkey's recent foreign policy gestures indicate that the country is undergoing a visible shift. It has been trying to lean toward Iran and Russia for a while now and the recent accord reached in Astana confirms this view," he said. "Previously, Turkey insisted that only its forces would monitor the truce in a de-escalation zone in Idlib. However, according to the Astana accord, forces from Iran, Russia, and Turkey will monitor the implementation of the agreement," he added. Speaking on the factors involved in Turkey's shift, Bahman said the most important reason for the shift is the country's failure in realizing its objectives in its regional foreign policy in recent years. "Particularly in Syria, Turkey made strategic mistakes and fulfilled no goals," Fararu quoted him as saying.
"On the other hand, the region has undergone a transformation. The Iraqi Kurdistan's decision to hold a referendum has made the issues a priority for Turkey. It has also lost hope in ties with certain Arab countries. The occurrence of Qatari crisis with Saudi Arabia and its allies led to a divergence in Turkish ties with the Saudis and Emiratis. Turkey feels to be isolated now", he added.
The pundit also noted the tension between Turkey and the West as yet another reason behind the shift toward Iran and Russia, particularly driven by United States' support for the Syrian Kurds. Turkey, he said, believes the Syrian Kurds have close ties with PKK, a terrorist group in Turkey's official rhetoric. "Turkey is now having difficulties with Europeans, and particularly Germany. Tense and fragile relations with Europe have intensified its feeling of isolation," Bahman said.
Saying Iran and Russia have welcomed Turkey's shift, he went on to elaborate on Russia's motive to accept the turn. "Trade cooperation between Ankara and Moscow have a special significance. It could encourage both side to develop their ties. It was trade cooperation that prevented mutual ties from total collapse, after Turkey shot down Russian warplane," the pundit reiterated.
Russia's second motive, according to the analyst, is the resolution of the Syria file. Russia sees Turkey as a major player in Syria and wants to distance Ankara from Arab states, like Saudi Arabia and the UAE, he said. "Russia is in fact after a rift in the regional coalition against the Syrian government," he added. Bahman also noted Russia's stance on Turkey-NATO relations, saying weakened ties between Turkey and the West is seen in Moscow as a dent to NATO.
Speaking about Iran's reasons to receive Turkey, the expert cited interwoven economic ties between the two as an effective factor. "Even though the Iran-Turkey economic ties suffered during the Syrian crisis, requirements in the ties called for a rapprochement," he added. He went on to highlight the two countries' security cooperation in the Kurdish issue while the Kurdistan Regional Government is close to a referendum, saying Iran sees such cooperation a necessity. He also cited Iran's vision to separate Turkey from the Arab anti-Syria front as another motive for Iran.
"There are signs of such a rift after the Qatari crisis and Iran is well aware that a wider rift means less efficiency in the Arab front. Iran also thinks that Ankara could be of help in resolving the Syrian crisis because of its shared borders with the country", Shoaib said.