As Iraq Prepares for Reconstruction, Saudis Lure Baghdad away from Iran
Saudi Arabia and the US are seizing the post-Daesh opportunity in Iraq to reduce Iran's influence.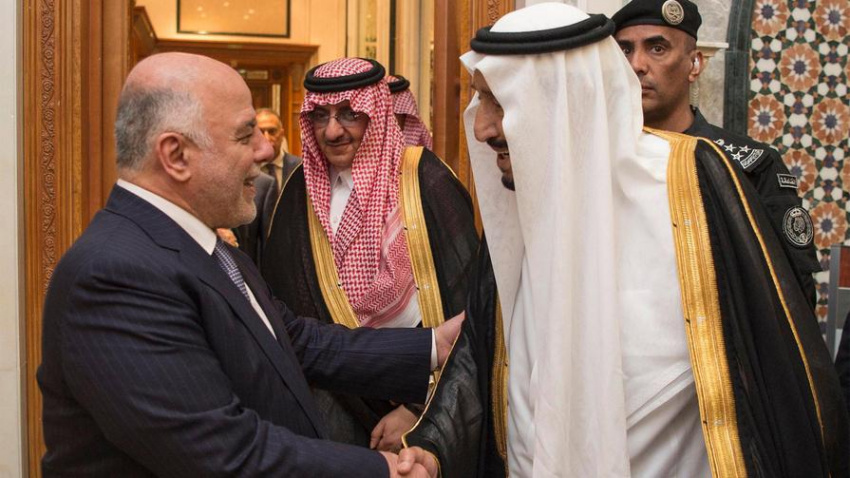 A series of fresh diplomatic and political developments are beginning to emerge in the Middle East that if materialized, they could change the region's security and political order. These developments are not limited to the Iraqi Kurdistan or defeat of ISIS/Daesh in Iraq and Syria. (Efforts made by regional players to make alliances against each other should also be taken into account.)
A recent episode that should be noted is Saturday visits made by Iraqi PM Haider al-Abadi and US Secretary of State Rex Tillerson to Riyadh, upon invitation by Saudi officials. The concurrency of the visits does not seem to be accidental. The Saudis are boosting coordination with Washington, to distance Iraq from Iran or at least play a more active role in Iraq.
Al-Abadi landed in Riyadh with a high-ranking entourage of ten ministers and sixty advisors to take part in meetings with Saudi officials. On the other hand, Saudi Energy Minister visited Iraq to convey the Saudi King's message of congratulation on the occasion of Iraq's victory over terrorism.
Iraqi President Fuad Masum has issued a statement stressing the depth of Iraq-Saudi ties and their expansion into every field, particularly those of energy, investment, tourism, economy, and academic and cultural cooperation. "It is important to revive the framework for cooperation as well as coordination in commerce and petroleum sectors," the statement added.
US Secretary of State Rex Tillerson also arrived in Riyadh to talk with Saudi officials on his second visit to the country in recent month. His mission was to discuss the resolution of the crisis between Saudi Arabia and Qatar with his Saudi counterpart Adel al-Jubeir and exchange views over reduced influence of Iran in the region, particularly in Iraq.
On Sunday, Tillerson took part in the first assembly of the Iraq-Saudi Arabia coordination committee. Experts have described the assembly as a sign of improved ties between Riyadh and Baghdad.
In the meantime, US administration sources in Washington have reported that the US Secretary of the Treasury Steven Mnuchin will soon be visiting the Middle East. The five-day tour, from October 25 to 30, includes visits to Saudi Arabia, Israel, the UAE, and Qatar, in order to discuss Iran's alleged financial support for terrorist groups.
Mnuchin, who will be accompanied by his Under Secretary of the Treasury for Terrorism and Financial Intelligence Sigal Mandelker, has announced in a statement he would discuss the Trump administration's new strategy to defy Iran's influence, allegedly destabilizing the region, with Middle East partners.
It seems that Washington's first step to unroll its new regional strategy against Iran begins with Iraq. The core elements of the new strategy include:
• Focus on neutralizing the government of Iran's "destabilizing" influence and constraining its aggression, particularly its support for terrorism and militants.
• Revitalize traditional alliances and regional partnerships as bulwarks against Iranian subversion and restore a more stable balance of power in the region
Rex Tillerson will hope to achieve something that has eluded top American diplomats for a generation: sealing a new alliance between Saudi Arabia and Iraq that would shut the doors of the Arab world to neighboring Iran, Associated Press wrote. "U.S. officials see a new axis that unites Riyadh and Baghdad as central to countering Iran's growing influence from the Persian Gulf to the Mediterranean Sea, particularly as the Iraqi government struggles to rebuild recently liberated Islamic State strongholds and confronts a newly assertive Kurdish independence movement," AP added.
Even though trying to distance Iraq and Iraq and unite Baghdad with Saudi Arabia is nothing new, US officials have become more optimistic in recent months. They're hoping to push the improved relations into a more advanced phase Sunday when Tillerson participates in the inaugural meeting of the Saudi Arabia-Iraq Coordination Committee in Riyadh, according to AP. Two U.S. officials, spoke on condition of anonymity, have told AP that Tillerson hopes the oil-rich Saudis will contribute to the massive reconstruction projects needed to restore pre-IS life in Iraqi cities such as Mosul and lend their backing to Iraqi Prime Minister Haider al-Abadi.
On Thursday, National Security Advisor to the US President Herbert McMaster told a forum organized by Foundation for Defense of Democracies that Washington wants a united Iraq not aligned with Iran.
What will Iraq do?
An essential question is how much the government of Iraq is aware of the anti-Iran strategy. If aware, will Iraq leaders join the strategy jointly adopted by Riyadh and Washington? What objectives will the Iraqi government pursue in improving ties with Saudi Arabia?
These questions do not have definitive answers but the government of Iraq seems to be preparing for the post-Daesh era, when the reconstruction of the war-hit regions needs financial and economic support at regional and international levels. Here, Saudi Arabia steps in to expand influence in Iraq using money and financial promises. Iraqi leaders want to use every country's potential in the reconstruction of theirs.