No exact time for end of Olive Branch Operation:Turkish ambassdor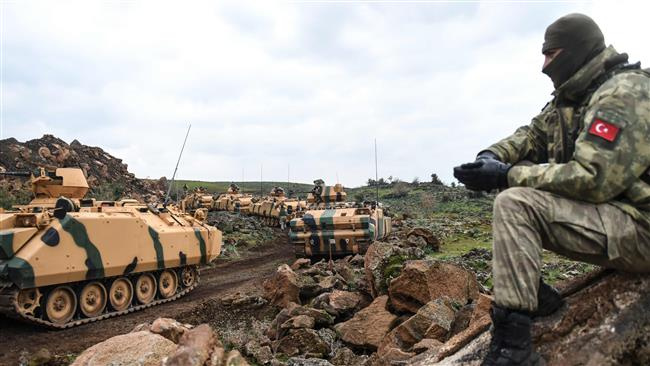 Turkey's Ambassador in Iran Rıza Hakan Tekin in an exclusive interview with Mehr News agency says one cannot provide an exact time frame for the end of the military operation in Afrin, Syria but Turkey want to complete the operation in a short period of time.
Turkish military on Saturday announced that it has launched "Operation Olive Branch" in Afrin, located in northern Syria. From the very beginning, there were varying reactions from different countries to this operation.
Syrian President Bashar Assad reacted by saying that Turkey's invasion of Afrin is just another part of Turkey's policy towards the Syrian crisis, which has been to support terrorism and terrorist groups.
Islamic Republic of Iran's Foreign Ministry spokesman Bahram Qassemi issued a statement emphasizing respect for Syria's territorial integrity, hoping that the operation would end immediately.
He further noted that Iran expects all countries, especially the Turkish government as one of the guarantor states [of the Astana Process], to remain committed to the diplomatic settlement of the Syrian crisis, especially within the framework of Astana Talks, and to continue to play a constructive role and carry out its responsibility to resolve the crisis in Syria diplomatically.
Russia, another country involved with the Astana process, also issued a statement. The statement was issued by the Russian Ministry of Defense. It said that Moscow is following the operation with concern, saying that US Pentagon's arms support for groups weakens the peace process and has led Turkey to initiate the military operation. Washington's announcement about its decision to start training border guard forces in Syria has caused a very negative reaction by Ankara.
White House spokesperson called on Ankara officials to exercise self-restraint and warned that the operation could exacerbate the humanitarian crisis and undermine stability in this region.
The European Union foreign policy chief Federica Mogherini has expressed grave concern about Turkey's military operation. She said that it is important to guarantee the security of civilians and their access to humanitarian assistance. She said that the strategy should be to focus on fighting ISIS, and EU is worried about the impact of this operation on the Geneva talks.
Turkey considers operation as step towards ensuring its national interests. It has announced that it had informed countries such as Russia, Iran and US before starting the operation.
Mehr News Agency speaks to Turkey's Ambassador in Iran Rıza Hakan Tekin about the military operation. The interview is presented below:
What are the goals and objectives of the "Olive Branch" operation? How much of its goals has been achieved in the past few days?
Perhaps it would be better if we first talked about background of the developments. Turkey has been combating terrorists for many years. Our fight against PKK goes back 40 years. Following civil war and instability in Iraq and Syria in recent years, IS has been added to the list of terrorist organizations we have been fighting. In addition, we have been fighting the terrorist organization affiliated to Fethullah Gülen which attempted to stage a coup in Turkey a year and a half ago.
When we talk about PKK, we should say PKK and its branches because it has a number of branches located at different geographical locations. Two of the branches of this terrorist group are located in Syria, PDK and military arm YPG.
What has made our fight against PKK, its branches and IS harder is that they are based outside Turkey. PKK is located in northern Iraq's Qandil mountains. Its Syrian branches, PYD and YPG, are located in northern parts of Syria.
This is also true for IS. It had captured vast parts of Iraq and Syria. It has been completely defeated in Iraq. Even though it still controls some parts of Syrian territories, it has become much smaller than before and a lot of areas have been recaptured from IS. As you know, IS has carried out a lot of operations against Turkey. We have lost almost 300 civilians to IS terrorist operations. Last year, Turkey carried out an operation called "Euphrates Shield" against IS. The operation was successful and cleansed border areas [between Turkey and Syria] from IS elements.
After these developments in Syria's northern parts, PYD and YPG carried out operations against Turkey in the area. Of course, these two groups were not the only groups involved. Elements linked to IS took advantage of the situation, infiltrated Turkey and carried out attacks.
In order to secure our national interests and neutralizing these threats, we started talks with various groups present in the area. We sent them messages. We also sent messages to these terrorist groups through their supporters. We think they received the messages. We did not immediately decide to take military action. We first adopted other measures. But our messages did not have the desired result. We witnessed actions that would have destroyed Syria's territorial integrity, such as formation of alternative military forces.
We started the operation in northern part of Syria. Our only objective was to ensure Turkey's national interests and safety of Turkey's border areas. Our aim was to prevent dissolution of Syria because Syria's territorial integrity is very important to us and we are committed to maintaining Syrian territorial integrity.
The operation is solely aimed at the terrorist groups in the area. We have taken full precaution to avoid harming civilians living in the area. It is absolutely not true that the operation is aimed at certain section of the Syrian population. This operation will peace to the area. In fact, it would ensure continued peace and stability for the people living in the area.
Moreover, the operation was carried out within the framework of international laws and regulations. Based on UN Charter's Article 51 which recognizes governments' legitimate right to self-defense and also various statements by the United Nations Security Council about terrorist organizations, this operation was carried out within regulations and [accepted] standards.
Regarding the operation's goals, we informed all relevant parties and also the United Nations Security Council and UN Secretary General. We explained the objectives to them. One of the parties that we informed was the Syrian government. Syrian Consulate General is still active in Istanbul. We informed the Consulate General about the operation through an official communication. The operation will continue until the end of the terrorist group's activities against Turkey in the area.
We expect that our friends to help us in our fight against terrorists, which is within the international framework of international regulations. This operation is an important step in the fight against terrorism in the region and also helps solve the Syrian political crisis. The more we rid the Syrian territory of terrorists, the more we will help political resolution of the Syrian crisis.
The operation started on Saturday. It has been very successful so far. We have achieved our objectives. I cannot comment on the details of the operation. The objectives of the operation can be understood from the name chosen for it.
As Turkey is one of the guarantors of ceasefire in the Astana process aimed at resolving the Syrian crisis, don't you think that the current measures in Afrin would intensify the Syrian crisis? That it contradicts Turkey's positive role in the Astana process and could help reinforce the Takfiri terrorist groups?
I do not agree with this view. I believe that this operation will help a lot to the Astana process and resolving the Syrian political crisis within the framework of Geneva talks. The operation is against the terrorist organizations in the area.
Countries that are part of the Astana process, meaning Turkey and Iran and Russia, all support the territorial integrity of Syria. Presently, there are groups in north of Syria which want dissolution of Syrian territory. They are even forming their own armies. We are talking about systems that have captured certain areas and are carrying out ethnic cleansing.
PYD and YPG, which claim to represent Syria's Kurds, are exerting a lot of pressure on those Syrian Kurds who do not agree with them, even oppose them. Ignoring such an organization which is active within Syria and is taking actions against Turkey, and not taking any step against them, would definitely not help the peace process in Syria and the Astana process. If some people think that IS and other terrorist organizations can take advantage of the situation, then I would remind them of the successful Euphrates Shield. We know very well who helps the IS terrorists. These people say that such operations help strengthen IS. We should remember that it is these people who supported the agreement that allowed IS to be safely relocated to areas in Syria which were protected by PYD and YPG.
We are facing terrorist groups who would cooperate with IS if it served their interests. Fighting them would help not only bring stability and security to Syria but also to the whole region. We do not differentiate between terrorist groups, PYD, YPG, IS, Al-Nusra Front and others. It makes no difference to us. We will fight all terrorist groups.
You said that you will continue the operation until actions against Turkey are ended. On the other hand, Turkish President says that the operation is short-term one. At the same time, there are reports that operation may expand to Manbij and other areas. Does Turkey have a specific time frame to complete the operation?
One cannot provide an exact time frame for the end of the operation. But we want to complete the operation in a short period of time. Nevertheless, our national security is involved in the matter. If the development in the fields require more time, then we will continue with the operation.
Will Turkey remain committed to Syria's territorial integrity? Will it leave Syrian soil after achieving its objectives and respect Syria's territorial integrity? Or will it maintain military presence in Syria's Kurdish areas? What are your plans for after the "Operation Olive Branch"?
I stress that Turkey has no aspirations towards any part of Syrian territory nor wants to create an infiltration zone there. Please note that during Euphrates Shield operation, 2,000 kilometers were cleansed of IS elements and Syrians returned to their homes in these areas. Normal life continues there. We are following the same objectives in the Operation Olive Branch. We are opposed to any form of self-rule areas or creation of an infiltration zone for us or any other country.
We support political resolution of the Syrian crisis. Syrian people themselves should decide how they want to run their country. This is the framework supported by the Geneva talks and United Nations Security Council has issued several resolutions in this regard.
Our view is that the Astana process and the Syrian meeting that will be held in Sochi is a positive step towards realizing the Geneva framework. We hope that after getting rid of the terrorist groups, the political process in Syria would be expedited. Peace and reconciliation would prevail, that Syrian people would decide their own future. All of this should happen within the framework of preserving the territorial integrity of Turkey and preserving the sovereignty of Syria and the integrity of the country.
Some believe that if the operation is successful in the Syrian Kurdish regions, it is possible that Turkey may agree that Kurds from Syria's northern areas would participate in the political process for resolving the Syrian crisis. Is it possible that Turkey would agree to PYD and YPG participating in the peace talks after they have been weakened?
PYD and YPG are not only groups who can represent Syrian Kurds. There are many Kurdish groups in Syria. One of them calls itself National Coalition. Based on 40-years long fight against PKK, we know their mentality very well.
PYD and YPG mainly exert pressure on the people they represent. It is not just us who say this. This is also said in the reports by NGOs. It is becoming impossible to cooperate with such organizations. Unfortunately, they receive support from outside Syria. This support only emboldens them further. They are masters of propaganda. They have masterfully spread the fantasy among the people that they are fighting IS. They are saying that women without hijab are fighting IS, thus presenting a secular picture about themselves in the West. Unfortunately, many of our Western friends are deceived and actually believe these stories.
If we are able to remove the groups that are exerting pressure on Syrian Kurds, then the Syrian Kurds can freely select their representatives. We wish that the Syrian Kurds, like other Syrian people, would be able to exercise their fundamental rights and freedoms within the process of resolving the Syrian political crisis. We are aware of the problems they have been facing. Even the identity papers have not been issued for them. We are against instability and civil war which started seven years ago and still going on. PKK and its affiliates PYD and YPG want to take advantage of this instability and want to moe ahead with their plans. We want to prevent this. We do not want the Syrian Kurds to be ignored or their rights weakened.
After the end of this operation, we may see an increase in the number of refugees and a humanitarian crisis in these areas. Have Turkey considered this aspect of its operation and the possibility that the humanitarian crisis would become even more worse?
The United Nations spokesperson has said that Afrin has a population of 300,000. Furthermore, instability in other parts of Syria forced 126,000 persons to come to this area. As a result of Operation Olive Branch, it is possible that the number of refugees may increase. We are not targeting civilians in this operation. Therefore, it is not possible that the operation would result in a humanitarian crisis.
From the beginning of the Syrian crisis, Turkey has made direct contributions to reducing humanitarian crisis. It has also facilitated assistance from other countries. It has always played a positive role in this regard. At the moment, necessary measures have been taken to prevent humanitarian crises in these areas.
Interview by Maryam Jarrah layegh & Payman Yazdani
Source: Mehr News