Five Reasons Why Russia Vetoed Anti-Iran UNSC Resolution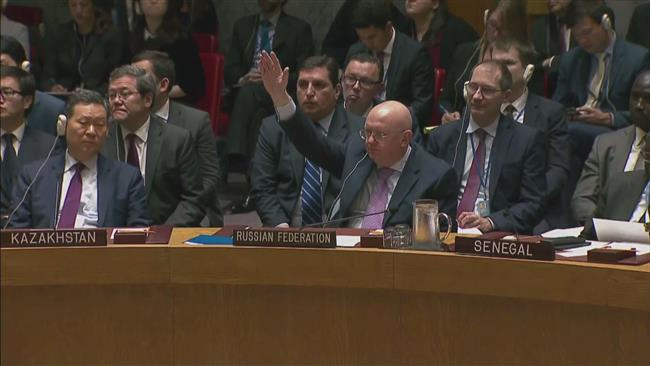 In an unprecedented move last Monday, Russia vetoed a British-drafted resolution in the UN Security Council, which expressed concern over Iran's violation of the arms sanction on Yemen.
The draft resolution presented by the UK criticized Iran for failure to block supplies of missiles to Yemen's Houthi rebels. Nonetheless, the UNSC unanimously adopted a resolution, renewing sanctions related to the Yemeni domestic war with no mention of Iran.
In recent months, the US and its allies have sought pressure on Iran over a missile fired by Houthi rebels from Yemen toward Saudi Arabia. The vetoed British-drafted resolution is a severe blow to attempts by the US and its allies to increase pressure on Iran.
The tone in the draft resolution had been much softened in order to prevent a Russian veto. "We cannot concur with uncorroborated conclusions and evidence which requires verification and discussions within the sanctions committee," Russian ambassador to the UN Vassily Nebenzia said about the veto.
Nine affirmative votes are required for a UNSC resolution to be adopted, only if permanent members of the council do not use their veto power. Russia, China, the United States, the United Kingdom, and France are the five permanent members of the Security Council.
In an interview with Fararu, former Iranian diplomat and international affairs analyst Ali Khorram said there were several motivations for the Russian move. "The first reason is that Trump's America is not Obama's America. Under the Obama administration, the US wielded flexibility and an understanding of the international scene to uphold its own status and somehow attract allies and non-allies alike," Khorram said. "Then, the Europeans were completely moving in line with US policies. They had accepted US command as they found it in agreement with their national security and interests. The Obama team could even establish dialogue with hostile countries, as were the cases with Iran and N. Korea. Obama's America never tried to provoke N. Korea, pushing it toward missiles and nuclear weapons. These were achievements for Obama, for the US, and for the world. The Europeans, Russia, and China were all happy with the situation," Khorram elaborated.
"However, the US has undergone a transformation under the Trump administration. Not only has it failed to keep allies satisfied, but also it has driven out countries with amicable or cold ties. Trump has put Iran and N. Korea in a confrontation. The end result is that the world does not accept US leadership under the Trump administration," the analyst said. "In a world where US leadership is not accepted, opposition with the US is not a flaw, but rather an honor. In a situation like this, Russia can easily stand against policies and positions of the US and the West," Khorram added.
The university professor went on to say how the second reason for the veto was also about Russia. "Led by Putin, Russia is much stronger than it was in the past. It can have its own ambitions and make decisions for itself. For years, Russia had wanted to tap its potentials as an influential world power," the veteran diplomat said, according to quotes published by Fararu.
Khorram said he believed a third motivation for Russia's veto of the British-drafted resolution had to be found in US-Russian relations. "During Barack Obama's presidential terms, the US and Russia were not supposed to be warm, but their ties, with the framework of partnership and cooperation, were much better than are today under President Trump, during whose term traditional and radical Republicans found new opportunity to raise a flag against Russia," he reiterated. "What the Trump administration was supposed to do with Russian relations was to resolve issues in between so that the two countries would be able to work closely with each other. That was a campaign promise made by Trump. But then things changed."
Speaking about the fourth justification behind Russia's move to block the anti-Iran resolution, Khorram said Russia and Europe have seem that there is no sensibility in US hostilities toward Iran, with the former always trying to pick on something when it comes to Iran. "The way Trump and his hawkish team treated the nuclear deal has received a backlash everywhere in the world. When Europeans are disappointed at Trump, who acts against his country's international obligations under the nuclear accord, Russia finds it a face-saving honor to stand against the US. Russia and Europe saw how Trump picked on Iran's missiles program, popular protests, and role in the region," the former diplomat explained.
After the Syrian crisis, Russia has gained confidence that it can do things with pretty much the same or even in some case greater influence compared with the US, the university professor said. "With the US completely pushed off, Russia was able to handle the crisis alongside Iran, Hezbollah and the Syrian government," he reiterated. These five reasons have given Russia the confidence to stop following US suit in everything and find its own independent voice, Khorram concluded.
When asked if the veto could have a bearing on Iran-Russia ties, he said it would. "In the past, Iran and many other countries working with Russia complained that Russia abandons them at critical times, saying it ties other countries' interests with its own wishes and ultimately turns its back on them," Khorram told Fararu. "But today Russia is on a fresh path. It is now trying to show Iran, Syria, and other partners that it is stable and keeps its commitments. This could rectify negative attitude against Russia in Iran," he added.