Political Convergence in South Caucasus: How can it be achieved?
In an op-ed for Iranian Diplomacy, former Iranian ambassador to Azerbaijan, Afshar Soleimani, enumerates barriers for regional convergence between Iran, Turkey, Georgia and Azerbaijan.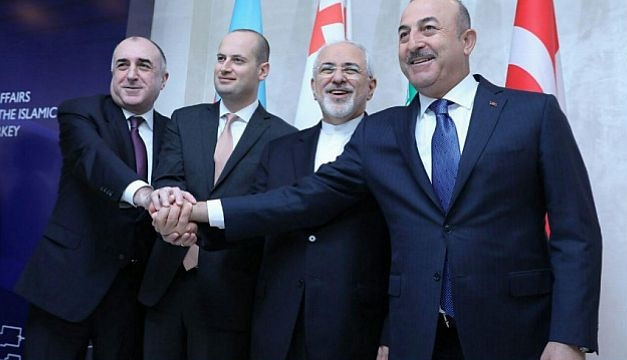 Recently, the first quadrilateral summit among foreign ministers of Iran, Turkey, Georgia, and Azerbaijan was held in Baku, at the end of which a three-page statement was issued, called the Baku Statement. The statement mainly focused on the what follows:
Emphasis on solidarity among the four nations, based on deep cultural and historical bonds, for peace, stability, and prosperity in the region.

Agreement on expanded four-sided cooperation in as many areas as possible, aimed to improve the prosperity of the nations.

Agreement on the use of existing potentials to boost investments, trade, and support for the implementation of joint plans and projects in energy, transportation, finance, communications, information technology, industry, agriculture, tourism, and the environment.

Emphasis on the connection of transit potentials in the four countries to international transit corridors, more cooperation for the development of transportation infrastructures, and increased transit potential in the four countries through railway connection from Bandar Abbas and Chabahar in the Persian Gulf to Rasht-Astara and Baku-Tbilisi-Kars.

Emphasis on further cooperation to reduce and prevent environmental damages and improved cooperation for the fights against terrorism, extremism, smuggling of drugs and weaponry, crimes against historical and cultural heritage, cybercrimes, human trafficking, and smuggling of migrants.
The signatories of the statement have almost missed nothing, covering every possible opportunity for collaboration. However, Iran's trilateral summits with Turkey and Azerbaijan or Russia and Azerbaijan have not yet brought clear, operational results.
From a diplomatic standpoint, bilateral and multilateral summits are not only acceptable but also necessary since their purpose is in the least to exchange views about major issues of interest, expand all-inclusive ties, or remove barriers. However, these summits and talks naturally have higher ends too. These may include establishment and development of a regional convergence in the face of the international system's bearings, avoidance of divergence, increased regional stability and security, economic growth of the countries in the region, expanded cultural cooperation and improved welfare of the nations in the region relying on common history, culture, viewpoints, and interests.
South Caucasia is dealing with unresolved crises of Karabakh and South Ossetia and Abkhazia. Russia's strategy is to maintain its rule over South Caucasia by continuing these crises and other circumferential ones like separationism in Ukraine. Turkey and Armenia have no political ties, with borders blocked. Thus, it will be challenging to establish stability and security in the region and undertake strategic economic projects.
Russia has always obstructed real participation of Iran and Turkey in South Caucasia, more for Iran than Turkey. Moscow sabotaged Iran's plan to take gas pipelines to Georgia and Turkey through Armenia but could not do the same over the gas pipeline from Azerbaijan, through Georgia, to Turkey and the oil and gas pipelines of Baku-Tbilisi-Ceyhan and Baku-Tbilisi-Erzurum have been operational since 2004.
Iran has not been allowed to export gas to Georgia through Azerbaijan and its gas pipelines from Iran to Russia, going through Azerbaijan and Georgia, have remained undecided ever since the Soviet era.
In the meantime, the failure to completely realize the rail part of the north-south corridor in the Qazvin-Rasht-Astara route and the weak potential and high costs of transit through the Caspian Sea has barred optimal use of the corridor.
Despite their common approaches, the differences in regional and global approaches of Russia, South Caucasia, Iran, and Turkey, political, ideological, border, and territorial differences among some, and the influence of the US and the West on the foreign policy of most have hindered optimal convergence, realization of the multilateral cooperation model and a regional treaty. Until these are resolved, no such convergence can be expected from these multilateral summits. They will continue to be diplomatic pretenses within the framework of which only provisional and case-specific talks and collaborations can take place.
Obviously, South Caucasia and its three neighboring countries should move toward the settlement of regional crises and gathering under a regional treaty. All provisional and case-specific collaborations should be directed toward such a treaty so that regional convergence can form. This could be extended to Central Asian countries and those of the Caspian Sea too, even though the regional and global climate suggests there is a long way to go. At the moment, the establishment of a rotating secretariat in the four capitals to pursue agreements based on the priorities could be a first step for increased convergence and a strategic treaty for South Caucasia.