Preservation of JCPOA Would Maintain Europe's Credibility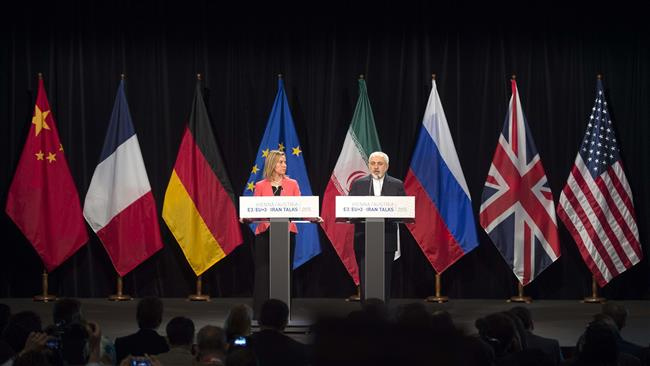 The preservation of the Iran nuclear deal – also known as the Joint Comprehensive Plan of Action (JCPOA) – is not only of enormous importance to Europe from different economic and security aspects, but also will help the European Union (EU) maintain its credibility.
That is why the heads of European governments have put in considerable effort to save the deal.

Despite frequent threats uttered by US President Donald Trump against those states seeking to cooperate and interact with Iran, the senior officials of the EU are still insisting upon preserving the deal, signed between Tehran and P5+1 in July 2015, and are attempting to open up channels to guarantee that the implementation of the JCPOA will continue. This is quite perceptible taking a glance at the internal meetings of the EU and the 44th G7 summit held in Quebec, Canada during June 8-9.

The heads of the industrial countries have major differences with Trump on issues such as the JCPOA, tariffs on European exports and the Paris climate accord which are apparently irreconcilable.

The JCPOA has been one of the most important issues over which the US and Europe have had serious differences during the 17-month period of the Trump administration. Currently, despite US withdrawal from the international agreement, European countries are doing their best to save the deal.

The recent visit by Israeli Prime Minister Benjamin Netanyahu to Europe and the meetings he held with the leaders of Germany, France and Italy failed to produce favorable results for him as they all described the JCPOA as the best available option.

During the three years since the signing of the JCPOA, the EU leaders have benefited the most from expanding relations with Iran. In this timespan, Tehran has played host to hundreds of political and economic delegations from all over the world. The conclusion of important agreements, a number of which are currently being implemented, has been the most important outcome of visits by these economic and political teams. 

Except for the deal signed between Iran and the Boeing Company, the US has so far failed to reap any benefit from the implementation of the JCPOA. At present, under intense pressure from the White House, this aircraft manufacturing company would inevitably have to violate its agreement with Tehran.

Europe is seeking to work out solutions to help its companies escape the punishment the US has administered for the continuation of trade cooperation with Iran. The heads of the European states are also very well aware of the losses and enormous costs they would have to sustain and bear as a result of accompanying Trump. According to statistics released by Eurostat, in 2017, trade transactions between Iran and the EU stood at more than €21 billion, which indicated a 53-percent growth year-on-year. 

In 2016, this figure had witnessed a 78-percent rise, compared to that of the preceding year, to reach €14 billion.

The most substantial investment in Iran in the post-JCPOA era was made by EU players. They signed remarkable agreements with Iran in the fields of energy as well as railroad, land and air transportation. European officials cannot remain indifferent to the interests of their companies and, thus, are required to work out methods to counter future sanctions to be imposed by the US and make the necessary measures.

Tehran's influential role and integral position in global and regional relations, which is of importance to the EU, is more important to Europeans than their economic dependence on the markets of the Middle Eastern state.

In case Europe also pulls out of the deal, Tehran will be drawn toward Russia and China, which is not acceptable to Europeans. They have conducted 13 years of nuclear negotiations with Iran and are not willing to acquiesce to the adoption of the White House's policies, now that they see their efforts have delivered the result they were looking for.

On the other hand, Europe's international credibility is tied to the JCPOA. Unlike Trump, who is indifferent to international norms, principles and regulations, Europeans have always made their moves and decisions within the framework of international laws and regulations. They maintain that reports and decisions by authentic and reliable international organizations, such as the United Nations (UN), UN Security Council and International Atomic Energy Agency, are of great importance.

Now that by his unilateral moves and decisions, Trump is showing indifference to international organizations and world's other major players, Europe's cooperation with the US would damage its credibility.

Currently, the JCPOA has turned into a touchstone to determine the extent of Europe's independence from the US. Other countries would observe these developments to regulate their regulations with the European signatories to the JCPOA. Surrendering to the demands of the White House would lead to the erosion of the credibility of the EU's 28-member states, to the same extent that refraining from cooperation with Trump will prove their trustworthiness to the world and enhance their reliability.

Moreover, Europe will suffer more from the consequences of pursuing US policies and, thus, the eventual failure of the JCPOA. Europe has been a target of terrorist acts during the past few years. In addition, millions of refugees have immigrated to European countries which has beset them with a host of diverse problems.

Europe's resistance against the United States will be the most effective solution that EU leaders can adopt.

Source: Iran Daily