Beijing supports full membership of Iran in Shanghai Cooperation Organization: Ambassador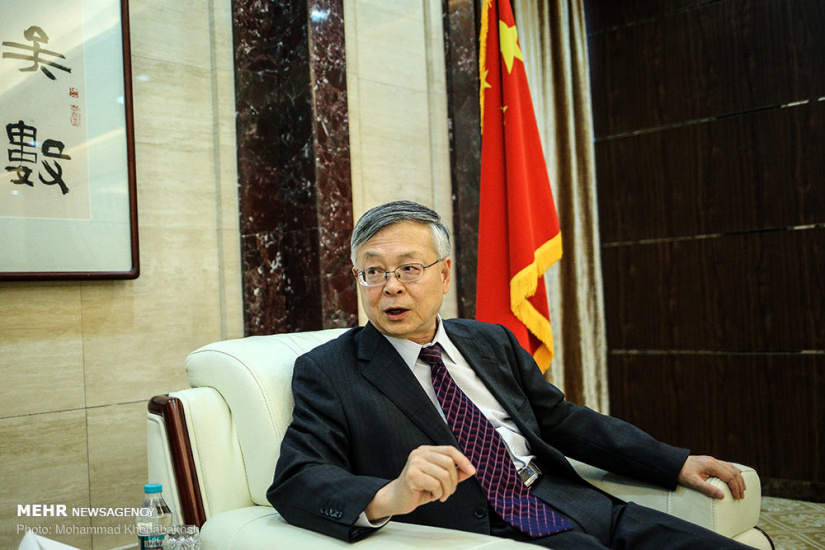 China Ambassador to Tehran Pang Sen hailed the deeply-rooted relations between the two nations. But while expressing support for Iran's full membership in SCO, he underlined the need for more work to strengthen the comprehensive strategic partnership.
Following is the full text of his interview with Tehran Times and Mehr News Agency: 
Q: What are the areas of integration between China and Iran? The two countries believe in multilateralism and disagree with U.S. shift towards unilateralism. For example, Shanghai Cooperation Organization is a good example of multilateral policy. Where does china stand on Iran's permanent membership in SCO?
A: In June this year President Rouhani visited China to attend the Shanghai Cooperation Organization (SCO) summit held in Qingdao. The meeting was a great success. We made very good progress to map the direction of the future development of the organization. President Rouhani played there an active role and made positive contribution to the success of the summit. Two presidents also held a bilateral meeting on the sidelines of the summit. They discussed intense cooperation between 2 countries. I think that the relationships between our countries are mutually complementary. It is for the benefits of two countries as well as our nations. So there is a great potential for two countries to work together. We can build on the previous achievements to make further progress in political, economic, security, cultural areas and people to people exchange.
You mentioned about the possible membership of Iran in SCO. I would like to say that during president Xi's visit to Tehran, two leaders issued a joint statement in which China made its position quite clear on this issue. China would be happy to see Iran play a greater role in SCO and we support Iran to be a full member of the organization.  We wish to emphasize the bilateral economic cooperation. The cooperation between two countries are in line with obligations that each of us undertake. The cooperation is transparent and legitimate.
f course we are facing some obstacles created by certain external factors among which are the U.S. sanctions against Iran. But I think that our relation is based on mutual respect and benefits which are deeply rooted in our longstanding friendship and civilization. So in the face of such difficulties we need to work together and consult on an equal footing to find ways to overcome the hardships caused by unilateral sanctions. Chinese position has always been clear. We are against such unilateral sanctions and so-called long arm jurisdiction because they are the manifestation of unilateralism and against the spirit of multilateralism. In the past two years, China and Iran have maintained close contact with each another. FM Zarif traveled to China and later the foreign ministers of remaining signatories of JCPOA met recently in New York to discuss ways how to overcome the difficulties in order to maintain the treaty because the JCPOA is an important multilateral deal and all signatories must fulfill their obligations. We are happy to see that Iran has been in full compliance with all its obligations under the deal. IAEA has issued 12 reports to certify that Iran is in full compliance with its obligations. The other partners including EU, France, Germany, UK, China and Russia have all expressed their readiness and willingness to support the continuation of the treaty. It shows that Iran is enjoying the support of the international community. I would like to mention the need to combat terrorism. Terrorism is a threat to all countries and the common enemy of the international community. There should not be any distinction between good and bad terrorism.  All of them should be seriously defeated. We need to address the issue of terrorism in its root causes for example by strengthening international cooperation, eliminating poverty and eradicating the extremist ideology. In our view, terrorism is not associated with any particular country, group of people or religion. Any form of terrorism should be fought with. There should be no double standards. China and Iran, both are victims of terrorism. We witnessed the recent terrorist attack in Ahvaz. China condemns such acts of atrocity. In the past time, we have had a very good cooperation in law enforcement and exchanging information to fight against drug trafficking, trans-boundary crime and etc. We will continue such cooperation because it is not only in the best interests of two countries and two nations but it is also for maintaining peace and stability of the region as a whole.  I also wish to say a few words about China-U.S. relations. There is an escalating trade friction between two countries. The root cause is not as we heard from the U.S. by the unilateral trade benefit gained by China because trading is beneficial for all involved parties. We are not seeking unilateral trade surplus. China wishes to set this issue through bilateral consultation and negotiation on an equal footing. Unfortunately the U.S. side is engaged in flip flopping. It rolled backed on our agreement and changed the mind. So this has made consultation between two countries very difficult. We made it clear from the beginning that China had no wish of engaging in trade war or conflict. This is not the case that China is afraid of but we don't want such a war. But if the U.S. is determined to wage such a conflict, we are ready to fight back. China has sufficient confidence and capability to defend its interests, sovereignty, development and security. 
Recently U.S. vice president Mike pence delivered a speech at a think tank. The relevant speech made unwarranted accusations against China's domestic and foreign policies and slandered China by claiming that Beijing meddles in U.S. internal affairs and elections. This is nothing but speaking on hearsay evidence, confusing right and wrong and creating something out of thin air. The Chinese side is firmly opposed to it. 
China unswervingly pursues the path of peaceful development and commits itself to developing friendly and cooperative relations with all other countries on the basis of five principals of peaceful coexistence and forging a community with a shared future for mankind. China always follows the principle of non-interference in others' internal affairs and will by no means seek its own developments at the expense of other countries' interests. Meanwhile, we are determined to safeguard our sovereignty, security and development interests. It is very ridiculous for the U.S. side to stigmatize normal exchanges and cooperation with China. 
China's policy towards the U.S. is consistent and clear-cut. We are committed to joining hands with the U.S. to work for non-conflict, non-confrontation, mutual respect and win-win cooperation. We advise the U.S. to reflect on its own human rights issues and stop its unwarranted accusations and slander against China and take concrete actions to maintain the sound and steady development of China-U.S. relations. 
     
Q: On Nov. 4, the U.S. sanctions on Iranian oil come into effect. Do you think that China will comply with the U.S. demands or continue trade with Iran? Shall we expect them to reduce crude imports from Iran?
A: As for bilateral trade, I should make clear that the relations between two countries including our cooperation in energy and oil sectors is in full compliance with obligations we both have undertaken respectively. It is transparent and legitimate. We are firmly opposed to any unilateral sanctions. We know that the next round of sanctions are coming and will merely target on Iran's' exports. Our position is to be opposed to U.S. sanctions. We will continue our cooperation with Iran. As for the specific modality of the cooperation, the two sides have been in contact over the past few months. We consult to make every efforts to make sure that our cooperation will continue. Of course over the past years, with or without sanctions there have been fluctuations in the exports and imports of the commodities including oil that is natural. So we don't have to be surprised if there is an increase or a decrease in the import volume of oil by China from Iran.
Q: China seeks to revive the Silk Road via the Belt and Road Initiative. Where does Iran stand on China's Belt and Road and what are the mutual interests of the project? Which Iranian capabilities can help to secure mutual benefits?
A: First of all, I wish to emphasis the concept or initiative of one belt one road is open and transparent. Any country that wishes to join, they will be welcomed. So it is not a block limited to a few countries. We are happy to see that more and more countries are expressing their willingness and support to join this initiative. There are countries in Africa and Latin America and internal organizations also showed readiness to join the initiative. We have signed more than one hundred agreements with different countries about how to proceed the construction of one belt one road. This initiative is based on equality, openness, transparency and mutual benefits. We emphasis that one belt one road will be consulted and built collectively by all countries concerned so it is not for the self-interest of any particular country but for the joint benefits of all participating countries. Since ancient times, Iran has been a very important link on the Silk Road. More than two thousand years ago, the Silk Road existed along which China and Iran maintained very close links. The Silk Road is not limited to commercial activities but it has been a way for cultural, philosophical and religious exchange. So it is a pathway for friendship. Iran certainly has been playing a very important role form ancient times to present. We regard Iran as an important partner in the one belt one road initiative. In the past few years, we have conducted a very fruitful cooperation in a broad range of sectors. We have achieved grate progress and I think in the future, we can even work more closely for the benefits of the two countries and nations.
Q: A few years ago, Barak Obama claimed the U.S. had no idea to let China write the rules for 21st century trade. As you know the American order is based on liberalism. What is the difference between American order and Chinese order?
A: First of all, we firmly support a multilateral trading system based on WTO. Of course, in addition to WTO, there are many regional arrangements for example bilateral trade treaties or regional initiatives as you know there are different trading blocks and partners.
About this so-called TPP initiated by President Obama, they had some progress but as President Trump took office, he pulled away from this trade arrangement. Not only TPP, but under Trump administration, the U.S. withdrew from other international treaties. The same thing happened for Paris Climate Change pact and President Trump withdrew from it when it came to office. The one belt one road initiative is not aimed at or against any particular country. It is formulated for the benefits of all countries which are ready to join. That is why we see many countries such as Germany, France and UK also joined the Asian Infrastructure Investment Bank (AIIB).The one belt one road initiative is inclusive rather than exclusive. The TPP is to promote a certain group of countries in the cost of other ones and that is the main difference between TPP and one belt one road initiative. 
Q: Some experts believe that China doesn't want to transform the SCO into an anti-western organization. As a result, it avoids giving a proper support to Iran's membership. What is your opinion on this matter?
 A: As I told you, President Xi visited Iran in 2016. The two presidents issued a joint statement in which China confirmed its position to support Iran to be a full member of SCO. During the recent visit to China by President Rouhani, China made it clear again its position to support Iran. There are some countries who are not happy to see the close friendship between China and Iran. They are trying to create division between the two countries by spreading rumors. For example, a couple of years ago, I read a piece of news by BBC. It claimed that China was opposing the full membership of Iran in SCO. I had to talk to Iranian Press to make clear that this ironic story was a sheer fabrication. As I told you, China fully support Iran's membership but the ultimate decision should be taken within SCO and by consensus. So, any decision has to go through consultation and that is why we suggested Iran should talk to other members to get a united support. As for the nature of SCO, I think that it mainly focuses on two areas: fighting terrorism and joint economic development. The membership expansion is a slow process. For example, recently, we received India and Pakistan as new members. The organization has initiated internal discussion about further expansion.  So, I wish to correct the impression and make clear that China is supportive of Iran's membership in SCO.
 Q: What are the areas of counter-terrorism cooperation? The Iranian Parliament Speaker's Special Aide Hossein Amir-Abdollahian said an international meeting would be held on issue of terrorism in Tehran. Will china attend the meeting? 
A: We have received invitation letter from Iranian Majlis Speaker Ali Larijani and sent it to Beijing. The matter is still under consideration.
Q: Iran and China have a common position on counter-terrorism. Have there been any moments of disagreement on this very important issue? 
A: First of all, we will focus on political area to form an international consensus in the UN and other forums. We have signaled opposition to the terrorism. For example, all agree that terrorism should be defeated. We also try to pull the international community together in order to fight terrorism in a collective way and avoid associating a particular country or religion with terrorism. China would also like to strengthen bilateral cooperation. For example, we can exchange information in regional formats such as SCO.
Q: Some experts believe that Iran and China aren't yet strategic partners and their relationship is based on the principle of simple cooperation. How do you assess the relationship between two countries?
A: I have already mentioned that the comprehensive strategic partnership had been announced by presidents of China and Iran. Since then we have been making continuing efforts to strengthen bilateral cooperation in all areas. We have made very good progress and in June this year when President Rouhani visited China, they once again had in-depth discussion on how to enhance bilateral cooperation. There is always room for improvement and this is the same case for our bilateral cooperation. For example, in political area, we can have more frequent dialogues in different sectors and levels ranging from government departments to legislator and then people to people exchange as well as media exchange. Soon, the Chinese Xinhua News Agency will send a delegation to Iran in order to increase our media exchange. That will help to strengthen the mutual understanding between two countries. We need to take new approaches in order to overcome new challenges and keep up the level of our cooperation. We have more work to do in order to strengthen our comprehensive strategic partnership.
Q: The U.S. and China are on the brink of a trade war. How do you predict the future of this war? 
A: I can't really speak on behalf the U.S. government but on behalf of Chinese government I should say that our position is clear. We don't want such a war but aren't afraid to fight back. We have full confidence and sufficient capability to defend our national interests, sovereignty, security and development. We hope that the two countries will be able to sit down and find a solution to the disputes. China and the U.S. have trade differences that is natural. The trade is not unilaterally beneficial for China but the U.S. also benefits a lot. We hope that the U.S. will understand that the best way to overcome the problem is trough consultation and negotiation rather than threat, coercion or sanction. Taking a different road will hurt both china and the U.S.
Q: As you know, low labor costs in China allows a reduction in the price of consumer goods and Trump is also critical of China's approach to cut tariffs on some goods. What's your opinion on this matter? 
A: The fact is that there is a trade imbalance between two countries. China has a trade surplus but this is not intentional. It is the result of comparative advantage and international division of labor. On the other hand, China wish to buy more (for ex. high tech products) from the U.S. But they set up a lot of obstacles. I think that sanction is not the right way to solve the problem but we should do it through consultation and negotiation. China doesn't build an unfair advantage against the U.S. There are trade policies and China is complying with the rules of WTO. So, the U.S. accusations against China are based on imagination and hearsay. 
Q: Is China seeking a mechanism to get rid of the U.S.-led monetary and financial order as well as dollar burden? If the answer is "Yes", how will such a mechanism work?
A: We formally support multilateralism as well as the implantation of WTO rules. The U.S. practice to protect self-interests at the expense of others is wrong. We hope that all countries will oppose unilateralism and stick to the principals of multilateralism in order to protect our common interests.  
Q: The Realist theorists believe in the military aspect of the power and don't pay much attention to other aspects. Talking about China, they bring up this argument that its economic power might be translated into military power. That's why they suggest that China will be the major threat to the U.S. in the future. What's your opinion in this matter?
A: Over about forty years, China has adopted policy of reform and opening up. We have achieved tremendous progress. So China's GDP has grown in a way that we stand as the world's No. 2 economy.  Living condition of Chinese people have been greatly improved. A lot of people have been lifted out of poverty. On the other hand, we are fully conscious that there is a big gap between Chinese level of development and the rest of the world. There are many countries which have a far higher level of GDP per capita income. If we take per capita GDP into account, China is lagging behind many countries. So in the future, we will still concentrate on our domestic economic development in order to improve living conditions furthermore of Chinese people. Meanwhile we will also have cross-sector development in all other areas such as science, technology, education and defense because China needs to upgrade our defense capability so that we will be able to safeguard our national security as well as sovereignty. I hope that our development will be balanced. China's growing economy and influence will bring more benefits to the world. We will make greater contribution to people's welfare and promote peace and stability all around the world. So China's growing influence is not for global dominance but to make a greater contribution to the common development of the entire world.
Q: China puts a great emphasis on the model of sustainable development. What are the major components of China's model of development and how much attention will be paid to political development in this model?
A: I think this is not only a goal of China but also a goal of the UN that the development should be sustainable and green. To bring benefits to our people, we need to safeguard our environment. Over the past two years, China has worked hard in this area to combat pollution. On the other hand, we need to pay attention to the political advancement of the country in order to improve the legal system and rule of law. The political satiability is also important because without it the society gets in trouble and all efforts for economic development will be damaged. So we should strive for good governance and improve our rule of law as well as economic development. So this is a two way approach. 
Source: Tehran Times