Syria Partition: The 'Next Phase' of US Campaign
US appears to be on its way to a new destabilization campaign cloaked as a victory march out of Syria, resembling George W. Bush's 2003 "mission accomplished" aboard the USS Abraham Lincoln. Kaveh L. Afrasiabi.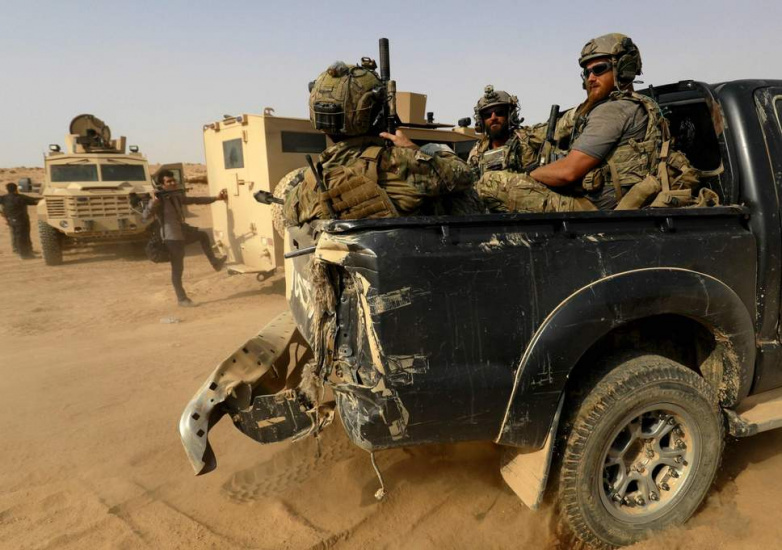 US President Donald Trump's abrupt announcement on the withdrawal of US forces stationed in eastern Syria has stunned the world, igniting heated debates in US with many voices from within and outside the Trump administration questioning the wisdom of his decision, described as a "gift to Russia and Iran." This decision, reflected in a Trump twitter message on December 19th claiming that US has defeated the ISIS, was echoed by a statement from the Pentagon echoing the White House's narrative about the "next phase of the campaign" against ISIS, but saying it had only "started the process" of withdrawal, and giving no timetable.
Without doubt, this was not an instant White House decision without prior consultations and preparations by the administration, irrespective of how it is played out publicly. It coincides with important signs of rapidly improving relations between Washington and Ankara, portending a new Turkish offensive in north east Syria. Although Russian President Vladimir Putin has welcomed Trump's decision as "the right thing to do," chances are that the move is calculated to plunge Syria into a new war triggered by a mad scramble for the control of north-eastern Syria and its valuable oil and gas resources, desperately needed by Damascus to rebuild the war-shattered country. Also, as warned by the Kurdish forces, this would allow ISIS and other jihadists to reassert themselves. Thus, Trump's decision, announced the day after a successful UN effort to set up a constitution committee for Syria, can set back the evolving political process in Syria and, at the same time, drive a wedge between Tehran and Ankara.
Last Friday, Erdogan reported that he had received some "positive answers" from Trump in their telephone conversation regarding the tense situation in north-east Syria. The day before Trump's tweet on Syria, above-mentioned, the State Department had approved the sale of Patriot ground-to-air missiles to Turkey, in the same statement questioning Turkey's intention to purchase the S-400 air defense system from Russia. Not only that, the White House spokesperson has stated that the administration is now considering Ankara's demand for the extradition of dissident cleric,Fethullah Gülen, residing in the US.
Henceforth, the vague references to the "next phase" in US's campaign in Syria could well turn out to be a Syria partition plan, whereby Turkey with US backing would gain control of a wide swath of Syrian territory including a number of oil fields and gas plants that the Syrian Democratic Forces (SDF) seized from ISIS last year, including the Conoco natural gas facility, which had the largest capacity of any gas field in Syria before the conflict, and the Al Omar oil field, Syria's largest and most lucrative. The writing is on the wall already -- a new Turkish offensive to defeat the mostly Kurdish SDF forces and to substantially increase Turkey's foothold inside Syria is now imminent, most likely coordinated with Washington.
Should this happen, then Turkey and Damascus will be on collision course, sounding the death knell for the hitherto amicable relations between Tehran and Ankara, given Iran's long-standing strategic alliance with Syria. The fate of the tripartite Russia-Turkey-Iran cooperation for peace and "de-escalation" zones in Syria hangs in the balance, calculated by Washington to go down the drain as a result of its sudden decision creating a power vacuum in eastern Syria. As a result, 2019 may prove to be a very challenging year in Iran-Turkey relations. In a worst case scenario, US will likely provide air cover for its NATO ally in Syria, thus consolidating Turkey's proxy role, which will be antithetical to Russian interests as well. Thus, despite appearances to the contrary, the dynamic situation has the potential for a closer Iran-Russia relations confronting an array of new challenges in Syria, including a resurrected ISIS, since by all indications ISIS though badly battered is not yet defeated and has been restructuring itself for a "second war." There are also reports from Iraq indicating an emerging alliance between ISIS and al-Qaeda, which represents another dangerous development for the region's security impacting Iraq's security.
Notwithstanding the above-said, US appears to be on its way to a new destabilization campaign cloaked as a victory march out of Syria, resembling George W. Bush's 2003 "mission accomplished" aboard the USS Abraham Lincoln, which came to haunt his presidency. Similarly, Trump's decision may also be viewed as a mistaken, premature announcement since by US military's own account ISIS is months from being completely routed in eastern Syria and a US pull out will present a new breathing space for the terrorist group -- that Iranian media often refers to as a proxy of US, Israel, and Saudi Arabia. While it remains to be seen if US will withdraw completely or partially out of Syria and the timeline, it is abundantly clear however that there is more than meets the eye and only the passage of time will make clear the full feathers of the surprised decision that has also deflected attention from another important news, that is, Russia's announcement that they have received official US notice of withdrawal from the INF arms control treaty. There may not be a direct link between the two withdrawals, but both signal sinister US intentions toward greater regional and global instability.