Iran, Iraq discuss major regional issues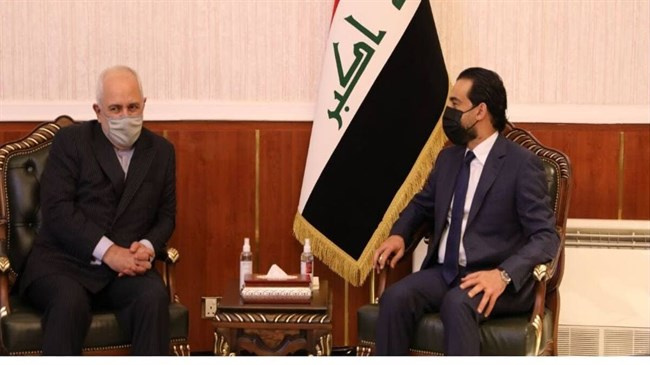 Iran's Foreign Minister Mohammad Javad Zarif and the speaker of Iraq's Council of Representatives Mohamed al-Halbousi exchanged views on issues of mutual interest in a meeting in Baghdad on Monday.
Zarif arrived in the Iraqi capital from Doha, Qatar, earlier on Monday on a two-day visit, for talks with senior Iraqi officials, IRNA reported.
During his talks with the speaker of Iraq's Council of Representatives, Zarif hailed Iraq's role in regional convergence, noting that the Iraqi parliament approves withdrawal of foreign forces in respect of Iraqi sovereignty.
The US martyred anti-terror commander Lieutenant General Qasem Soleimani and Abu Mahdi al-Muhandis in the soil of Iraq, Zarif said referring to the assassination of the former commander the Quds Force of the Islamic Revolution Guards Corps (IRGC) and Abu Mahdi al-Muhandis, the second-in-command of Iraq's Popular Mobilization Units (PMU), and a number of their companions on January 3, 2020, in a US drone attack.
Zarif also touched upon the upcoming elections in Iran and Iraq as a symbol of people's sovereignty in both countries, wishing Iraq success in holding a peaceful election.
The Iraqi official, for his part, stressed the role of the Iraqi government and parliament in facilitating stability in the region and supported the provision of conditions for enhancing trade between the two states.
Earlier in the day, the Iranian foreign minister discussed regional cooperation and regional and international issues in a meeting with President of Iraq Barham Salih.
Zarif also met with Iraqi Foreign Minister Fouad Hussein and praised Iraq's efforts aimed at bolstering regional stability.
He hoped Baghdad's efforts will lead to "more negotiations and understandings" in the region.
Source: Iran Daily