Iran, Turkey concerned about surge in Daesh terrorist attacks in Afghanistan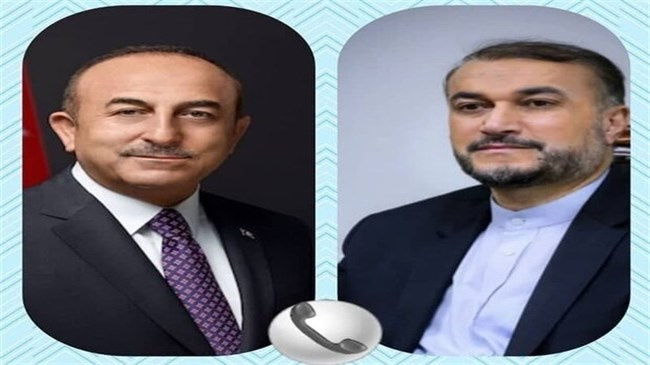 Iran's Foreign Minister Hossein Amir-Abdollahian and his Turkish counterpart Mevlüt Çavuşoğlu voiced concern over increasing of the Daesh terrorist attacks on worshippers in Afghanistan, which killed scores of worshippers during Friday prayers this month.
In addition to the situation in Afghanistan, the two FMs also discussed Tehran-Ankara ties, holding the Astana summit and the 7th strategic meeting between Iran and Turkey, as well as visits by high-ranking officials of the two countries in a phone call on Thursday.
According to the official website of the Ministry of Foreign Affairs, Amir-Abdollahian said Muslim countries are expected to play a more active role regarding the latest attacks in Afghanistan.
Earlier this month, a local affiliate of the Daesh Takfiri terrorist group conducted separate terrorist attacks against two Shia mosques in the Afghan cities of Kandahar and Kunduz, killing dozens of worshippers and wounding many more, Press TV wrote.
Iran strongly denounced the attacks, saying Daesh's acts of terror aim to sow religious discord in Afghanistan, and underlined the Taliban's responsibility in providing security for Afghan ethnic groups and followers of various Islamic sects.
Amir Abdollahian also referred to the upcoming meeting of Afghanistan's neighbors in Tehran, saying it will be an opportunity for the countries to exchange views on ways of paving the way for a stable Afghanistan, which would be free of terrorism and violence in order to fulfill the will of the Afghan people.
For his part, Mevlut Cavusoglu expressed concern over the rise in terror attacks in Afghanistan and underscored the need for taking practical measures to prevent similar incidents.
Cavusoglu also stressed the necessity of forming an inclusive government in Afghanistan and consolidating efforts to step up the fight against terrorist groups like Daesh.
All neighbors of Afghanistan should help with the battle against terrorism, he added.
The two chief diplomats also discussed bilateral ties and other regional and international developments, including the ongoing Astana talks aimed at ending the Syrian crisis, the 7th strategic meeting between Iran and Turkey, and also visits by high-ranking officials of the two countries.
Amir-Abdollahian reaffirmed Iran's policy to support the independence, sovereignty and territorial integrity of neighboring countries and not to let ill-wishers conspire to disrupt relations between neighbors.
The two foreign ministers also highlighted the importance of the Economic Cooperation Organization (ECO) summit for strengthening regional cooperation.
Source: Iran Daily