Iran seeks guarantees new sanctions won't be imposed after JCPOA revival: FM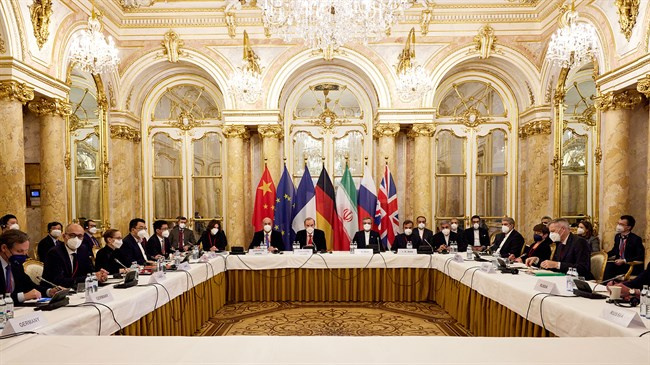 Foreign Minister Hossein Amir-Abdollahian said Iran seeks assurances at ongoing talks with world powers in Vienna that no sanctions will be imposed on the country when they are removed.
"We demand guarantees that include not imposing any new sanctions, and not reimposing sanctions after lifting them under any pretext," Amir-Abdollahian told Al Jazeera in an exclusive interview aired on Thursday.
An eighth round of negotiations between Iran and other signatories to the landmark 2015 nuclear deal – France, Germany, Britain, Russia and China (P4+1) – is underway in the Austrian capital in order to restore the tattered pact from which former US president Donald Trump unilaterally withdrew in 2018 and reinstated and reinforced sanctions on Iran.  
The US, which is taking part in the talks indirectly, wants to rejoin the deal, known as the JCPOA.
Iran demands the complete lifting of US sanctions, as well as guarantees that the US will not pull out of the accord again. It also wants a period of time to be given to verify that sanctions are effectively lifted.
Amir-Abdollahian said an agreement can be reached to revive the JCPOA if Western parties have the will and intention to do so.
"The eighth round of Vienna talks is on the right path ... [and] achieving a good agreement is possible if the Western sides show serious determination," the top diplomat said.
"Lifting sanctions means lifting all forms of sanctions stipulated in the nuclear agreement, and the sanctions that Trump reimposed contradict the terms of the agreement," he added.
The Iranian official said the most "practical model" for the removal of sanctions would be when it comes to Iran exporting oil and obtaining revenues through the country's own banking system.
"There's an informal and an indirect exchange of message with the Americans in Vienna – we hear good words from that delegation, but what is important to us is to see practical and serious American actions," said Amir-Abdollahian.
Progress in Vienna talks
France's foreign minister said on Friday progress has been made regarding the Vienna talks although time is running out.
"I remain convinced we can reach a deal. Bits of progress have been made in the last few days," Jean-Yves Le Drian told BFM TV and RMC Radio, according to Reuters.
"We have been heading in a positive direction in the last few days, but time is of the essence, because if we don't get an accord quickly, there will be nothing to negotiate."
Western diplomats have indicated they are hoping to have a breakthrough by the end of January or early February. Iran has rejected any deadline imposed by Western powers.
Source: Tehran Times