Iran FM discusses bilateral ties with Pakistani, Turkmen counterparts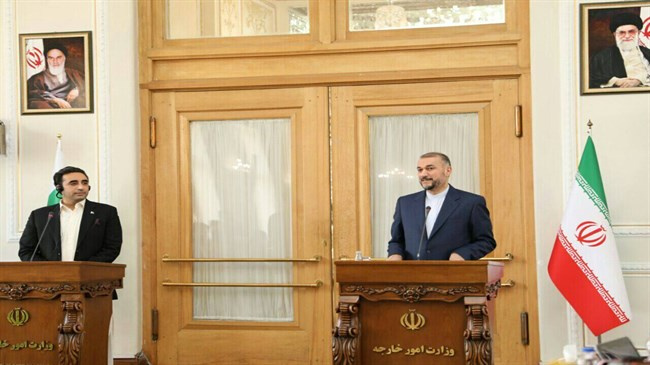 The Iranian foreign minister discussed bilateral, regional and international issues with his visiting Pakistani and Turkmen counterparts in Tehran on Tuesday.
In remarks at a joint press conference with his Pakistani counterpart, Bilawal Bhutto Zardari, Hossein Amir-Abdollahian said deep-rooted bilateral relations between the two major Muslim countries have always been a source of hope since the beginning of their diplomatic ties, IRNA reported.
He added the Iranian administration, under President Seyyed Ebrahim Raeisi, has founded its foreign relations on the basis of expanding cooperation.
Amir-Abdollahian said in his talks with Zardari that they discussed bilateral ties, enhancement of cooperation, border markets, boosting trade and provincial collaborations through adopting common political approaches and stances.
He added that among the other discussed issues were expansion of cultural cooperation between the two sides at an international level as well as developing economic and trade ties.
The Iranian foreign minister said regional issues, such as the situation in Afghanistan and Palestine, were also among the topics of the talks, stressing, "We are against the war in Ukraine and seek to make efforts to resolve the crisis."
He expressed hope that the formation of an inclusive government in Afghanistan, as the sole solution, would help dry the roots of the ongoing crisis and ensure peace in the country.
Turning to Yemen, Amir-Abdollahian said Iran supports the truce in the Arab state and calls for the complete lifting of the country's blockade.
The Iranian foreign minister also noted that Tehran backs intra-Yemeni dialogues.
Condemning the Israeli crimes in Palestine, he said Tehran insists on the formation of a united Palestinian government and maintains that Muslim countries are required to unite in the face of the threats and hostile measures by the Zionist regime toward the Muslim world.
Source: Iran Daily