FM: Tehran to host tripartite ministerial meeting among Iran, Azerbaijan, Turkey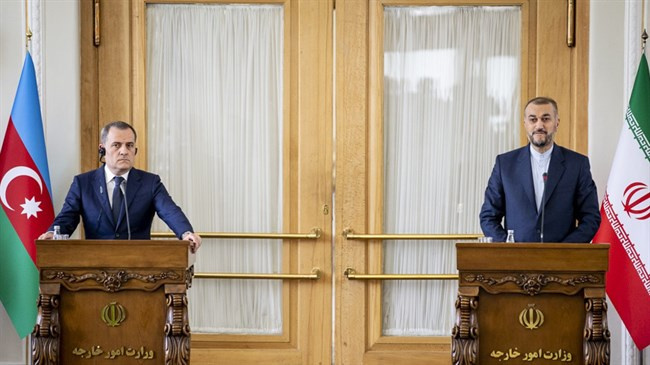 Tehran is expected to host a trilateral meeting at the level of foreign ministers among the Islamic Republic, the Republic of Azerbaijan, and Turkey.
Iranian Foreign Minister Hossein Amir-Abdollahian made the remark in an address to a joint press conference with his Azerbaijani counterpart, Jeyhun Bayramov, in Tehran, IRNA reported.
He added the decision was made at his meeting with Turkish Foreign Minister Mevlut Cavusoglu on his trip to Ankara a few days ago.
The top Iranian diplomat noted that he and the Azerbaijani foreign minister will decide about the date of the meeting.
Amir-Abdollahian said Iran maintains that under the new circumstances and in view of unfolding developments, existing regional formats between two or more countries must be stressed and taken into consideration.
He added there is another format at the level of experts in the Caucasus known as 3+3, noting that these meetings will firstly be held among senior experts from Azerbaijan, Armenia, Georgia, Russia, Iran and Turkey and, in the next step, among these countries' foreign ministers.
The Iranian foreign minister said in his talks with his Azerbaijani counterpart, they also discussed the necessity of ensuring countries' territorial integrity, particularly that of Azerbaijan.
He added the Islamic Republic voiced its support for the peaceful resolution of the ongoing Karabakh conflict based on the well-known principles of international law.
Tensions between Yerevan and Baku remain high more than a year after the arch-foes fought a war over the disputed Nagorno-Karabakh region.
Amir-Abdollahian stressed ever since the beginning of the conflict, Tehran has always expressed its readiness to help resolve the crisis through dialogue.
"We are still willing to continue our support and assistance in this field to help resolve the remaining issues based on respect for the involved parties' territorial integrity and sovereignty through the path of [holding] political talks."
Turning to bilateral ties, the Iranian foreign minister added Tehran and Baku have managed to resolve their misunderstandings over the past 10 months and are currently in the phase of witnessing increasing progress in all-out ties within the two nations' interests.
Over the past few months, Amir-Abdollahian said, bilateral trade transactions has taken a remarkable leap, expressing hope that following Monday's talks the two countries' public and private trade and economic sectors would take steps to further raise the level of exchanges.
He added Azerbaijan's President Ilham Aliyev has officially expressed readiness to visit Tehran, welcoming the Azerbaijani president to the Islamic Republic of Iran.
Source: Iran Daily