One step towards normalization: Rafsanjani visits Saudi Arabia
Will Iran-Saudi Arabia relations return to their happy days with King Abdullah's order?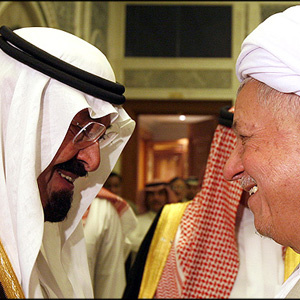 Will Iran-Saudi Arabia relations return to their happy days with King Abdullah's order?

Considering the strained relations of Iran and Saudi Arabia within the last few months, Rafsanjani's visit to Saudi Arabia can be a sign of improvement in bilateral ties.
The relations between Iran and Saudi Arabia have had their good and bad times after the Iranian revolution in 1979. The problems arise from differing viewpoints on religion, regional and international affairs. The differences have also had direct impact on the way Saudi Arabia treats Iranian pilgrims to Mecca and Medina, the more bitter the relations, the harsher Saudis' behavior with Iranians. However, up to now the Iranians have sufficed to expression of discontent and stress on the warm relations between countries, hardly a serious action was ever taken.
But this time relying on his signature pragmatism, Rafsanjani has used his travel to Saudi Arabia to ease tensions and it seems that the veteran Iranian politician has been successful.
Following King Abdullah's invitations, Rafsanjani traveled to Saudi Arabia on June 2nd heading a delegation of Iranian political and religious figures to join the International Interfaith Dialogue Conference in Saudi Arabia. The conference aimed to discuss ways for dialog between religions and cultures, establishing global peace and security, promoting morality in all communities and fighting against terrorism.
In the opening speech, Rafsanjani described the conference as a firm basis for dialog between Islam and other monotheistic faiths. He then shifted towards problems within the Islamic World and added: "we shouldn't allow the Islamic World decline because of internal differences. It's our duty to strengthen the Islamic World and the Islamic Ummah. Muslim countries wield 57 votes in international organizations and by uniting with some other countries; we can become influential and make the decisions".
In another part of his speech Rafsanjani mentioned: "20% of the global wealth is inside the Muslim countries. The most strategic locations, straits, waterways and geographical districts on earth and a huge market are in Muslims' realm. Universities of the Islamic World are progressing rapidly. [But] problems of the Muslim countries go back to themselves at first. The problems arise from poverty, lack of knowledge, backwardness and extremism. These intrigue imperialism and now they're looting our resources".
Elaborating on regional crises and domestic problems of Muslims countries Rafsanjani continued: "sources of turmoil in the region have become numerous and dangerous. Palestine has become a demonstration of criminals' real face. Lebanon is inflicted with schism and serious problems. Iraq has been occupied and as a result of this occupation other [neighboring] countries are facing dangers. The Americans even want to sign a long-term security pact with this country. We hope that this wouldn't happen and the Iraqi nation, the Iraqi government and Islamic ummah wouldn't allow Americans to impose capitulation on a progressive Islamic country. Colonialists have torn Afghanistan into pieces. What are NATO members doing in this country? The security conditions are becoming increasingly poorer and narcotics are broadly spread in Islamic countries and other regions. NATO forces can stop this, but they don't."
Rafsanjani called long-term security the key solution to regional problems and addressing all Muslim countries, demanded more efforts to bring global security especially for underdeveloped countries.
In his negotiations with Saudi officials and Islamic intellectuals, besides stressing unity and cooperation between Islamic countries to solve regional problems and help crisis-ridden Islamic countries, Head of Iran's Expediency Council carried out direct diplomacy and asked Saudi officials' commitment to respectful relations and appropriate treatment of Iranian pilgrims. Rafsanjani talked with King Abdullah on this problem which resulted in Saudi King's strict order to Saudi officials to avoid misbehavior with Iranian pilgrims.
With one contentious problem discarded, we can hope that better days will arrive in bilateral ties of Middle East's two influential powers, though there are still differences on religious issues, relations with transregional powers, oil, Iran's role in Lebanon and Iraq, Saudi Arabia's security and military cooperation with United States which are potentially harmful.