Arab Leadership Triangle: Revival?
Assad closer to Saudis but not moving away from Iran, Hamas and Hezbollah. By Morad Veisi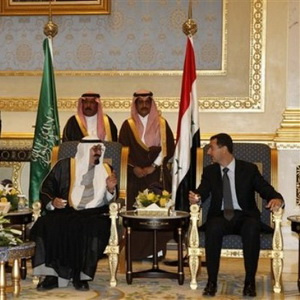 The Riyadh summit implies that Saudis and Egyptians have stopped futile efforts to isolate Syria. The gap between these countries had become so wide within the last four years that even led to rumors about cooperation between Saudi Arabia and United States for overthrowing Assad and replacing Alawites with a pro-Saudi Arab politician such as former vice president Abdul Halim Khaddam.
Saudis and Syrians have diametric opposition Lebanon and Palestine: while Saudi Arabia supports Hariri movement, Syria supports Hezbollah and Amal; Saudi Arabia supports Fatah and Abu Mazen in Palestine while Syria supports Hamas and Khaled Mash'al. Saudi Arabia also bashes Syria for its close ties with non-Arab Iran. 
Bilateral ties have gone downhill since 2005, after former Lebanese Prime Minister Rafiq Hariri was assassinated. Israel-Hezbollah conflict in 2006 deteriorated ties. Riyadh was angry with Syria's support for Hezbollah and Hamas, while Hezbollah was accused of complicity in Hariri's assassination.
The gap became wider when Hezbollah weathered the 33-day war with Israel, Saudi foreign minister and his Syrian counterpart had an angry exchange, an skirmish took place between Hariri and his allies against Hezbollah and the latter took control of Sunni-dominated West Beirut, Saudi Arabia and Egypt made joint efforts to topple Hamas elected government under the pretext of curbing Iran's influence in Gaza and even cooperated with Israel its 21-day war crime in the strip.
During these four years and while Bush was holding office, Saudis were hoping that under joint American-Arab pressure, Assad would give up his support for Hamas and Hezbollah and put an end to strategic ties with Iran. Not only didn't Assad change his approach, but also he gave more support to Lebanese and Palestinian resistance groups and increasingly insisted on close ties with Iran. Saudis never despaired however, and tried to convince United States to bring an anti-Iranian, non-Alawite, pro-Saudi and pro-American figure to power in Syria in order to control their strategic challenge with Syria over Lebanon and Palestine and stop Syria's cooperation with an increasingly influential Iran.
During this four-year span, Saudis thought US and France's pressures on Syria –which started since Hariri's assassination and UN Security Council's resolution against Syria- would intensify. Saudi Arabia also wished for a moderate Sunni Arab leader to replace Assad and his Alawite coterie since this would pave the way towards fortifying its position in the Arab world. After four years, this policy has failed however. Bush has left the White House and with Obama's presidency, the Arab kingdom has lost hopes for overthrowing Bashar Assad, Hezbollah has become stronger, Hamas still exists and Syria has not dissociated from Tehran.
In this situation, Saudi Arabia increasingly concerned and irate with Iran's regional role has made an unwanted turned towards Syria. Foreign minister Saud Faisal, and preceding him Prince Muqrin bin Abdul Aziz, the Saudi intelligence chief, have visited Damascus, delivering King Abdullah's message to Syrian officials. Reciprocally, Syrian foreign minister Walid Muallem visited Saudi Arabia 10 days later. It seems that Saudis are once again raising the flag of Arab unity. During the Gaza reconstruction summit in Sharm-el-Sheikh, Saud Faisal asked for Arabs' joint position over Iran's nuclear challenge, Persian Gulf security, and [Iran's] intervention in Lebanon and Palestine. This demand, besides Saudi Arabia's re-approach towards Syria is similar to Egypt's policy of attracting Hamas, moderated by Egyptian intelligence chief Gen. Omar Suleiman. If Syria and Hamas can't be defeated, at least it must be shown that they stand besides Egypt, Saudi Arabia and Fatah. Even if that doesn't imply Hamas and Syria's parting from Iran.
Egypt, Syria and even the United States know that they can't change Syria's behavior, but they hope that Palestinian national unity negotiations in Cairo, and the trilateral talks between Syria, Mubarak and King Abdullah in Riyadh form a prototype of Arab unity against non-Arab states (read Iran). In exact accord with this tactic, Washington sent two US diplomats to Damascus to meet foreign minister Walid Muallem. Standing in a firm position and maintaining its relations with Hamas, Hezbollah and Iran, Syria sees no problems in approaching Egypt and Saudi Arabia, as Hamas –stronger after the war in Gaza- sees nothing wrong with forming a national unity government with Fatah.
If the developments move in the current line, no anti-Syrian verdict will come out of the investigation on Hariri's assassination (directed by United States and Hariri movement), at least in the short run. However, revival of the Arab leadership triangle is unlikely with the uncompromised dispute over Hamas, Hezbollah and Iran. This may demote the Riyadh meeting to the level of a tactical reconciliation.