Tehran's Daily Newspaper Review
Tehran's newspapers on Wednesday 21st of Mehr; October 13th, 2010.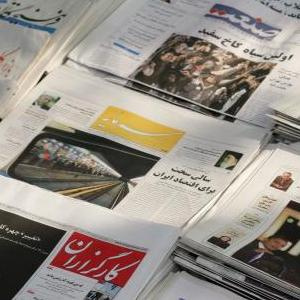 Ayatollah Khamenei's message to the nineteenth congress of "prayers", Ahmadinejad's high-profile visit to Lebanon, and the Minister of Health's warning on an eruption of the "AIDS volcano" were the top headlines in Tehran's newspapers today.
Hamshahri
Supreme Leader of the Islamic Revolution in a Message to the National Congress of Prayers: The presence of the youth should enliven the mosques
President Arrives in Lebanon Today
Deputy Trade Minister Announces: Bread to be delivered with reasonable price and adequate quality
Iran
Supreme Leader of the Revolution Stresses in a Message to the Nineteenth National Congress of Prayers: Mosques integrate politics, pure worshipping, and a noble life
Ahlan va Sahlan Ahmadi-Nejad (1)
Stability in Foreign Exchange and Gold Markets
Jomhouri-ye Eslami
Mounting Disgust at the Racist Bill of the Zionist Regime [for Oath of Loyalty to the Jewish State]
Minister of Health [Marzieh Vahid Dastjerdi]: [Eruption of] AIDS volcano imminent
In Conjunction with Price Change: Liquid Natural Gas [LNG] Rationed
Kayhan
In Protest Against Policies of the Sarkozy Administration: France paralyzed, demonstrations and strikes in 224 cities
Ahmadinejad's Visit to Lebanon Top of the World News Headlines
Message of the Supreme Leader of the Revolution to the Nineteenth Congress of Prayers: Worshipping and Politics, intertwined dualities
Kayhan's Report on Countdown for Enforcement of Purposeful Subsidies
Khabar
Fixers Still Trying to Increase Prices; Relative Quiet in Foreign Exchange Market
Dead Silent Days for Cinema Even with Comedies
[Senior Principlist and Former MP] Asadollah Badamchian: [Ali] Larijani the best choice for chairing Principlists' faction [in Majles]
Resalat
Message of the Supreme Leader of the Revolution to the Nineteenth Congress of Prayers: Mosques should be the center of preaching and fostering morality
Zionist Regime: We can't stop Ahmadinejad's visit to Lebanon
Shargh
Minister of Health's Warning: Aids volcano on the way
After Agreement with Dushanbe: [Majles'] Objection to Masha'i Running TV Channel in Tajikistan
Formation of Special Committee to Amend Articles 5 and 10 of Azad University Charter [on the Ownership of the Institute and Composition of Members of the Board of Trustees]
Tehran-e Emrooz
Lebanon's Iranian Day
Minister of Health's Warning about AIDS; "Younger Generation Should Take This Disease Seriously"
Supreme Leader of the Revolution: Mosque; symbol of the integration of this world and the afterlife
Vatan-e Emrooz
Trade Unions' Massive Protests against Sarkozy's Policies: Strikes paralyze France
Michel Aoun: Iran's President Affable; Ahmadinejad, Today in Lebanon
Akbar Ganji: Ahmadinejad's votes more than [Mir-Hossein] Mousavi
* Note: Vatan-e Emrooz does not publish on Thursdays due to financial problems.
(1) Arabic phrase meaning "Welcome to Lebanon Ahmadinejad!"
Briefing
Hamshahri (Citizen) is the official daily newspaper of Tehran's Municipality. Its general directions in politics, culture and economy are determined by the mayor of Tehran, currently Mohammad Baqer Qalibaf.
Iran is the official organ of the administration.
Jomhouri-ye Eslami (The Islamic Republic) was known as the official organ of the Party of the Islamic Republic, founded in 1979 and disbanded in 1987. Currently, it is an open critique of Mahmoud Ahmadinejad's policies and is known to be a mouthpiece of Akbar Hashemi Rafsanjani.
Kayhan (Universe) is a hard-line conservative newspaper. Its editor-in-chief –currently Hossein Shari'atmadari- is appointed by Iran's Supreme Leader. Shari'atmadari's editorials often spark off controversy and debate inside Iranian political circles.
Khabar (News) is a principlist daily newspaper which adopts a critical stance towards Ahmadinejad's policies.
Resalat (Mission) belongs to the moderate wing of the principlist camp. Resalat's best known analyst is Amir Mohebbian, its political editor.
Shargh (East) is a moderate reformist newspaper. It was the most popular and influential reformist newspaper in its first period of publication which lasted from August 2003 until September 2006.
Tehran-e Emrooz (Tehran Today) is a 'principlist reformist' newspaper, connected to Mohammad Baqer Qalibaf.
Vatan-e Emrooz (Motherland Today) -which started its publication in November 2008-, belongs to Mehrdad Bazrpash, the thirty-old pro-Ahmadinejad politician who is also head of Iran's second largest auto manufacturer company, Saipa. Vatan-e Emrooz is a supporter of the president's policies.