What We Expect from Iran
An essay by Ali al-Hail, a Qatari university professor and analyst, for Khabar Online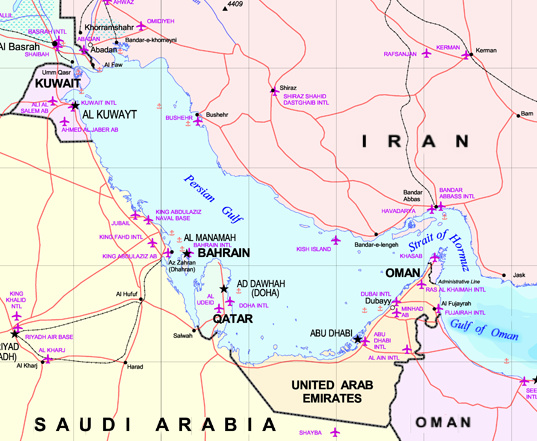 Those who travel to Tehran cannot believe or even feel that this country is faced with expanded sanctions which can paralyze any country, no matter how big. The hotels in Tehran and large cities like Isfahan, Shiraz, Mashhad, and Kashan are filled with tourists from South Korea, North Korea, China, and Norway. Tens of thousands of people from western European, Scandinavian, Asian, and African countries also visit Tehran. This is the observation of anybody who has visited Iran. Tehran's fairs are filled with visitors and some industrial, agricultural, technological, food, clothing, and textile fairs are always held there by domestic and foreign companies. Tehran's bazaars are very crowded. There are numerous types of goods with high quality and suitable prices for customers and tourists. The steel factory is amazingly active despite the US and Europe's economic sanctions. Only 50 employees work in this factory because it is completely mechanized. The auto industry is the same. Then there are Iran's nuclear reactors and their capability to enrich uranium which has achieved considerable progress. Of course, we are not discussing whether its nuclear program is peaceful or hostile. All of this is taking place in Iran despite the sanctions imposed by the US and Europe and the hostilities of western countries directed by Zionist, Jewish, and Israeli lobbies that influence the decisions made by the US and Europe with regard to the Middle East, particularly Iran ( as Stephen Walt and John Mearsheimer have stated).

Many others, besides these two, also believe that the nuclear crisis between Iran and the West is only a cover to punish Iran because this country still insists on its independence from the West. This is a decision made by the government and people of Iran, and it is clearly felt by any tourist who enters Iran that all Iranians have decided to accept the consequences of the sanctions and economic punishments of the West. It seems that Iran has, to some extent, been able to pass this stage and deal with these problems, for the Iranians believe that crossing the red lines set by the western countries and being independent from the West will have high costs and difficult consequences. 

The latest reports of the United Nations indicate that Iran ranks 16th in scientific researches and it intends to reach 10th place in five years' time. This is not Iranian propaganda, but rather an unbiased international report.

Iranian universities that exist in every small and big city in Iran and the large number of male and female students and researchers that are busy studying with an outstanding approach are signs of the high quality of universities in Iran. Anyone who visits Iran understands that the heads of this country and its people are extremely confident of their facilities and developments, and this proves that in ten years' time, or even less, Iran can transform itself into a developed country based on UN standards. Tourists can see with their own eyes how Iranians, whether it be the leaders or normal citizens, live modestly and simply in their clothing, food, and homes.

Iran's military advancements in the army, navy, and the air force, along with the development of missiles and the launch of satellites, which have taken place more than three times until now, are clear for everyone. Iran's recent measures in bringing down three US drones might be signs of Iran's power and this country has made it clear to the US that its airspace is not open to others. It is interesting to know that the US has denied the destruction or capture of its drones on numerous occasions, but after pictures and videos and reports related to the capture of these drones were shown on Iranian television, the White House accepted the reality of the fact. These two foes are certainly trying to assess each other's capabilities with these measures in the Persian Gulf so as to be aware of each other's facilities and be prepared for a possible war which some analysts have predicted.

We have been living on the shores of the Persian Gulf for thousands of years alongside the Iranians and we wish them nothing but good and happiness and we are certainly happy when the mighty Islamic Iran achieves any industrial or nuclear advancement, especially considering the fact that unlike Iran, Israel, which is the Arabs' number one enemy, has achieved all of these with the support and with the green light of the West.

Meanwhile, the only thing we expect from the Iranian government and its religious and popular leaders is that they prove their intentions of goodwill for security and stability in the Persian Gulf so that we are assured that they are not looking to create hostility towards us with religious ambitions, because we are all Arab and Muslim nations of the Persian Gulf, and even though we have differences regarding religion, we are all of the same social composition.

On the other hand, we in the Persian Gulf must try to welcome Iran's desire to cooperate in nuclear and industrial fields so as to prove our Islamic brotherhood against our real enemies. I know that President Mahmoud Ahmadinejad has spoken of such an initiative, but this invitation has no practicality yet and has not been followed up on. Certain cases of sectarian acts and popular uprisings in the Persian Gulf have had a negative effect on this proposal, but we are sure that some of these people's demands are legitimate. Both sides must make efforts to hold an annual seminar on Iran and the Persian Gulf where the heads of these countries would all be present so they could discuss and resolve problems, misunderstandings, and differences of opinion which might sometimes lead to conflict. In this way, we would be able to avoid a war between our countries in the Persian Gulf and Iran, even though this war is something the West looks to impose on us. Therefore, it is better for us not to listen to the views and claims of the West, led by the US, regarding Iran, which are made under pressure from Zionists who work in favor of Israeli interests, because all of these efforts are made for the Zionist regime to remain the only power in the region and for it to be safe from any supervision or sanction or punishment and for the people of the world to think that Israel is above the law.