Netanyahu's Failed Speech-Act
Kaveh L. Afrasiabi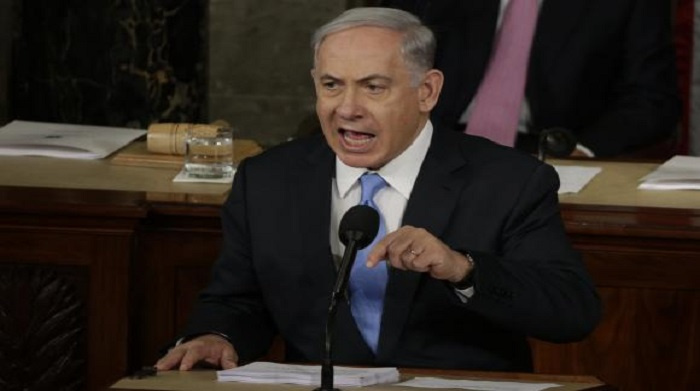 By all indications, Benjamin Netanyahu's speech before a joint session of US Congress was a major flop that backfired with an important cross-section of the U.S. politics, notwithstanding the sizable snub by over 50 lawmakers and the blunt criticisms against him by some of those who bothered to attend, including the minority leader in the House of Representative Nancy Pelosi, who blamed Netanyahu for "insulting the U.S. intelligence." A number of other Democratic politicians described Netanyahu as "arrogant" and "opportunistic."
     Similarly, the reactions from the White House and the U.S. Department of State were equally negative and President Barack Obama dismissed the speech as "nothing new." The public spat between U.S. and Israel over Iran's nuclear negotiations has now climaxed to an all-time new low in U.S.-Israel relations, simultaneously reflecting the limits of influence of the pro-Israel lobby, once considered as invincible.   
    No sooner had Netanyahu finished his Iranophobic speech that equated Iran with the ISIS terrorists when the New York Times published a front story that reported that the U.S. is increasingly relying on Iran in the fight against ISIS.  This was yet another slap at the Israeli Prime Minister who devoted his entire speech to demonize Iran and to simultaneously project an inverse image of Israel as the ideal type, this from a rogue nuclear state that has perpetrated genocidal war against the Palestinians in Gaza, who are likely to suffer for many years as a result of the horrifying destruction of thousands of their homes by Israel's bombs last Summer.  With his hand stained with the blood of several hundred innocent women and children who were slaughtered in cold blood, subject to an international criminal investigation as a case of crime against humanity,  Netanyahu has lost all credibility in the international community, representing a repressive rights abusive system that continues with its illegal expansion of settlements on Palestinian lands with impunity, and that has turned a complete blind eye to the international calls for a viable peace process. With the solid U.S. backing in the form of generous military and financial assistance intact, Israel's oppression of Palestinians will likely continue for the foreseeable future, irrespective of the widening gulf over Iran.  
    At the same time, it is abundantly clear that Netanyahu's real fear of an Iran nuclear deal is that it will deprive Israel of a convenient scapegoat to deflect attentions from the Palestinian problem and will most likely result in the spotlight switched on the Israel-Palestinian issue.  Despite all of Netanyahu's Iranophobic rhetoric to deceive the public that Iran represents an existential threat to Israel, the pendulum is actually swinging in the direction of a final nuclear deal and the two sides in the talks are "very close" to resolving their remaining gaps, per a recent statement by Iran's Foreign Minister Zarif.  This simply means that Netanyahu has failed to put the brake on the omnibus of nuclear diplomacy and his eleventh hour appeal to U.S. Congress to roll back the advances in the on-going talks has fallen on deaf ears.
      As a result, Netanyahu's moment of scrutiny at U.S. Congress will likely be judged by historians as a major misstep that fueled partisanship and, in face, made it doubly difficult for the business as usual of bipartisan support for Israel to continue without encountering major new difficulties.
       In his speech, Netanyahu tried to demonize Iran by accusing Tehran of "gobbling four nations," when in fact, Iran's regional behavior reflects a principled stability role that benefits not only Iran but also the entire region, as vividly demonstrated in Iran's current support for the Iraqi's fight against the barbaric and medievalist Daesh terrorists.   Contrary to the Israeli propaganda, Iran's intervention in Iraq is not to establish hegemony but rather is one that is fully legitimated under the international humanitarian laws, given the invasion of Iraq by foreign-backed Daesh terrorists who have committed major atrocities in the areas under their control.
      In conclusion, the performative contradictions of Netanyahu's speech mentioned above made it subject to a critical deconstruction that, in the end, showed it to be an exercise in futility on the part of a deceptive politician who spewed much venom against Iran -- in vain.