Do Not Forget Russia
There have been frequent warnings about 'infiltration' into Iran by foreign powers after the nuclear deal, but the United States should not be the only cause of concern.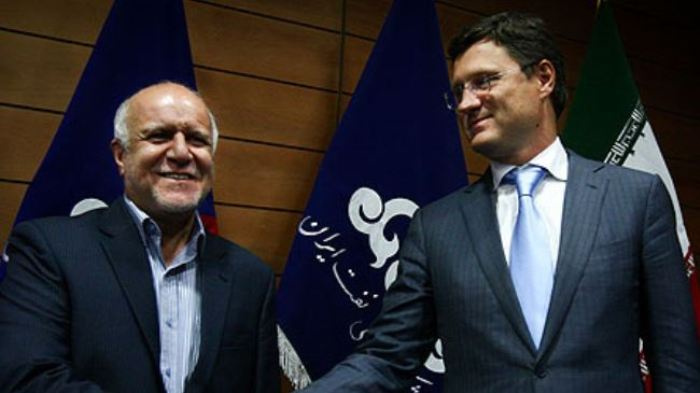 (Photo: Iran's Oil Minister Bijan Zanganeh and Russian Energy Minister Alexander Novak; Press TV)
It looks like the West and the East have no plans to put an end to jockeying for influence in Iran. Although after the 1979 Islamic Revolution, "No East, No West" became a tenet of Iran's foreign policy, but with every opening, we have witnessed the return of the historical rivalry between the Eastern and the Western powers to exert influence in Iran.
For centuries, this competition has been a main concern of Iranian rulers. Two main approahces, i.e. negative balance [no concessions for any foreign power] and positive balance [equal concessions for foreign powers] where the two main approaches that were implemented to neuter this influence, but neither of them succeeded in serving Iran's objectives. The Islamic Revolution and establishment of the "No East, No West" policy minimized the influence of foreign powers, though their Iranian affiliates, the Russophiles and the Anglophiles, were still willing to open a path for their return.
One cannot exaggerate the intentions of the West for 'infiltration' into Iran. Supreme Leader Ayatollah Khamenei has time and again warned about the threat of Western influence, particularly the US, and everyone should be vigilant about the infiltration of the United States into every field. However, Russians are the lesser known [power] with a more cunning approach. Direct access to warm waters has been a Russian geopolitical dream since the time of Peter the Great. Today the Russians are using a range of economic and political tools to achieve their economic, political and security goals.
Looking at Iran's post-Revolution history, Russians have in no way set a good record and Iranians are familiar with their broken promises, the Bushehr nuclear power plant and the S-300 missile defense system to name a couple. More than one year ago, amid the nuclear negotiations directed by Rouhani's administration and as the possibility of a nuclear agreement was emerging, news circulated about an oil barter deal between Iran and Russia. Some news even estimated the deal's value to be worth 70 billion USD. Rumors have now turned into reality and a 70-billion USD economic agreement signed between Iran and Russia, although officials of both countries have stated that this trade volume incorporates all types of economic interaction, not merely oil exchanges.
Some observers have argued that following sanctions imposed against both Iran's and Russia's oil industry by the US and other Western countries, these two countries that hold some of the world's largest oil and gas resources can untap the potentials lying in bilateral economic and trade relations and maintain economic growth even under sanctions. Nonetheless, Russians have historically proved that rather than standing on one side, they prefer to swing between the West and Iran in order to take maximal advantage of both parties. Iran is not the only case where Russia has followed this policy; Iraq and Libya are on the same page. In Syria, while Iran has always voiced support for Kremlin's stance, Moscow attended a Vienna conference of lately, along with foreign policy decision makers from the US, Turkey and Saudi Arabia to discuss the Syrian crisis. Tehran was not invited, but Russia did not even bother to object the absence of its close partner in these talks. It is clear that Russians are unreliable partners in political and security issues. The case of S-300 missiles is another telling story: Americans have frequently clarified that the S300 deal is not a violation of Resolution 1929 anymore; however, Russia still refuses to deliver the missile defense system to Iran.
The Russian Minister of Energy Alexander Novak, who recently visited Iran leading a forty-strong delegation of economic and oil officials, has spoken of Tehran's and Moscow's readiness for 35- to 40-billion USD of investment in joint projects. Speaking to Russia-24 news channel on Friday, Novak stated that he has agreed over a number of projects with Iranian officials. These include railway transportation, power plants and oil projects according to the minister.
At any rate, we should be watchful. In the post-JCPOA era both Western and Eastern companies will make their utmost to take advantage of Iran's opening market. Policy-makers should make no distinction between these two camps, and they should not pave the way for any country or foreign company to infiltrate into Iran.
* This piece was originally published in Tabnak. Tabnak is one of Iran's leading news websites, affiliated with former Revolutionary Guards commander Mohsen Rezaei.