Will General Soleimani Run in 2017 Presidential Elections?
Reformist analysts believe there is a chance that the Commander of IRGC Quds Forces will run in the next presidential elections. In that case, what are the possible scenarios?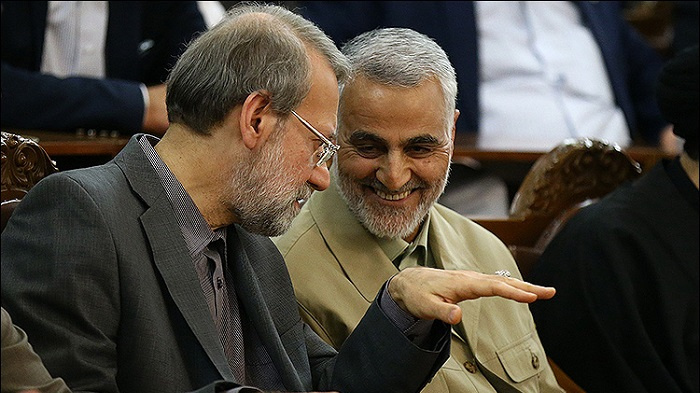 (Majles' Speaker Ali Larijani and Quds Force Commander Gen. Qasem Soleimani in a congregation of Tenth Parliament Principlist members. Source: Mostafa Haghgoo/ICANA)
By: Bahman Hedayati
For Iran's June 2017 presidential elections, two scenarios are imaginable:
1) Hassan Rouhani will be approved by the Guardian Council and stands as a candidate to represent the Moderates and the Reformists. In this case, if Ahmadinejad is permitted to participate in the presidential contest, a strongly bipolar atmosphere will shape that is a blessing for Hassan Rouhani. Rouhani's votes will increase exponentially, and Ahmadinejad as the only civilian candidate of the Principlist camp who is able to attract votes from their traditional support base will be doomed to fail.
2) Hassan Rouhani will be barred from running for the elections by the Guardian Council and the Moderate-Reformist camp will enter the elections with figures such as Vice President Eshaq Jahangiri, Foreign Minister Javad Zarif, or Speaker of the Government Mohammad-Bagher Nobakht. In that case, the Principlist camp and the establishment will enter the competition with higher confidence, which means Mahmoud Ahmadinejad will have no chance of being qualified by the Guardian Council.
This will be the likely state of affairs before the 2017 elections:
Domestically, economic recession lingers, nuclear deal still fails to bear fruit, the open door policy of Rouhani has failed and signs of economic recovery are weak. Public demands grow stronger and disillusionment with Rouhani's presidency snowballs.
In such circumstances, Rouhani cannot achieve victory unless Mohammad Khatami, Akbar Hashemi Rafsanjani, Hassan Khomeini, the media apparatus of the Reformist middle class, and forces from outside the country, come to help in full force (and there seems to be no alternative to this). In that case, the Tenth Parliamentary elections scenario will be reenacted.
With Rouhani running in 2017 elections, a scenario similar to the 2001 elections [and re-election of the Reformist Mohammad Khatami] will be realized. That is, from the Principlist camp, five or six secondary candidates will step in to add heat to the elections, harboring the illusion of a drop in Rouhani's votes. In that case, Rouhani will win the elections without a shade of doubt.
Internationally, ISIS will be either uprooted or heavily suppressed (particularly in Iraq and Syria). With ISIS' demise, the lingering tension between Iran and Saudi Arabia in other parts of the Middle East, and election of a less Iran-friendly president in the United States, the balance will tilt in favor of Riyadh.
The most complicated scenario arises from Hassan Rouhani's decision not to re-run for the elections and possible, though currently unlikely, participation of General Qasem Soleimani in the elections. This was a scenario recently brought up by Hessamoddin Ashna, cultural advisor to Hassan Rouhani.
If General Soleimani decides to run for the elections, he will be the third military candidate to make that decision following Mohsen Rezaei and Bagher Ghalibaf. In terms of military status, Soleimani bears more similarity to Mohsen Rezaei than Ghalibaf.
Those familiar with Iranian politics remember how Mohsen Rezaei's immunity [from criticism] and charisma remained relatively unchanged until the 2005 presidential elections and his loss of his political grandeur began afterwards. Ghalibaf also catapulted to the political stage in 2005 elections, but his decline began quickly afterwards.
Qasem Soleimani is aware of these experiences, but there is one difference. His charisma and criticism-proof status are much stronger than that of Rezaei or Ghalibaf. Soleimani enjoys an exalted status among diverse groups in the society (even those with secular or nationalist tendencies) and is a reminder of the legendary figures of the Iran-Iraq war. In June 2017, General Soleimani will be the hero who has exterminated Daesh, an honor achieved by no other Iranian military figure.
The participation and likely victory of Qasem Soleimani, who unlike Ahmadinejad has no traces of 'deviance' (1), in the presidential election will indicate that Iranians have turned towards a revolutionary, anti-imperialism champion, one that is approved by the 'establishment'. This development could also offset the increasing power of Rafsanjani's bloc during the past four years.
One likely hurdle to this scenario would be massive propaganda against General Soleimani by the foreign media, but the anti-Soleimani campaign would eventually fail if not coupled with domestic criticism from Khatami, Hashemi Rafsanjani, Rouhani and Iran-based online media. Even the silence of Khatami, Hashemi and Rouhani can increase chances of General Soleimani's victory.
* Bahman Hedayati is editor-in-chief of Parsine, a Persian news website.
(1) In his second presidential term, Mahmoud Ahmadinejad was accused of 'deviance' from the orthodox revolutionary path by the Principlist camp, mainly due to his support for the quasi-doctrines of his senior advisor Esfandiar Rahim-Mashaei on Islam.