Iran's Friday Prayers: Continuing struggle against the US
Friday prayers on June 17, 2016.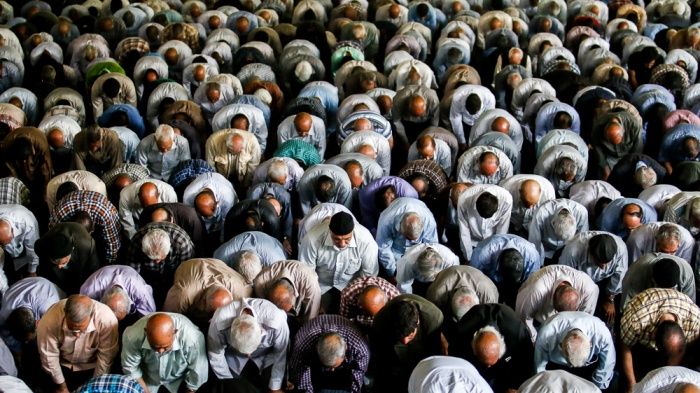 (Friday prayers in Tehran. Source: Arash Mirsepasi/YJC)
This week, sermonizers of Friday prayers across the country highlighted the threat of Washington and warned about its non-stop plots against Iran.
In Tehran, Friday prayers' leader Ayatollah Emami Kashani slammed the United States, Saudi Arabia and Israel for their Middle East policy. "The entire Muslim World knows that Saudi money, Zionist policy, and American power have formed an evil triangle," he said. "All corruption rises from them." Emami Kashani praised Ayatollah Khamenei for his perceptiveness and correct analyses, asking others to follow the Supreme Leader.
Also in Mashhad, Ahmad Allamolhoda warned about the "fourth wave" of threats against Iran by the United States. "In the fourth phase of threat, they want to 'mutate' revolutionaries," he said. Mashhad's Friday prayers' sermonizer reminded the audience that Washington pursues the overthrow of the Islamic Republic thirty-seven years after it lost the country to revolutionaries. "The US is seeking to mutate revolutionaries particularly in influential institutions," he added.
In Hamedan, in western Iran, Ayatollah Taha Mohammadi reiterated anti-American remarks. "We should not expect the Americans to correct their behavior against Iran. Up until now they used [nuclear enrichment] as an excuse, now they are seeking new pretexts," he said. "The US will not be satisfied until the Iranian nation surrenders its faith and its territory," Taha Mohammad added. Hamedan's Friday prayers' leader also addressed the high level of security in Iran, comparing it to Europe and the United States. "Iran is … the island of stability in the world," he said.
Similar remarks were made in Isfahan, in central Iran, where Mojtaba Mirdamadi told the congregation that "friendship with Imperialists cannot bring us security." Mirdamadi reminded his audience that Washington has not changed since the time of Jimmy Carter, and was convinced to negotiate only because of Iran's power. "They fell on their knees at the table of negotiations," he said.