Friday Prayers across Iran: Coups & concerts
Friday prayers on August 12, 2016.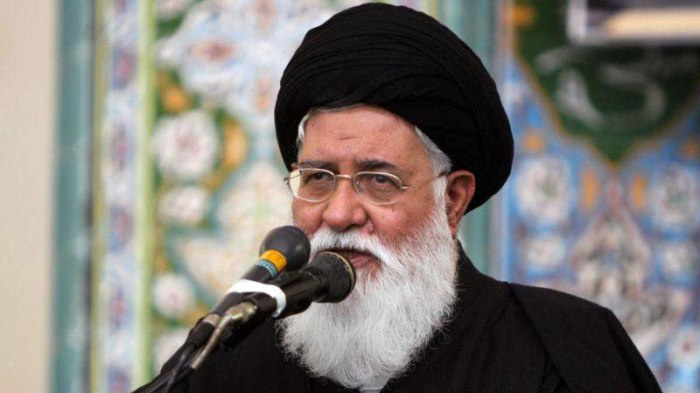 (Photo: Mashhad Friday prayers' leader Ahmad Alamolhoda.)
One week before the anniversary of the notorious 1953 CIA-led coup against Iranian Prime Minister Mohammad Mossadeq, Friday prayers' sermonizers across the country warned their audience about the hidden threats of optimistic détente with the United States.
"Americans have had Iranians' blood on their hands since August 19, 1953" said the Friday prayers' leader in Khorramabad, center of Lorestan Province. "History is full of lessons for us, and recalling history is an opportunity to keep vigilant against the enemy's plots" said Seyyed Ahmad Miremadi. Khorramabad's Friday prayers' leader also questioned the "un-revolutionary view" that claimed negotiations and US' consent would end the sanctions against Iran. "Some believe economic growth comes with US' dollars" he said.
In Boroujerd, second largest city in the province of Lorestan, Hassan Torabi criticized those who try to "prettify" the face of Washington and seek normalization with the superpower. Echoing Ayatollah Khamenei's recent remarks on the futility of JCPOA, the nuclear deal, Torabi called "the enemy", Washington, "steadfast and stubborn" in its hostility towards Iran, adding that it will let go of no opportunity to undermine the country. "All those who care should keep the distance between the establishment and the US" Torabi said.
In Tehran, Ayatollah Emami Kashani allocated the main part of his political speech to criticism of Saudi Arabia. "Today, the US and Zionism intend to diminish Islam with Saudi money" he said. "See what the Saudi house is doing in Yemen and how it is nurturing and empowering Da'esh".
The most controversial sermon of this week however belonged to Ahmad Alamolhoda, the outspoken Friday prayers' sermonizer of Mashhad. Alamolhoda, a hardliner in both political and cultural issues, defended back-to-back cancellation of music concerts in Iran's second largest city. Seat of the shrine of Imam Reza, the eight Shia imam and the only imam buried in Iran, Mashhad is the most popular pilgrimage destination inside the country. "Mashhad is a pilgrimage destination" Alamolhoda, asserted. "This is not a tourist destination and we should not expand centers for bacchanalia or recreation here". Alamolhoda compared Mashhad to Vatican, seat of the Catholic Church, and called for preserving the sanctity of the city. "If you want a concert, go and live somewhere else" he said bluntly. "Why should you choose a pilgrimage site [to live]?"