Friday Prayers across Iran: Chanting for the liberation of Quds
Friday prayers on July 2, 2016.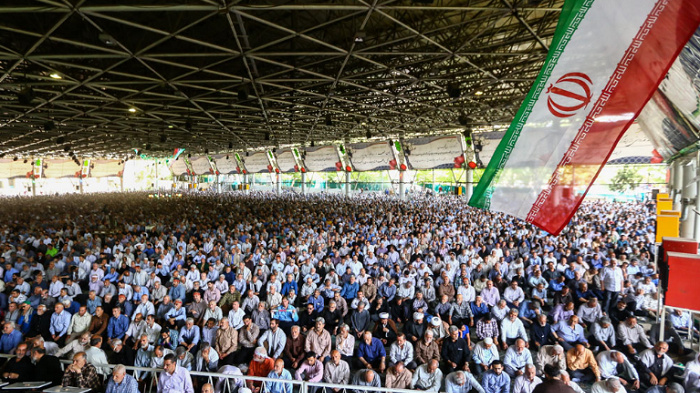 The last Friday of Ramadan marks the Quds Day, an initiative of the Islamic Revolution's late leader Ayatollah Khomeini to voice support for the Palestinian cause. Friday prayers' sermons across the country were mainly allocated to slamming Israel and its apartheid against the Palestinians, and call for liberation of Quds/Jerusalem from Israeli occupation.
"We Muslims are one ummah [nation] and we cannot be oblivious towards the pain and displacement of the people of Palestine" said Ahmad Khatami in Tehran's Friday prayers. "We will not allow the Palestinian cause to turn from an Islamic concern into a [merely] Arabian concern" he added, implicitly responding to voices both inside and outside the country that question Iran's involvement into the Palestine-Israel conflict.
Ahmad Khatami also touched on the recent controversy over whopping salaries of governmental officials. "People have all the right to be offended" he said. "However, the issue should not become political and turn into an excuse for partisan revenge."
Prior to Khatami, IRGC Deputy Commander Brigadier General Hossein Salami spoke to Friday prayers' congregation. "More than one-hundred thousand missiles in Lebanon and Palestine are ready for launch" Salami said. "They are waiting for a command to wipe the Zionist regime off the world's map."
In Mashhad, Ahmad Alamolhoda focused on his favorite target of criticism, the nuclear deal. Alamolhoda called for the judiciary to monitor Iran's international contracts, including the Joint Comprehensive Plan of Action. "If people find out that the JCPOA has led to enemy's dominance over us, it would sound even more loathsome to them than the pay slips [controversy]" he said. "It would be wrong to sign a secret deal without people being informed" Alamolhoda added, echoing concerns among some Principlists that Rouhani's nuclear team has signed an additional unpublic agreement with the global powers during the nuclear talks.