Friday Prayers across Iran: "Playing with the lion's tail"
Friday prayers on November 11, 2016.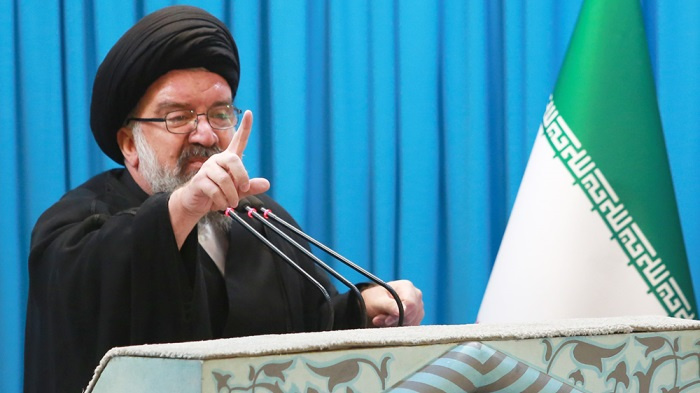 (Ahmad Khatami led this week's Friday prayers in Tehran. Soroush Seyed Jamali/YJC)
This week, Friday prayers' leaders made game of United States' elections, not only for the final outcome, the surprise election of Donald Trump, but also for the electoral campaign of both Democrat and Republican candidates and their back-to-back exposés and counter- exposés against each other.
"I am telling this to the upstart president of the United States: if he wants to continue his madness of the past and follow the line of his predecessors, he will end in nowhere" warned Ahmad Khatami in his sermon in Tehran. "Playing with Iran is playing with the lion's tail" he added, using a Persian expression, warning about risks of irritating a powerful enemy.
Khatami also addressed the cutthroat battle between Hillary Clinton and Donald Trump: "during electoral debates, both candidates made confessions that proved this country [the United States] is bankrupt". "And we have those inside our own country who prescribe rapprochement with the US as panacea to Iran's problems" he continued. "How could a country itself miserable and in crisis save another country?" Khatami asked, indirectly criticizing the government and other pro-détente voices in Iranian politics.
In Mashhad, Iran's second largest city, Ahmad Alamolhoda downplayed the significance of US' elections and its consequences. "For Iran, there is no difference if Trump or someone else is the president of the United States" he said. "In more than three decades of the Islamic Republic's life, the Great Satan United States and Israel have never stopped enmity against us." Alamolhoda warned that "United States' policies to conquer the world only changes in form. American politicians have never cared for [other] nations." In Semnan, northern Iran, Seyyed Mohammad Shahcheraghi gave similar comments: "United States' hostility towards the Iranian nation is nonstop. It will not change with a new president."
Abdolkarim Abedini, leader of Friday prayers in Qazvin, northwest of Tehran, was more vitriolic in his criticism of the presidential poll in the United States. "The US' election was a demonstration of the West's savagery" he said. Abedini offered his own take on the roots of Trump's victory. The president-elect "had instilled such a sense of fear among the public that some voted for him to keep peace in the country and prevent riots."
"What the Supreme Leader predicted exactly took place" said Ahmad Miremadi, Friday prayers' leader of Khorramabad in western Iran, referring to Ayatollah Khamenei's recent speech in which he criticized US elections. This election "revealed the real face of American politicians for the public" he said, showing their dishonesty, moral and financial corruption.
In Tabriz, Ayatollah Mohsen Mojtahed Shabestari, Friday prayers' leader of the city, called the US' elections a choice between bad and worse with no other option for the American people. "With their choice, the majority of Americans showed they expect nothing positive from the election" he said. Shabestari stated that moral and financial corruption of both candidates was "a clear sign of the corrupt US political system and capitalism." Trump's election showed how Americans were fed up with a domineering political and media current he added. Meanwhile, Tabriz Friday prayers' leader reminded his congregation that the US' election "will make no difference in the Islamophobic attitude of Washington politicians."