Clinton's E-Mails on Iran
Kaveh L. Afrasiabi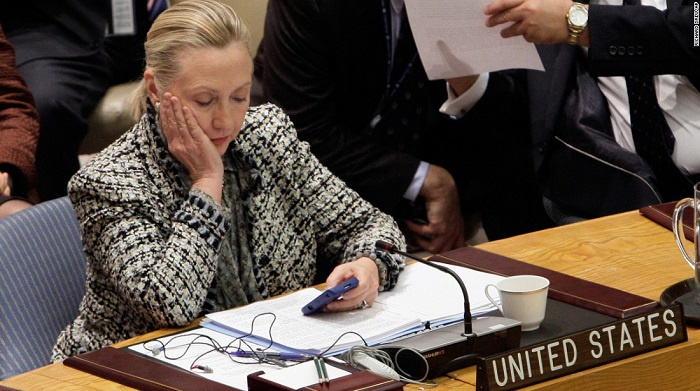 Wikileaks has released hundreds of e-mails of Hillary Clinton while she served as secretary of state, including several dozens on Iran, that shed some light on Clinton's thinking and foreign policy conduct worth analyzing.  These e-mails provide a small though somewhat significant window to the inner working of US foreign policy, particularly with respect to Iran and the Middle East. Several key observations about these emails by and to Clinton (by various deputies and advisers) can be made, which are as follows:
    First, these e-mails show the influence and significance of Track II diplomacy between US and Iran during the Ahmadinejad era, as several emails to Clinton updated her on the substance and progress of those semi-official meetings that took place in Europe and US.
    Second, these e-mails show a sophisticated group process that often included inter-agency participants feeding information and policy advice to the secretary of state who, in turn, made policy decisions and public statements and speeches based on such input.  In fact, there is hardly any e-mail from Clinton that reflects independent judgment on her part, perhaps a clue to one of her weaknesses, i.e., over-reliance on others.  
    Third, these e-mails show that, for instance, US's "investment on Argentina" had a "nice pay off" in the form of Argentina's support for US's anti-Iran stance at the IAEA in 2010.  
    Fourth, although these emails show close US-Israeli coordination on Iran, they also occasionally display displeasure with Israel, as one e-mail to Clinton by her adviser, Princeton University Anne-Marie Slaughter, refers to Israel as a burden on US that has given US "nothing" while " dragging us ever deeper into situations that are increasingly against our interests."  
    Fifth, in an e-mail to Clinton in September 2009, one of her state department deputies reports from a meeting in Israel where the topic was "diplomatic measures targeted at Iranian elites' psychology and non-conventional military options derivative of this psychological approach."  In other words, this corroborates what the Iranian officials and pundits had been complaining of "psychological warfare against Iran."
    Sixth, in an e-mail dated February 17, 2010, Clinton writes about the "iron fist in the velvet glove approach" toward Iran, which is unchanged since then in light of her recent hawkish policy statement on Iran. She meaningfully adds that "talking of regime change, of course, undermines the cause of regime change."  This too illuminates the traditional addiction of US to regime change, albeit through various channels including media outreach.
    Seventh, these e-mails show the media sensitivity of the US government and their keen attention to the wire reports on Iran and key opinion columns. Case in point, Clinton praises an article by Gary Sick in which he warns that sanctions will not bring Iran to its knees and Iran should not be scapegoated. 
     Eighth, these e-mails also show sensitivity to the Saudi positions on Iran, e.g., one email by a state department employee to Clinton refers to the Saudi investment in the Pakistani nuclear weapons program and the Pakistani bombs as the Saudi "bombs in reserve."  If elected as the next US president, Clinton, whose campaign reportedly receives support from Saudi Arabia and other Persian Gulf Arab states, will likely be deferential to the Saudi line on Iran, which is extremely hostile.
     Of course, there is a limited value to these e-mails for foreign policy analysis and, if anything, they can only be useful when read in connection with in-depth analyses of US foreign policy-making, which is insatiably wedded to hegemonic leadership.  With respect to Iran, however, these e-mails demonstrate Clinton's propensity to follow advice rather than initiate original ideas.