Jarabulus Operation and Ankara's Master Plans
Why has the Turkish Army entered Syrian territory at this point?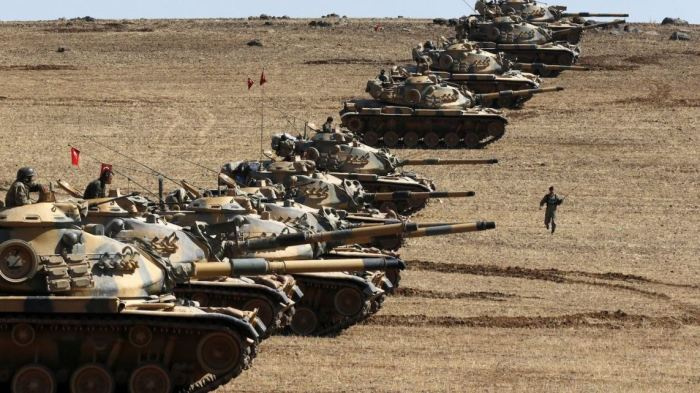 By: Sadegh Maleki
Turkey's offensive in Jarabulus, northern Syria, is not just another foreign intervention in the country. Iranian Foreign Minister Mohammad-Javad Zarif's recent visit to Ankara, Turkish FM Mevlüt Çavuşoğlu's trip to Tehran, US Vice President Joseph Biden and Kurdistan Regional Government President Masoud Barzani's meetings with senior officials in Turkey show the course of developments in the region has reached a critical point. At these circumstances, Tehran should avoid careless decisions, discern deceptive tactics, and step in a track that serves its own interests.
While Iran should welcome a change in Ankara's Syria and Iraq policies, but it should not forget that fundamentally, there is no difference in strategies adopted by former Turkish FM Ahmet Davutoğlu and the sitting foreign minister Binali Yıldırım. Any difference only relates to tactics. The change in tone may have helped to shield Ankara from severe criticism for its incursion into Syria.
Turkey's main target in its raid on Jarabulus is not forces of Daesh, but the Kurdish militia. The attack basically intends to preclude establishment of a Kurdish federal state, conjoining of the Kurdish cantons of Efrin and Kobani, and formation of a 'Kurdish corridor' [towards the Mediterranean Sea] which has strong implications for the energy game.
Turkey follows a dual-track strategy vis-à-vis the Kurds. With Barzani, it has been enjoying a protracted honeymoon, but in Syria, it targets the militant Kurds. For Ankara, there are good Kurds and bad Kurds. Those who are aligned with its policies fall in the first category. The bad Kurds were also negotiating with Ankara up until recently, but that failed. It seems that the Kurdish community is still a primary victim of power play in the Middle East –though it is hard not to blame them partially for the situation they are facing these days. This ethno-religious policy, employed by Ankara throughout the recent years and geared towards geopolitical hegemony in the region, has been a major driving factor of Middle East crisis.
While Turkey and its militant allies are making effortless advances in Jarabulus, in Aleppo, Bashar Assad's government and the opposition are engaged in an increasingly fierce battle. Daesh is withdrawing from its foothold in Jarabulus, reinforcing its position in Aleppo instead.
Cleary, Turkey is not concerned with popular demands and democracy for the Syrians, but poised to become the hegemonic geopolitical force in the region. Like Washington, Turkey is using the pro-democracy discourse to cover up its geopolitical objectives in the Middle East.
The Jarabulus Offensive has received a green light from Americans, and will end when Washington demands. Turkey's incursion into Syria has implications far more than those concerned with Daesh or Syrian Kurds, and can pave the ground for creation of a buffer zone in future. Indeed, Turkey's unauthorized military incursion into Syria violates Damascus' sovereignty. Ankara had conducted a similar act last year vis-à-vis Iraq, despite objection from Baghdad. Repetition of such actions could become a precedent and create further challenges for a region already in trouble.
United States' tacit approval of Turkey's military offensive in Syria is the product of the sham strife between the two countries after the failed coup of July 15th and Erdogan's allegations of Washington's role in the putsch. Regardless of United States' broader strategies in the region, the green light could be in order to alleviate the wave of accusations against Washington by Turkish officials. It could also reorient Turkey's regional after its recent efforts to mend fences with Moscow and Tehran.
* This article was originally published in Iranian Diplomacy Persian. Sadegh Maleki is an expert in Middle East affairs with a focus on Turkey.