Friday Prayers Across Iran: Ashura, astronomical salaries, and concerts
Friday prayers on October 7, 2016.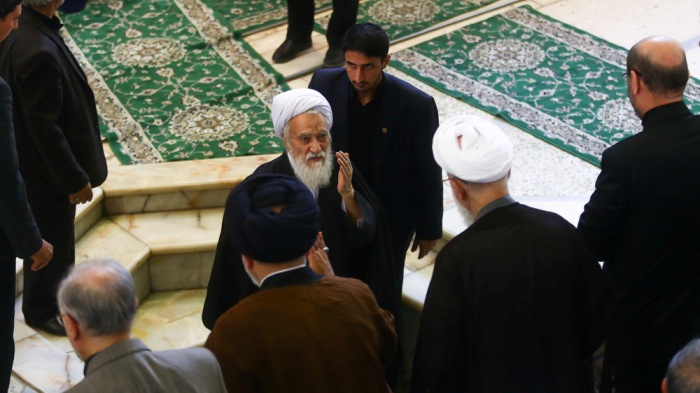 With Tasu'a and Ashoura, anniversary of the martyrdom of the third Shia Imam, Hussein (AS), in year 680, which stands as apex of mourning ceremonies in Shia Islam on the way, Friday prayers' leaders across the country tried to extract contemporary lessons from the historical event.
In Tehran, Ayatollah Mohammad-Ali Movahhedi Kermani told his congregation how Imam Hussein relied on "internal power" and did not underestimate his forces. Drawing on this, Movahhedi Kermani called for following inbred "resistance economy", Supreme Leader Ayatollah Khamenei's model of economic development. Movahhedi also reminded the audience of Imam Hussain's fearlessness against the enemy, and bashed those who deep inside feared the US and believe in reconciliation.
In Boroujerd, western Iran, Hojjatoleslam Hassan Torabi questioned the tardiness in trial and prosecution senior public managers who had received excessive salaries, stating that the Supreme Leader and citizens were demanding their trial and dismissal. Torabi also asked about the reason for contradiction in the number of white clerks receiving such salaries, as announced by the president and the judiciary. In Zahedan, center of southeastern Sistan va Baluchestan Province, Ayatollah Abbas-Ali Soleimani posed similar questions, asking why recipients of such salaries had not been permanently discharged from public service by the government.
In Mashhad, Friday prayers' sermonizer Ahmad Alamolhoda slammed a recent low-key musical performance in the holy city of Qom, calling it "a calculated move" aimed to create "an irreligious current". Similar concerns were voiced by the Friday prayers' leader of the city itself. Ayatollah Saeedi, this week's sermonizer in Qom's Friday prayers, said such 'concerts' stood against the sanctity of the city, the center of Iran's most prestigious Shia seminaries. Saeedi asked officials to no more permit holding such events in the city.