Friday Prayers across Iran: Saudi-bashing and scandalous salaries
Friday prayers on September 2, 2016.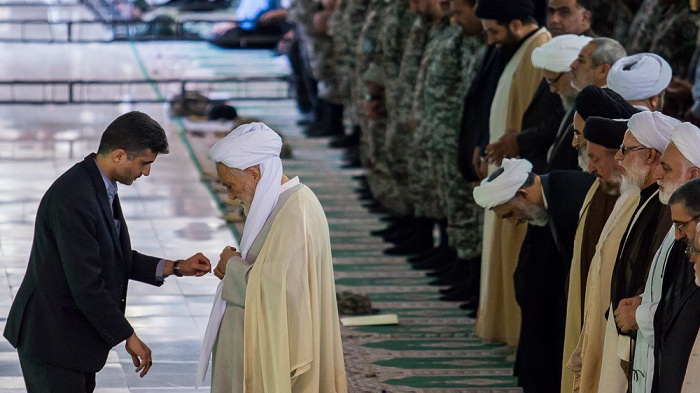 (Tehran's Friday prayers' leader Arash Mirsepasi. Source: Arash Mirsepasi/YJC)
As we approach the first anniversary of Mina stampede, death of over 2000 pilgrims during the annual hajj pilgrimage in Mecca and Medina, the tone of Friday prayers' leaders across the country against Saudi Arabia became bitter than ever. In Iran, the incident, occurred at the heat of Tehran-Riyadh battle, is still viewed by many as a revengeful plot by the Saudis. And Iranians will not be participating in this year's hajj.
"Unfortunately, the Al Saud, mercenaries of the United States, do not allow Muslims to avail themselves of Hajj" said Movahhedi Kermani, this week's Friday prayers leader in Tehran. "The brutal, murderous regime of Saudi Arabia kills Muslims instead of establishing their security" he added. "We will not the heart-wrenching, disgraceful incident of Mena." In Semnan, northeastern Iran, Jalal Ahmadpanahi also lamented that Iranians could not join the Hajj ceremony this year. Ahmadpanahi called the last year's death of more 2,200 pilgrims in Mina region evidence to the Saudi Household's "incapability and inadequacy". Semnan's Friday prayers leader slammed Riyadh for its destructive role in the Middle East and its "crimes against Muslim countries".
Friday prayers' leaders also showed they would not let go of the case of whopping salaries paid to senior officials in Rouhani's government. "People's, and youth's, trust has received a blow" said Mohammad-Ali Movahhedi Kermani in Tehran's Friday prayers. "This is not a minor issue, if people lose their trust in the establishment, then we have lost them." Movahhedi thanked the government for putting a cap on salaries of governmental officials. Also in Khorramabad, center of Lorestan Province in western Iran, Ghassem Mottaghinia called for the government to compensate the mistrust created among the public following the salary scandal. He also called on the judiciary to decisively persecute "economic corruptors". In Khorramshahr, southwestern Iran, Mohammad-Javad Adelpour also demanded persecuting corrupt figures regardless of their partisan affiliation. In Mashhad, the ultraconservative sermonizer of Friday prayers Ahmad Alamolhoda associated economic corruption to an unlikely agent, "secular political groups", arguing that such groups oppose theocratic establishment because it stops them from "theft, looting, and seizing power."
In Qazvin, northwest of Tehran, Abdolkarim Abedini warned about the new oil contracts, the controversial IPCs (Iran Petroleum Contract), developed by the Ministry of Petroleum as the new framework of collaboration with international companies to develop Iran's oil & gas fields. Warning about the "suspicious, hasty" nature of the contracts, Abedini claimed that they would inflict damage on economy and "dignity" of the revolution.