Friday Prayers across Iran: Plasco incident, Donald Trump and Saudi Arabia
Friday prayers on January 27, 2017.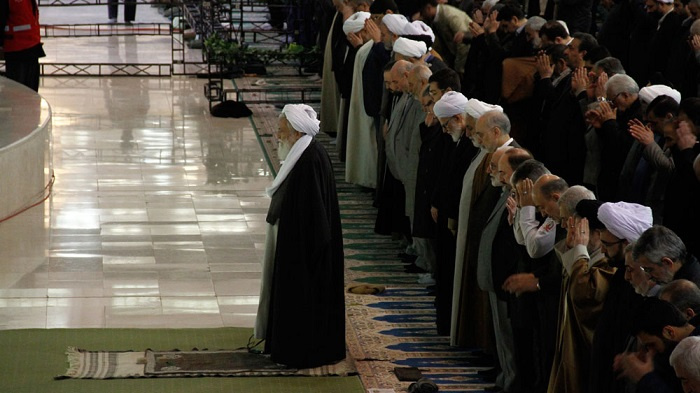 (Tehran's Friday prayers led by Mohammad-Ali Movahhedi Kermani. Source: Alireza Farahani/YJC)
In Friday prayers across Iran, the central theme was the Plasco incident, the massive fire inflicting one of Tehran's iconic buildings and shopping centers that led to its collapse and led to a high number of casualties, mostly from the firefighters.
Apart from that, regional developments, Trump's ascension to power, and the Islamic Revolution, four days before anniversary of Ayatollah Khomeini's return to Iran from exile in November 1979, where other main topics discussed in sermons.
"We should appreciate the value of this revolution" said Friday prayers' leader Mohammad-Ali Movahhedi Kermani in Tehran, adding that with his return, Ayatollah Khomeini saved Iran from Washington's exploitations. In Qom, Ayatollah Hosseini Boushehri called trust between the people and the Islamic establishment the defining feature of the Islamic Revolution and unparalleled among historical revolutions. "Trust in establishment has caused people's resilience in the face of difficulties" he said.
In an exceptionally soft tone, Movahhedi Kermani also advised the new US' President, Donald Trump, to realize his goals to the Americans, that is, to "revive your country, reconstruct damage left by previous administrations, [and] save the American people from poverty and hunger". Tehran's Friday prayers' leader added that while it would be difficult to "change the imperialistic comportment of previous US officials", Trump could "achieve the apparently unachievable with determination." Ali Hajizadeh, this week's Friday prayers' leader in Tabriz, Eastern Azerbaijan Province, was less friendly towards the new US' president. "Instead of of threatening other countries, Trump should focus on resolving domestic differences and answering to his opponents who form half of the United States' population" he said. Hajizadeh also slammed Trump's support for Israel and his provocative remarks against Muslims, calling him a man with "a vague, suspicious personality".
"It is you who should be embarrassed of yourself" said Movahhedi Kermani in Tehran in response to allegations by Saudi Foreign Minister Adel el-Jubeir on Iran's intervention in domestic affairs of other Middle East countries. "It is you that is intervening in Yemen and across the region and running a bloodbath." In Qom, center of Iran's seminaries, Ayatollah Hosseini Boushehri pointed to the recently held Astana talks in Kazakhstan. Calling it an Iranian initiative, Hosseini Boushehri dubbed agreement over preservation of territorial integrity of Syria a sign of Iran's capability. The sermonizer of Semnan, northern Iran, called the Saudi House "Daesh-nurturers", slamming them for their alliance with Israeli against Iran. In Gorgan, also in northern Iran, Ayatollah Kazem Nourmofidi accused Riyadh of lobbying in Washington for passing of new anti-Iran sanctions to provoke Tehran violate JCPOA, the nuclear deal. Nourmofidi called for vigilance and rationality against United States' conspiracies and renege on its nuclear promises.