Friday Prayers across Iran: Islamic Revolution, regional developments and JCPOA
Friday prayers on January 20th, 2016.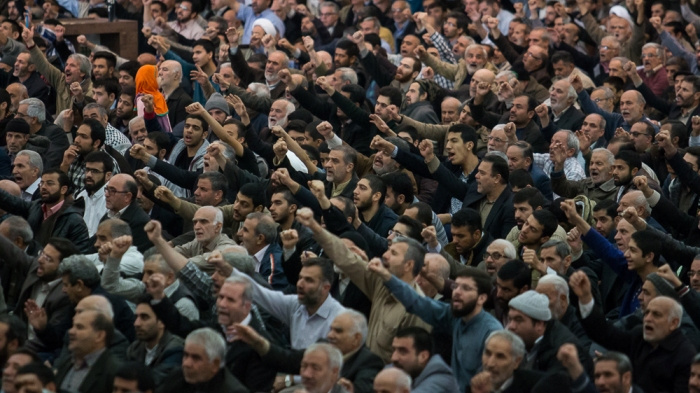 (Friday prayers' congregation in Tehran. Source: Arash Mirsepasi/YJC)
This week across Iran, Friday prayers were overshadowed by the sorry incident of the collapse of Plasco Building, Tehran's first high-rise commercial office, which succumbed to fire and crushed down on Thursday noon. Sermonizers across the country expressed condolences over the bitter incident, and called for vigilance to avert similar incidents in future. Elsewhere in their sermons, Friday prayers leaders touched on the incoming anniversary of the 1979 Islamic Revolution, developments in Yemen and Bahrain, and the nuclear deal.
In Tehran, Kazem Seddighi articulated the historical background of the Islamic Revolution. "The world followed a bipolar order at that time, and no country could survive politically and economically without relying on either of these poles", i.e. the US and Soviet Union he said. "The Islamic Revolution shattered this bipolar state and proved one can act and reach goals without relying on these two [poles]" he added.
Regional developments also fell under the radar of Friday prayers' sermonizers. Kazem Seddighi in Tehran slammed the "servile", "evil", and "illegitimate" regime of Bahrain for executing three of its citizens accused of murdering police officers in 2014. "The citizens of Bahrain demand their vote to be effective, just as any other country; but the regime of Bahrain does not allow them" he stated. However, "the revolutionary, pious people of Bahrain will take the Iranians, who ousted Shah in that [embarrassing] condition, as role model" he predicted.
In Tabriz, Eastern Azerbaijan Province, Mohsen Mojtahed Shabestari called the execution of Bahraini citizens "fuel over fire" and a motivation for the people of Persian Gulf island to intensify their struggle for overthrow of the Al Khalifa regime. In Qom, Seyyed Mohammad Saeidi prayed for victory of the Bahraini citizens in their uprising against the Al Khalifa household. Qom's Friday prayers' leader also slammed Saudi Arabia's "atrocious attacks" against its southern neighbor Yemen, praising Yemenis for their valor and resistance.
JCPOA was unsurprisingly a target of criticism by Friday prayers' leaders. "JCPOA, added another page to United States' dark, disgraceful dossier" said Kazem Seddighi in Tehran. "One year has passed since [implementation] of JCPOA, yet some are still offering slogans" he complained, indirectly referring to the government's staunch defense of the nuclear deal with Western countries despite delivery of expected economic boom. Seddighi added that while it was promised that the nuclear deal would solve the country's problems, economic recession, unemployment among the youth, and businesses' hibernation still lingered, with even more sanctions imposed on Iran.
In Mashhad, Ahmad Alamolhoda called for decisive action against United States' sabotage of the nuclear deal. Alamolhoda called Iran's nuclear team "naïve" and deceived by the United States, expressing sorrow how Iran's massive investment in the nuclear industry was wasted following the nuclear agreement. In Shiraz, Asadollah Imani pointed to Trump's recent criticism of the Iran Deal, calling it another sign that Americans were unreliable. "United States stays committed to no accord, unless it is totally in favor of the country" he said. "Our nation has lived and can live without the JCPOA" Imani added.