Parching Persia: Environmental crisis hits Iran
Bells have been tolling for Iran's water crisis but there seems to be a nation-wide lack of interest. Foreign policy has also failed to take its own part.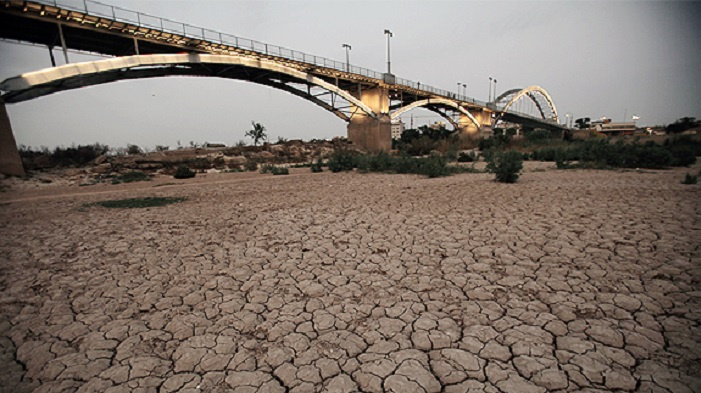 (Karun, once Iran's sole shippable river, has witnessed occasional dry-ups in the recent years. Source: Hadi Jafarzadeh/ISNA)
More than two years ago, head of Iran's Department of Environment Massoumeh Ebtekar declared that the country's water usage is twice the world standard, calling for a its standardization. Yet nothing happened.
Ten days ago, Isa Kalantari, former Agriculture Minister who is now serving as Vice President's advisor in water, agricultural and environmental issues told Mehr News Agency that Iran's renewable water resources have fallen 44 billion cubic meters over the past half a century. Domestic and international think tanks have predicted water to be Iran's main future crisis.
Some observers in Iran blame the authorities for their failure to take into account the fact that Iran is already in a water crisis. Well-known politics commentator Sadegh Zibakalam believes "the importance of attention to the water crisis is as much as the nuclear talks". For him and probably many others, the reason for the negligence is that investment on water cannot be exploited when it comes to ballot boxes.
Agricultural crops that take too much water, with watermelon, rice and wheat on the front, are among other factors blamed. Iran puts more than 80 percent of its water in agriculture and approximately 60 percent of the amount is wasted. Insistence on self-sufficiency in wheat production, a record first hailed as one of the greatest achievements of the Khatami administration, is now under fire. Kalantari, who has served as the minister of agriculture for two terms under Akbar Hashemi Rafsanjani, believes that such a self-sufficiency is nothing praiseworthy. "Each ton of wheat consumes 1200 tons of water. When you export wheat, the water consumed is also exported," Mehr quoted him as saying. The virtual water determines, he argued, how economical it is for Iran to continue the production of certain crops.
Dust, Neighbors and Foreign Policy
Almost fourteen years have passed Iran found dust particles an unwelcome guest. Today, the dust has seized the sky in different provinces of the country, making it difficult for many Iranians to breathe. The socioeconomic damages of the dust are no less than those of a great war, Sara Ordou, university professor and Ahvaz City Council member writes in an op-ed for Iranian Diplomacy. Ordou continues:
Ahvaz, the capital of Khuzestan, was once a major job creation hub in Iran, with people of various expertise and professions flowing from across the country for work. However, it has not only lost its status in recent years, but also seen the immigration of its locals.
Several natural and human factors have paved the ground for the emergence of the dust storm phenomenon. The paramount domestic reasons, Ordou argues, include inefficient management of water and river resources, the drying of wetlands, particularly those in the south including Mesopotamian Marshes in Khuzestan, and the alteration of the use of farming and jungle lands.
The main foreign cause of the phenomenon, however, is Iran's failure in foreign policy, Ordou says. Satellite images from the south indicate that the expansion of the phenomenon is caused by great barren deserts and sand hills in the Saudi Arabia (particularly in the north of the Kingdom), claypan deserts in south of Iran and northeast of Kuwait, and dams constructed in Turkey that have dried wetlands there.
"Iran's domestic environmental management is also weak in its assessment of plans and projects, unprincipled manipulation of natural ecosystems such as dams built without ecological footprint studies or the diversion of the direction of the tributaries of Karun, a major water resource particularly for the wetlands of the region, without taking into account the water crisis and climate changes," the university professor adds.
To tackle the foreign factors involved in the phenomenon, Ordou proposes international cooperation particularly among Turkey, Iran, Iraq and Syria. "Our diplomatic apparatus should take effective measures regarding Turkish dams constructed on Tigris and Euphrates or Afghan dams on Hari River. Giant dams built by Turkey on the upper reaches of Tigris and Euphrates has already significantly cut the flow of the two rivers, drying out the Mesopotamian Marshes," she writes.
A decades-long dispute with Afghanistan over Helmand River has also led to unprecedented dust pollution, drought, unemployment and immigration in east of Iran. Afghanistan too has built the Salma Dam to control water flow from the Hari River, which will inflict water shortage on parts of Khorasan. Iran has also lost its agreed share of Helmand, which has caused in turn the drying of Iran's eastern wetlands, deteriorating dust in the east.
With Kamal Khan dam becoming operational since 1970s, Iran's Sistan has been wrestling with drought and immigration of its population to Gorgan, Mashhad and other cities as well as the suburbs of Tehran. Hari River and the Salma dam, recently finished by Indians, can also jeopardize Khorasan's reserves of drinking water, if it fails to stream enough water into Iran–Turkmenistan Friendship Dam Indian subcontinent expert Pirmohammad Mollazehi reminds in his interview with Iranian Diplomacy.
According to Mollazehi, a prevalent mentality in Afghanistan, against international regulations, is that waters with their sources in Afghanistan exclusively belong to the country. However, Iran's laxity is also part of the problem. "There are ways to make deals through negotiations; when you give the green card to Afghans to use Chabahar, a free port in the Indian Ocean, you can demand the settlement of Helmand River's water allocation," Mollazehi told Iranian Diplomacy in late August.
However, tackling transborder issues does not mean the looming water crisis is tackled. "Iran should also rectify its methods of water management. The mentality that controlling border waters is the only solution should change. If it does, we will be able to manage water coming down to us in cooperation with our neighbors," Ordou says.
Water is the new oil and needs serious attention on the part of Iranian officials. As Sadegh Zibakalam says, "One day, our grandchildren will ask us about water as much as they will ask about the nuclear dossier".