UK's Profit-before-Principle Policy in Middle East Not Welcome in Iran
British officials' recent remarks have offended Tehran, so bad it has already threatened to downgrade diplomatic ties with the UK, just upgraded to ambassador level in September.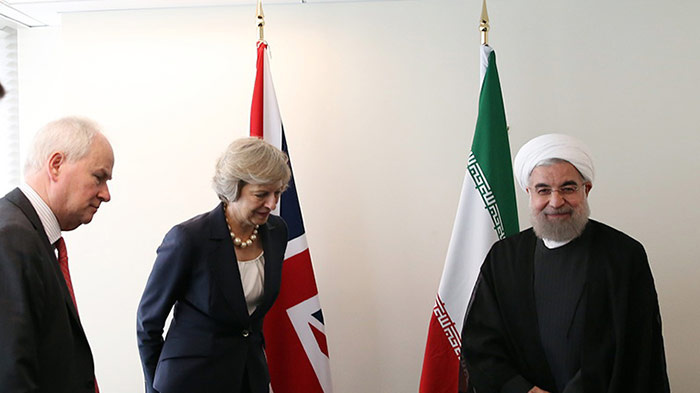 In her last week bid to assure Arab leaders of their security in the wake of the nuclear deal with Iran, British Prime Minister Theresa May, who was attending a summit of the [Persian] Gulf Cooperation Council (GCC) held in Bahrain, raised the bar of rhetoric against Iran far too much apparently.
Recommending ongoing vigilance towards Iran, she said an alliance of UK and Arab states should "continue to confront state actors whose influence fuels instability in the region," referring to Iran. "So I want to assure you that I am clear-eyed about the threat that Iran poses to the Gulf and the wider Middle East; and the UK is fully committed to our strategic partnership with the Gulf and working with you to counter that threat," BBC quoted her as saying. She made a long list of allegations against Iran, including military intervention in Syria as well as undermining peace and stability in Yemen, Lebanon, and Iraq.
Shortly after May's demonization of Iran, the Guardian published footage of UK Foreign Secretary Boris Johnson speaking at the Rome Mediterranean Dialogues 2016 Forum on 1 December. In the footage, Johnson is seen saying many countries in the region lack 'strong leaders', 'big characters' to tell a 'national story'. He then moves on to accuse Saudi Arabia and Iran of "puppeteering and playing proxy wars" in the region through abusing Islam.
Downing Street soon backed off, singling out his criticism of Saudi Arabia. Saudi Arabia was "a vital partner for the UK, particularly on counter-terrorism and, when you look at what is happening in the region, we are supportive of the Saudi-led coalition which is working in support of the legitimate government in Yemen against Houthi rebels," the UK prime minister's spokeswoman said on Thursday. According to her, Johnson was setting out his own view -- on Saudi Arabia. Not on Iran.
Iranian Foreign Ministry Spokesman Bahram Qassemi told reporters on Saturday that UK's envoy Nicholas Hopton had been summoned and briefed about Tehran's strong protest at the prime minister's "thoughtless remarks". According to Qassemi, MFA's deputy director general for West Europe affairs has emphasized that May's "irresponsible, provocative, and divisive" comments at the summit were "unacceptable and rejected".
Scores of Iranian officials have voiced their protest since. Most say Saudi Arabia and Britain are making comments against the Islamic Republic in a bid to cover up their destructive role in supporting takfiri terrorism. "The British prime minister was invited to this summit to speak against Iran. Such acts are humiliating for these countries," Vice President Eshaq Jahangiri said on Saturday, referring to GCC member states.
The draft of a motion has been submitted to the Iranian Parliament's board of directors that calls for downgrading diplomatic ties with the UK and minimizing economic and trade ties within two weeks.
UK's recent gestures are widely seen in Iran as a marketing technique for selling arms, used by the Commonwealth, itself concerned with economic repercussions of its exit from the European Union. While a few politicians and media outlets have resorted to name calling, picturing Theresa May as a Zionist, or preoccupied with being a second Margaret Thatcher, others offered more realism in response to the new developments.
In an article published by pro-reform website Asr Iran, Maziar Aghazadeh called the coincidence of Theresa May's remarks with a major oil and gas development contract between Iran and Royal Dutch Shell an inherent paradox of UK's undisciplined foreign policy, namely, running with the hare and hunting with the hounds. He hypothesized that in the post-Brexit era, Britain, now liberated from EU restraints, will adopt a more 'nationally-oriented' policy and return to its traditional partners, allies and even colonies in a bid to prioritize economy.
Aghazadeh is not alone in his presumption. May has been criticized over putting profit before principles, even by Western observers, for she failed to raise human rights issues with Arab leaders. In an op-ed published on the Independent's Voices, Patrick Cockburn goes further warning that the sectarian conflict May is fueling could have severe international consequence. An eyewitness himself, Cockburn rebutted claims that Iran was involved in the Bahrain's peaceful yet brutally suppressed uprising. He blamed UK's Prime Minister for feeding paranoiac Iranophobia and taking the wrong side in the region.
Back to Asr Iran, Aghazadeh noted that in the absence of its transatlantic ally in the region, highly anticipated in Trump's presidency, Britain will pursue a military return to the region as the country opened a permanent Royal Navy base in Bahrain last year, a first since its exit from east of Suez Canal in 1968. He moved on to compare UK's volume of trade with Iran and with the Arab states of the Persian Gulf and, an approximately one to one hundred proportion. Further demonstrating why the UK would prefer alliance with Arab states rather than Iran, the analyst asserts that Arab leaders are ready for extravagance in their foreign policy, as they have been in recent decade paying subsidies for it. Thus, he argues, the UK is willing to actively engage in a military and security role in the Middle East, but that remains a cover for the country's financial interests.
Veteran Iranian diplomat Hossein Mousavian has also slammed the Britain for its ignoble policy regarding the region. He posted on his Facebook page the account of a conversation he has recently had with an unnamed Scandinavian diplomat in Morocco who was curious to see why Iran was so enraged about May's remarks. According to Mousavian, the diplomat told him the US and Europe have realized that the Iranian establishment is to remain in the long run while the Arab governments will leave power sooner or later. Thus, the Scandinavian diplomat argued, they were looking for long-term economic contracts with Iran while selling arms to the Saudis and Gulf states. "They have multibillion reserves and no brain," Mousavian quoted the unnamed diplomat.