Mostafa Mirsalim: Back after Two Decades
The Islamic Coalition Party (ICP) is backing Mostafa Mirsalim in the run-up in which Principlists will choose their final candidate(s) for the next year's presidential race.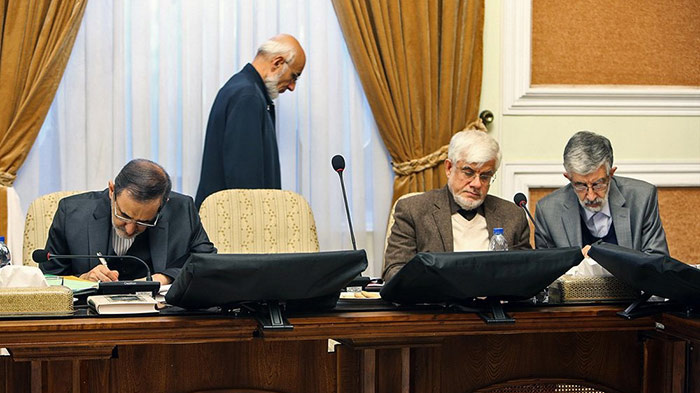 (Picture: Mostafa Mirsalim (standing) during a Expediency Council meeting. Three 2013 presidential candidates are also seen in the picture.)
This week, the Islamic Coalition Party (ICP), one of the oldest conservative parties in the Islamic Republic, announced that it is introducing Mostafa Mirsalim as its own candidate into a Principlist forum that will confer on choosing the final presidential candidate to run on behalf of the front in next year's race. Though top ICP officials have noted the possibility that Mirsalim declines to run, his apparition has relieved weeks of media speculations and appearances. A telling example was the online circulation of a photo captured during a recent Expediency Council meeting in which Mirsalim, a veteran member, is seen behind three former presidential candidates, Mohammdreza Aref, Aliakbar Velayati and Golamali Haddad Adel.
A common thread in reactions to the news is his age. Seyed Mostafa Agha Mirsalim will be seventy in mid-June, 2018 and 74 by the end of a potential first presidential term. Apart from that, the question is whether what his career has gone through renders him a qualified president-to-be or not?
Mirsalim was born in a religious family in Tehran and went to Alborz high school: the modern American-made Iranian version of Eton College whose alumni still accounts for a large part of Iran's elites. After graduation from Alborz, he left for Université de Poitiers in France where he studied mechanical engineering. According to a dedicated webpage run by the Mechanical Engineering Department of Iran's prestigious polytechnic Amir-Kabir University, where he serves as assistant professor, Mirsalim holds three post-graduate degrees from his years in France. The degrees include Internal Combustion Engines from École nationale supérieure du pétrole et des moteurs in 1972, Fluid Mechanics and Thermodynamics from Attestation d'Etudes Approfondies, Universite de Poitiers in 1971, and Mechanics from Ecole Nationale Superieur de Mecanique et d' Aerotechnique also in 1971. According to Dowran, an e-monthly on the contemporary political history of Iran, he worked as an intern in Alsace Mechanical Industries until 1976.
Mirsalim is one of the very few Iranian politicians whose executive career goes beyond the life of Islamic Republic. He was the operational director of Tehran Urban and Suburban Railway Operation Company for three years immediately before the 1979 Islamic Revolution. Despite his tenure in Tehran's Metro, he was reportedly injured during anti-Shah rallies in September 1978.
After the revolution, he joined the Islamic Republic Party (IRP), an association of influential Muslim revolutionaries that dominated the country in the years to come, before its dissolution due to internal differences. Mirsalim was a central council member in the first three years and handled the party's campaigns. In 1981 and on June 28, he was more than lucky to leave the conference hall minutes before a bomb went off in the Party's bureau, killing more than seventy party members including prominent cleric Mohammad Beheshti.
A year before that, elected President Abolhassan Banisadr had proposed Mirsalim to the parliament as Prime Minister. The two were in good term since their years in France. Banisadr did not want to work with the Islamic Republic Party's main candidates but found Mirsalim an option to break through the deadlock since his fellow-minded candidate would fail to obtain the vote of confidence from the IRP-dominated parliament. The party had been previously disarmed when Supreme Leader Ayatollah Khomeini advised against executive jobs for clerics, hence implicitly barring its secretary-general Mohammad Beheshti and a second option, Jalaleddin Farsi, was automatically dismissed for his Afghan origin. Despite Banisadr's sweeping victory in the presidential election, the Islamic Republic Party had won the majority of the seats in the parliament. However, that parliament apparently refused to endorse Mirsalim in a closed session, giving way to Mohammadali Rajaei, whom Banisadr accepted rather reluctantly.  
In the meantime, Mirsalim went from one office to another position, all of which concerned internal politics. He was on the executive panel for the Islamic Republic referendum in 1979 and directed the supervisory headquarters that would oversee the elections of Assembly of Experts for Constitution. He was then appointed as the chief of Iran's Shahrbani, law enforcement organization with police duties inside cities for two years while he also deputized Interior Ministers Ali Akbar Hashemi Rafsanjani and Ayatollah Mahdavi Kani in sociopolitical affairs.
During the years Supreme Leader Ayatollah Ali Khamenei served as the president alongside Prime Minister Mirhossein Mousavi, Mirsalim administered the presidential office and served as a top aid to the president. When Ayatollah Khamenei succeeded the first Supreme Leader Ayatollah Khomeini, Mirsalim continued his advisory role, this time in research affairs, to the new president, Ali Akbar Hashemi Rafsanjani. It was in the latter's second term as President that Mirsalim was appointed Minister of Culture in 1993, to replace Ali Larijani who was set to direct Iran's state TV for the next 10 years. Despite criticisms that he had no background in cultural affairs, Mirsalim told Hamshahri in 2014 that he had been in the secretary of Iran's Supreme Council of the Cultural Revolution for four years. The council's declared mission is to fend off foreign infiltration and make sure the country's education and culture is in absolute compliance with Islamic values.
It was in this period that became the most revealing of his views as much as culture is concerned. Saba, a news agency dedicated to arts and culture, wraps up his tenure as Culture Minister, as follows: "Mirsalim considered culture synonymous with ideology. He later said in an interview that he did not have to watch movies anymore when he left the job. He had no interest in cinema and had seemingly accepted the post with reluctance". His tenure came to an end when another former culture minister, the Reformist Mohammad Khatami, backed by previously major clients, i.e. artists and writers, was elected to hold office. Two months before the historical election in 1997, Mirsalim, agitated by their advocacy of Mohammad Khatami, thrashed the artists, saying they had a long way to go before they could comment on issues of art and culture, let alone other areas they were 'not authorized for'. However, he seems to have no regrets about his time in the Culture Ministry. In an interview with Hamshahri, published in early 2013, he boasted that Iran daily and Hamshahri itself, two of the most widely circulated newspapers, were launched during his term. For then strict policies on satellites and media outlets, he blamed the parliament and the judiciary respectively, while admitting that as minister in Rafsanjani's cabinet, he saw little intervention from the President. To use his own words, his plan was "the same thing passed by the Supreme Council of the Cultural Revolution and endorsed by the Supreme Leader".
Despite his long post-Revolution career, Mirsalim is a mysterious man of many faces in Iran's political scene. His unique appearance (his Nehru banded collarless tuxedos, dark calottes, his thin white Shenandoah beard below his baldhead, making him look like an amalgam of various faiths) together with his habitual circumvention of media encounter have been his trademark for the past two decades. The taciturn Principlist stands out by other idiosyncrasies, too. His focus in all these years has been the nation-wide project dubbed the National Engine, which has given him high-profile involvement in the country's auto-making industry. His personal interest in swimming has also earned him an unrivaled presidency over the country's Life Saving and Diving Federation since its foundation 25 years ago. Add to that the fact that he once served as a liaison between the Islamic Republic and the leftist umbrella party, Tudeh.
One potential hindrance that may befall on his potential campaign? His marriage to a French woman.