How will Iran's Six Presidential Candidates Campaign
The finale of the presidential race is quickly approaching, as the mainstream political factions in Iran face a rare balanced showdown, at least in the number of candidates.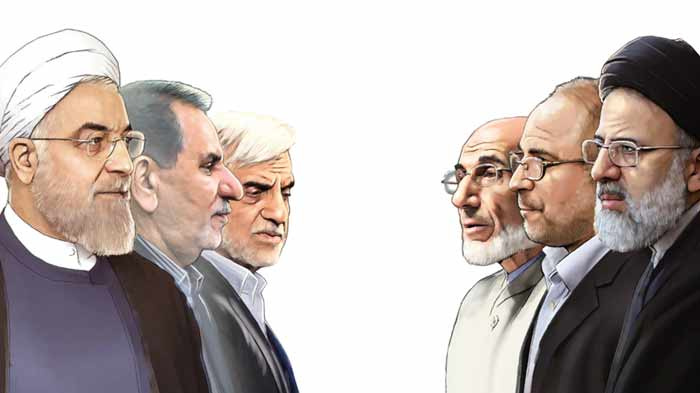 As the Guardian Council announced the shortlist of presidential candidates, the diploe of Iran's twelfth presidential race was unveiled. The line-up of three Principlist candidates (Ebrahim Raisi, Mohammad-Bagher Qalibaf, and Mostafa Mirsalim) vis-à-vis three moderate and Reformist hopefuls (Hassan Rouhani, Eshagh Jahangiri, and Mostafa Hashemitaba) puts forward a question on how they will campaign in this polarized election. Who is to adopt a negative approach and who will take a positive method?
Before the Guardian Council's vote on the qualification of presidential hopefuls, 'cover' candidates in both mainstream political parties had already turned heads.
In the pro-administration and Reformist camp, Eshagh Jahangiri was presented as a cover candidate for Hassan Rouhani while Principlist end of the spectrum had considered Mohammad-Bagher Qalibaf, Alireza Zakani and Hamidreza Hajibabaei as doubles for Ebrahim Raisi. The Popular Front of Revolutionary Forces (PFRF), the makeshift umbrella body that aims to bring Principlists under one roof, had put forward it final four-man shortlist, too. However, only Hajibabaei and Zakani remained committed to the PFRF and Qalibaf and Raisi chose to run as independents.
With Zakani and Hajibabaei disqualified, Raisi and Qalibaf are the main duet of the Principlist camp. In the meantime, Mostafa Mirsalim runs along as a candidate backed by the conservative Islamic Coalition Party. Even though Mirsalim and the Coalition Party had joined the PFRF, he has not tagged himself as a PFRF candidate, either.
Therefore, the presidential race seems to be more vital between the four candidates coming from the two camps: Rouhani and Jahangiri on the one side, Qalibaf and Raisi on the other. Hashemitaba and Mirsalim seem to have slimmer chances of grandstanding.
To many analysts, Hassan Rouhani's Vice President Eshagh Jahangiri has run as cover candidate who will withdraw in favor of the sitting president just as campaigning window is closed. The pro-Rouhani Reformists state three reasons for Jahangiri's involvement: to obtain more live TV debate time, say things Hassan Rouhani cannot say as the President, and to have a Plan B in case of unexpected mishaps just before the race.
Jahangiri himself said in a presser held after his registration that he has run as a 'supplement' to President Rouhani.
Obviously, Rouhani and Jahangiri are not to fall into confrontation during the campaigns, as it is said the Jahangiri will not even launch a campaign headquarters.
However, Mostafa Hashemitaba, another candidate affiliated with the Reformists, has run with no partisan support. Hashemitaba, who is close to the Executives of Construction Party, has not provided clarifications on what he is going to do in the race but does not seem to want to adopt an aggressive stance vis-à-vis President Rouhani.
Nonetheless, it seems that advocates of the Rouhani-Jahangiri duet will demonstrate a positive approach in their campaign. They will try to defend the administration's achievements and speak of the future plans. The negative side of the Rouhani campaign will probably focus on the situation he took over from the previous administration. Moreover, Eshagh Jahangiri, who is in charge of the fight with economic corruption, will probably attempt to blow whistles on some still-unrevealed instances.
The political line-up and campaigning method is more complicated in Principlist camp. It is important to note that none of the camp's candidates has agreed to sign principles proposed by the PFRF. One of the main principles of the newborn front was for the candidates to withdraw when consensus is reached on a single candidate. Although the PFRF has declared that both Raisi and Qalibaf are endorsed by the front, neither of them has accepted the prerequisite.
Principlist figures say the camp's candidates will have no internal rivalry. One of Qalibaf's advocates Ali Dorani confirms there is such a strategy. "Campaigns for Qalibaf and Raisi will be confrontational, against the incumbent administration. They will both try to block Rouhani's reelection," media outlets have quoted him as saying. However, Dorani dismissed the possibility that Qalibaf may withdraw in favor of Raisi. "There is a chance that Raisi will pull out in favor of Qalibaf," he said, declining to provide further comments.
In analyzing the internal dynamics of the Principlist camp, pro-reform activists view both withdrawals as unlikely. "Qalibaf and Raisi, who both failed to comply with the PFRF, will not back down in favor of each other," says Abbas Abdi.
Despite what the Principlists' claim that there will be no infighting, Abbas Abdi says, the election calls for campaigning against all other sides if a candidate wants to fall ahead. "You cannot campaign for two candidates, because its artificiality will stand out. Naturally, the war will heat up and there will be no compromise," he added.
Speaking about Mostafa Mirsalim, his candidacy is as vague as that of Hashemitaba. Mirsalim is the Coalition Party's candidate. The Coalition Party is a part of the PFRF. However, its candidate has run independently.
While he has announced he would remain in the race until the very end, it is likely for him to withdraw in favor of a Principlist candidate. He is perhaps the only Principlist whose campaign will be positive because Ebrahim Raisi and Mohammad-Bagher Qalibaf have already demonstrated that the will act negatively, with the purpose of defeating Hassan Rouhani.