Rouhani Campaigns against Rivals in Tit-for-Tat
President Rouhani has just started to campaign as recklessly as his contenders. And they have become furious.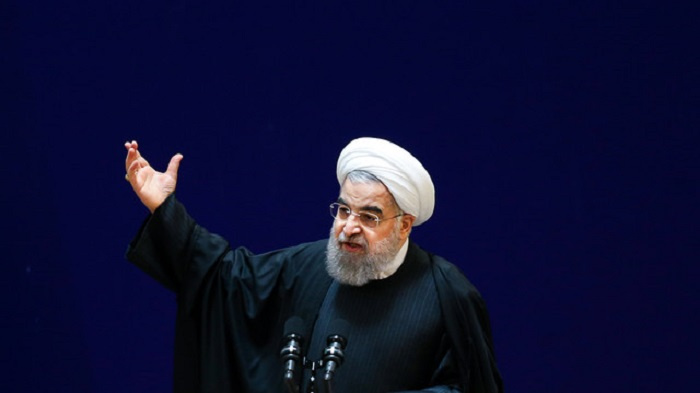 Finally, Hassan Rouhani has finally put his electoral campaign in high gear, locking horns with Principlist rivals who have spared no effort to block his bid for reelection. Following the second televised debate held on Friday, Rouhani has taken up a harsher tone in speeches he makes during campaign visits to different parts of the country, lashing out at his two main contenders, Ebrahim Raisi and Mohammad-Bagher Qalibaf.
His advocates interpret Rouhani's shift from a posture of timid tolerance, forbearing from response to unfair criticism, to the offensive, as his return to the presidential race. Pro-reform daily Aftab Yazd has called the move as part of a ploy that starts with assessing the rival's move, going into a defensive crouch, and then attack in the end. The newspaper cites a series of tweets posted by President Rouhani's deputy bureau chief for political affairs Hassan Aboutalebi, which promised a great shift in the third televised debate. Another pro-Rouhani website, Vakile Melat, hails the new developments as the 'Rouhani Tornado', writing that Rouhani's course changing is a response to his supporters' expectations. "He is not quiet anymore so that the rivals could say anything they want. His voice is now louder than anyone else's are. He has astonished his contenders and excited his previously passive social base," Vakil Melat wrote.
However, Rouhani's increasingly harsher tone has worried the opposing front too. Hardliner Kayhan daily director Hossein Shariatmadari has told Fars News Agency that Hassan Rouhani has 'gone insane' because he is at his wit's end. Saying the election is only a pretext for Rouhani with his ultimate goal being beyond the presidential race, Shariatmadari slammed Rouhani for what he called out-of-the-box remarks. "A brief review of his comments indicates that, under the pretext of attacking rivals, Rouhani is attacking the foundations of the Revolution and the establishment, deliberately or not sending two apparently separate but actually identical messages for inside and outside the country," Fars quoted him as saying. According to Shariatmadari, the message meant for people inside the country is the outlook of a tensely restricted life if rivals win the race, while the outgoing message is that he will pursue weakening the establishment's power.
Kayhan daily's headline on Monday dedicated to what the newspaper itself calls rumors: "Your Budget and Cash Handouts will Be Cut If You Don't Vote Rouhani". The daily claims to have received several reports, saying unidentified individuals are threatening villagers in underprivileged regions with cuts. Kayhan's investigators have apparently verified the spread of such rumors. The hardliner daily's cover story concludes that such measures are illegal, and could be considered instances of vote rigging.
Former IRIB director Ezatollah Zarghami, who is part of a Principlist coalition called the Popular Front of Revolutionary Forces, also slammed Rouhani over his suicidal approach in comment posted to his Instagram account. "Rouhani's conduct and stance is far from the second most powerful man in the country or one that leads moderation. He still has the chance to return to the race but I wonder why he is acting self-destructively," he wrote.
Moderate Principlist Ahmad Tavakoli has also published an open letter to Rouhani, here on Wednesday, in which he indirectly warns President Rouhani about causing a face-off against public expediency and Supreme Leader's injunction. Accusing Rouhani of sowing sedition by questioning the whole history of the Revolution, Tavakoli stated in the letter that a person who excludes opponents, ignores the Supreme Leader's line, and sees Judiciary, IRGC, and Revolutionary forces as devious cannot administer the country even if he wins the election.
Javan daily's cover story highlighted Rouhani's remarks addressed to a gathering of his supporters in Hamedan, where he said a rival, a veiled reference to Ebrahim Raisi, would build a segregating wall in sidewalks if they win the election. "As chances for response narrow, Rouhani will gradually bring up accusations, trying to scare people of his rivals. However, the real fear is in the heart of the speaker who is apparently concerned about a fall in his ballots or potential disclosures in the economy-focused debate. The raising of voice indicates a deep fear," Javan wrote. While the daily labels Rouhani's claims as threadbare, a photo arrived just in time on the Internet, showing a meeting of Ebrahim Raisi's supporters split between men and women by a fabric divider.
Rouhani is definitely trying to step up his bid for reelection. in a tough race Rouhani will not only have to compete with contenders unanimously longing to pull him down, but also deal with large numbers of disillusioned voters who seem to need a break. What Rouhani's rivals are actually asking him to do is to stand criticism and remain quiet, so that they can sweep votes without even bothering to have a plan for the next four years. Touché.