Is Rouhani Disarming His Critics over His Brother's Financial Accusations?
In an article published on Wednesday, moderate website Fararu investigated a new round of accusations against President Hassan Rouhani's brother, Hossein Fereidoun.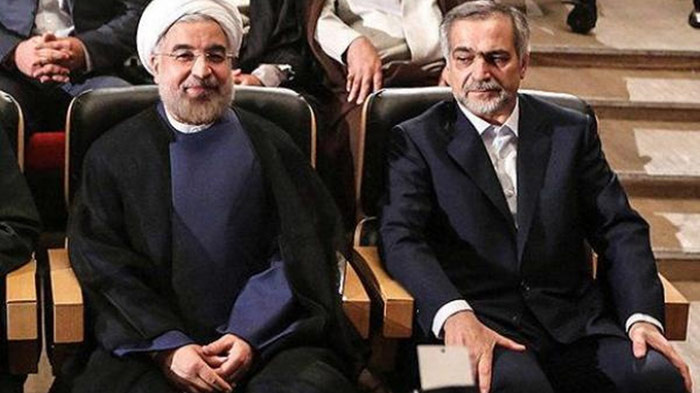 Those close to presidents are always being monitored at heels. In the Rouhani administration, the president's brother and special aide Hossein Fereidoun is under the magnifying glass, too.
In his weekly press conference, Judiciary spokesman Gholam-Hossein Mohseni Ejei said Rassoul Danialzadeh, mega-debtor to the country's banking system, has been arrested and investigations on his case are underway. He also added that Danialzadeh's link to Hossein Fereidoun is evident, but the nature of their rapport or any likely joint measures are not yet clear and need further investigation.
The Deputy Judiciary Chief also said he personally advocates open trials for some defendants, where media outlets could publish details on the cases in question.
In his January 24th presser, administration speaker Mohammad-Bagher Nobakht reacted to Ejei's direct reference to President Rouhani's brother by pointing to the judiciary's double standards and the fact that for a long while, the justice apparatus used initials or family names of the suspects, including most notoriously the case of imprisoned tycoon Babak Zanjani, who is now sentenced to death over charges of economic corruption. Nobakht called on the judiciary to wait until any offense is proved, warning that such accusations would register in people's memories and even in case of an acquittal, people would remain unconvinced. "Before making accusations, we should let the offence be proved," he added.
More than forty parliamentarians have recently urged President Rouhani in a letter published on January 4th, to order quick investigation of concerns about Fereidoun's link to a number of mega-debtors. The lawmakers referred to a document, which they believe, proves that Danialzadeh had bought a residential apartment in uptown Tehran, worth 14 billion tomans ($3.5m) in the name of Fereidoun's wife. They have also mooted documents indicating deposits to back accounts in London and Canada, which belonged to Fereidoun's daughter. The MPs believe these documents show financial links between Fereidoun and Shabdoust Malamiri, another mega-debtor. Danialzadeh is accused of 'gruesome' ties with banks, considered to be rooted in his link to banking officials, the liaison for which, the lawmakers suspect, is Hossein Fereidoun.
Lawmaker Mohammad-Esmaeil Saeedi, a member of the hardliner Paydari Front, has told Iranian media outlets that Danialzadeh had established links and been involved in collusion with Mellat Bank CEO. "We have intelligence that through a shell company based in Dubai, the Mellat Bank has transferred huge amounts in Dirham to Iran, changing them to Rial, with interests going to these individuals' pockets," he has been quoted as saying.
Others have also brought up Hossein Fereidoun's recommendations in support of Malamiri. They claim that Fereidoun's recommendations have caused the payment of huge loans and foreign currencies to Malamiri. Former MP Alireza Zakani is one of the main whistleblowers on Fereidoun's financial accusations, accompanied by other hardliner figures and legislators including Ahmad Salek, Zohreh Tayyebzadeh, also a Paydari member, Nassrollah Pejmanfar, who represents Mashhad in the parliament, and Seyyed Hossein Naghavi.
Three days ago, a number of Principlist-bent media outlets claimed that Mashhad's Friday Prayers leader Ayatollah Alamolhoda and the custodian of the Holy Shrine of Imam Reza Ayatollah Ebrahim Raeisi had refused to go on stage and join Fereidoun and other administration officials, during a ceremony recently held to celebrate Mashhad's being awarded as the cultural capital of the world of Islam.
Where did first accusation against Fereidoun end up?
Concerns about Fereidoun's financial dealings are the second series of accusations against the President's brother. In their first series of attacks, the Principlists brought up Fereidoun's education. The disclosure was first publicized by Ahmadinejad's Higher Education Minister and current member of the parliament Mohammad Zahedi, feeding Principlist media outlets with much pretext to maneuver upon, which resulted in the accusations to stick in the people's minds.
There, the Principlist media had accused the President's brother of using his contacts to pursue a doctorate degree in the prestigious Shahid Beheshti University through recommendations, which faced opposition by dean Mahdi Tehranchi.
Iran's Education Assessment Organization denied the claims. These speculations peaked once again when the hardliners wanted to prevent the substitution of Tehranchi, trying to pressure the administration on the basis that such a decision will give way to the belief that it had been motivated by Tehranchi's resistance against Fereidoun.
Now that a new case is up and running against Hossein Fereidoun, the administration's spokesman confidently backs the President's special aide. The Rouhani administration is on the belief that the authority in charge of investigating these allegations is the judiciary. In this way, Rouhani may try to differentiate between himself and his predecessor Mahmoud Ahmadinejad, who in June 2011 and on the sidelines of a cabinet meeting, amid accusations of financial corruption against his VP Mohammad-Reza Rahimi, asserted that his cabinet was his redline and threatened to do his 'legal duties', which would in turn bear damage on the country, if that line was crossed.