Friday Prayers across Iran: Praising the 1979 Revolution
Friday prayers on February 8, 2017.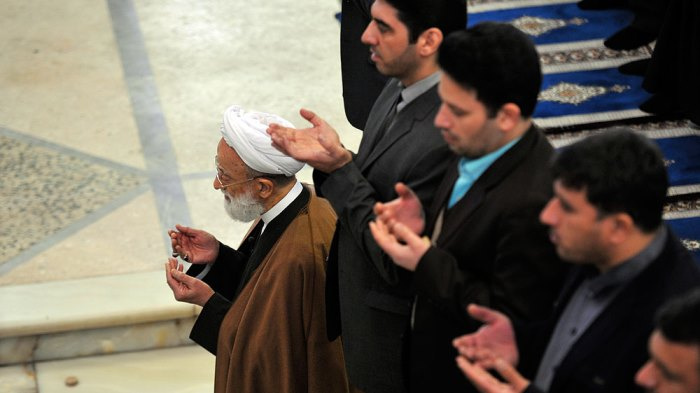 (Picture: Mohammad Emami-Kashani performing Tehran's Friday prayers. Source: Alireza Farahani/YJC)
February 8th marks the victory of the Islamic Revolution in 1979, a popular uprising that overthrew Mohammad-Reza Pahlavi, put an end to 2500 years of monarchy in Iran, and transformed Iran into an anti-Western, anti-American state with a devotedly independent foreign policy.
In this week's Friday prayers that collided with anniversary of the revolution, sermonizers praised the citizens for their participation in rallies held across the country, calling it a sign of Iranians' unborken faith in the cause of the revolution, and a sign of Iranians' resistance against estekbar, global imperialism led by the United States.
Anti-American sentiments were high in this week's sermons inevitably. In Tehran, Ayatollah Emami Kashani touched on the US President Donald Trump's visa ban, calling it a sign of the United States' and Israel's fundamental hostility towards Islam. "Even countries like Somalia, Libya, and Yemen that did not challenge the United States and were compliant with this country faced the visa ban" he said, arguing that it proved United States had an issue with Islam itself.
Emami Kashani also cast doubt over US' claims of fighting terrorism, reminding his audience that the country was the nurturer of Da'esh/ISIS, but also raided Iraq and Syria under the pretext of fighting the terrorist group.
"This is not a revolution to be defeated by conspiracy and sedition" said Ahmad Alamolhoda, Friday prayers' leader of Mashhad, saying that as long as people played actively backed the revolution; it could not be nipped in the bud. Alamolhoda, an ultraconservative cleric, also warned about 'secular currents', urging people to block involvement of such groups in the country's affairs.
In Qom, site of Iran's most prestigious Shia seminaries, Mohammad Saeidi, Friday prayers' leader of the city, defended the "Death to America" chant, a constant of the Islamic Republic discourse in the past four decades. "With their Death to America slogans, our people are not creating enemies, but exposing their enemy" Saeidi said. "United States will never be trustworthy" he added, dubbing sanctions, infiltration and propaganda as enemy's tools against Iran.
In Qazvin, northern Iran, Abdolkarim Abedini called 'security' a key achievement of the revolution. "Americans have to receive permission from our armed forces for moving across the Persian Gulf" Abedini boasted. "It was thanks to the Islamic Revolution that Americans failed to realize their plots in Iraq and Syria" Abedini added.
IRD/66