Reformists to Back President Rouhani's Reelection
The reformists in Iran have finalized their decision to back President Hassan Rouhani in his bid to win a second term in office.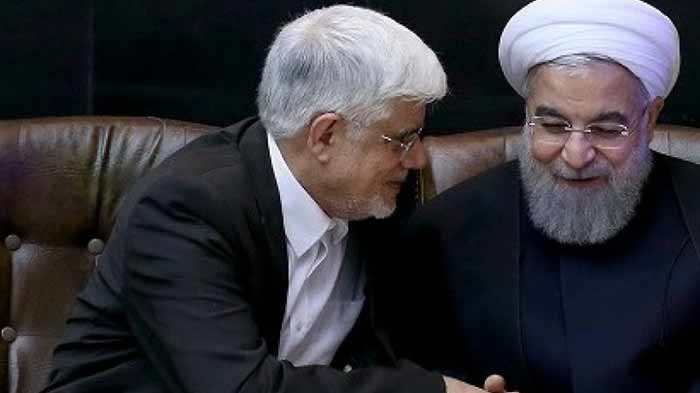 Only two months to go before Iran's presidential race, political factions still show little enthusiasm for a full-fledged involvement.
At the center of the lethargy lies the question of President Hassan Rouhani's reelection. While almost every Principlist mouthpiece stresses on the disastrous potentials of the reelection, the Reformists ultimately agree to back Rouhani for a second term.
On Sunday evening, former presidential candidate Mohammad-Reza Aref confirmed the decision, telling reporters that the Reformist Policy-making Council has unanimously voted in favor of backing Rouhani. Saying that the Reformist front has shifted its strategies to be more realistic and attentive to national interests since 2010, Aref reminisced his withdrawal in favor of Rouhani back in the 2013 presidential election.
"We reached valuable results welcomed by people. We faced restrictions everyone knows about. Therefore, from the early days after Rouhani's election, our strategy was to continue backing Rouhani, with our second goal being the twin elections of the parliament and the Assembly of Experts. We did even better in the run-off phase," Iranian media outlets quoted Aref as saying.
Calling the May presidential race a third stage for the reformists, he told reporters that the reformist camp has reached the conclusion to support Rouhani's reelection, after talks between the Council's board of directors and President Rouhani and his representatives.
Speaking about rumors of a cover candidate representing the Reformist front, Aref said the camp cannot bar anyone from running and takes candidacy a right for everyone who feels competent to hold office. "We have two completely different views here. Some believe that we should have no other candidate while others say the Reformism is a great movement and should participate with different candidates, even though it will come to a single one at the end of the day," he said, adding that the Reformist decision-making body will announce its official standing before enrollment date.
In response to a question on whether cover candidates would remain committed to withdrawal, Mohammadreza Aref said the camp has adopted an approach of responsibility since 2013 and will act based on collective wisdom.
Commenting on the Reformist agenda regarding escalating destructive criticisms Rouhani has been facing in recent month, Aref vowed campaigning to increase awareness about the Rouhani administration's awareness. Campaign headquarters of the pro-Reform and pro-Rouhani forces may be merged or work separately but in coordination, according to Aref.
Aref went on to call on the Seda-o-Sima, state-run TV, to remain a national entity and reconsider its one-sided approach to domestic politics. "State TV should work in line with national interest and avoid leaning to a certain faction. If it does lean, the people will show their response in the election," he added. In response to the question whether there are certain lines of criticisms against Rouhani that the Reformist front would be ready to put forward, he said the approach for the camp is fair criticism and that the members who have already experienced executive jobs would not want to be armchair critics.
In the meantime, pro-Reform Mardomsalari (Democracy) Party's fifteenth summit has voted for its secretary-general Mostafa Kavakebian as the party's candidate for the upcoming presidential race. However, Kavakebian has signaled compliance to the collective decision made by leaders of Reform.
The Principlists front still working to find a way to avoid recent electoral fiascos seems to have put all its eggs in the one basket of the Popular Front of Revolution Forces (PFRF), which has promised to reach a short list of five hopefuls by early April.