What Is on Rouhani's Agenda in His Visit to Moscow?
Iran's president visits Moscow at a juncture where bilateral ties are of utmost importance for both countries. By Hossein Malaek, Iran's former ambassador to China.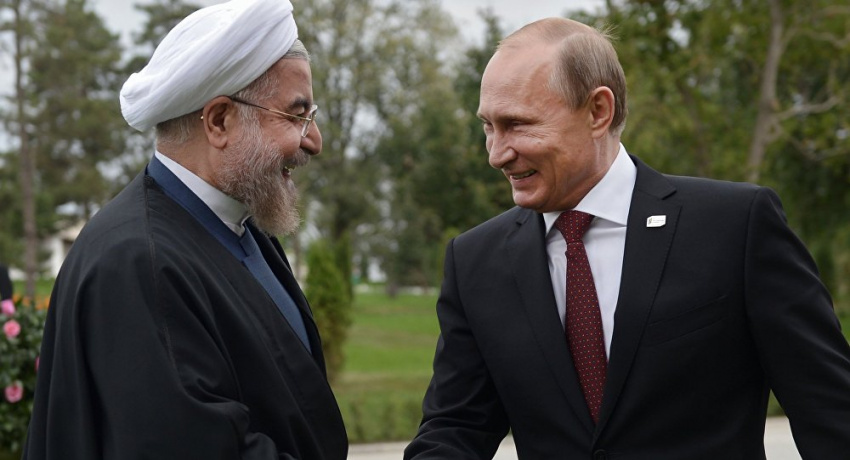 President Hassan Rouhani will pay an official visit to Moscow on March 28, 2017. The importance of Rouhani's visit lies in the fact that Tehran-Moscow relations have now moved to a new level, and there is need for talks at a higher level between officials of the two countries. While there have been several meetings between Hassan Rouhani and Russian President Vladimir Putin during the recent years, in Tehran, Russia, Central Asia, China and UN, the importance of the upcoming visit lies in developments in the international field which have placed Iran and Russia beside each other in one camp. Setting the future direction of Tehran-Moscow collaboration is what makes Rouhani's visit to Moscow more important than ever.
Since former president Mohammad Khatami's visit to Moscow in 2003, no Iranian president had visited the country. The years of Ahmadinejad's presidency were the years of decline in Tehran-Moscow relations, many political observers believe. However, relations thawed when Rouhani came to power in 2013 and the Syrian crisis brought the two countries closer than ever.
What will Rouhani discuss in his Moscow visit?
For Moscow, its top priority is to overcome crisis and instability in its relations with Washington. The Russian ambassador to the United States is on the front page of American newspapers on a daily basis, linked with stories of espionage, a situation Moscow is hardly fond of. Even if we take as true the news about Russia's meddling in US' presidential elections, news coming out from the White House and Capitol Hill hardly success of the campaign by Russians. As long as Russia is in a state of uncertainty in its ties with the United States, sanctions on the country which have been imposed following annexation of Crimea and the Ukraine crisis will not be removed.
Following the June 2016 coup against Erdogan in Turkey, which received tacit approval from the West and the United States, Moscow's relations with Ankara became friendlier than ever. Nonetheless, despite initial resentment in Ankara, so much so that there were calls about withdrawing from the NATO alliance, with ascension of Donald Trump to power in the United States, meetings between Turkish officials and top security and defense officials in Washington, and Britain's Prime Minister Theresa May's heartwarming remarks during her visit to Turkey, it seems that tensions between Ankara and the West have subsided. The turn has provided an opportunity for Iran to play a new role in its relations with Russia.
The March 7 meeting between Turkey, US and Russia Joint Chiefs of Staff in Antalya, Turkey, is a turning point in the Syrian crisis. Coordination between these three can influence the entire course of developments in Syria and the future of the country. Rouhani's negotiations with Vladimir Putin and his briefing on the content of the Antalya talks will be the most important item on the agenda of the Iranian president in his visit to Moscow.
In the Syrian crisis, due to its characteristic independent-minded behavior, Iran is a challenging, non-typical partner for Russians. On the Iranian side of the story, Moscow is an intractable ally, due to the different goals and policies it follows, and its tendency to redefine the nature of the partnership at any moment. Nonetheless, both countries agree on the structure and future of Syria's political system and both believe militant groups should be brought to the table of political negotiations. Continued collaboration between the two sides on the threshold of another round of talks in Astana, Kazakhstan, is of utmost importance.
How to manage relations with Russia
Russia is a key foreign policy resource for Iran which has established significant, constructive relations with our country in all diplomatic areas. At the current point, and until the Syrian crisis is resolved, Moscow's role is more important than ever for Iran. Many Iranian and Russian commentators have a tendency to call bilateral ties as 'strategic'. True it is that with efforts carried out during the recent years, Tehran-Moscow ties have been upgraded, expanded to diverse areas including industry, tourism, cultural affairs, banking, and insurance sectors. Although the current configuration does not allow for a sudden upgrade of relations, planning can be done to move in that direction.
For Iran, sustained presence in regional affairs necessitates structuring its relations with Russia. On the other hand, Moscow will see its capacities at a much lower level if it does not collaborate with Iran. A comparison between Russia's current status with its position six years ago shows that it has turned into a more powerful country, despite serious challenges with the EU and the United States.
Redefining Tehran-Moscow relations with a minimal influence from third parties is a necessity for both countries. Neither Russia should be wary about anti-Moscow political groups inside Iran, nor Iran should be worried about Russia's interactions at the international state. Trust is the key to improvement of Tehran-Moscow ties.
* Hossein Malaek is Iran's former ambassador to China.