Principlists Blame Tehran Terrorist Attacks on Hassan Rouhani
A number of Principlists are blaming the Reformists and the Rouhani administration for Tehran terrorist attacks. Bad timing for revenge, say pro-reform analysts.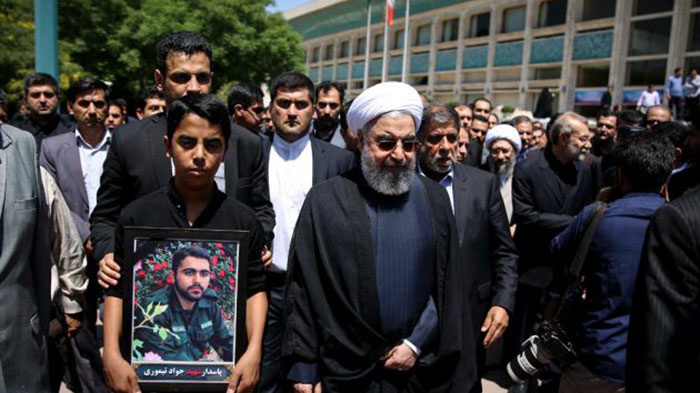 In the throes of Tehran terrorist attacks targeting the parliament and mausoleum of Islamic Republic founder Ayatollah Khomeini, and amid public concerns about contradictory reports being published, political vendetta was also under way in the wake of the attacks, where some tried to put the blame on the Reformists and the reelection of Hassan Rouhani.
Last Wednesday, a group of ISIS/Daesh terrorists ran on a shooting spree and carried out suicide attacks in the parliament complex and the shrine of Iran's first supreme leader Ruhollah Khomeini. The death toll rose to 17, including civilians and security forces.
Social networks followed the pandemonium of reports, sometimes corroborated and sometimes denied very quickly. However, some reactions to the terrorist attacks indicated political vendetta, squaring with grudges left from the election and even before.
Former lawmaker Ahmad Tavakoli was probably the first to launch the whole episode. "When I first heard the news of ISIS attack, these blood-thirsty fanatics who follow American [version of] Islam, I told myself we should remind Mr. Karbaschi and the likes of him. May defenders of the holy shrine rest in peace," Tavakoli tweeted on Wednesday, in reference to controversial remarks made by former Tehran mayor Gholamhossein Karbaschi, criticizing Iran's involvement in Syria.
This was the beginning of a new wave on social networks, pushed by users advocating the conservative camp. Launching hashtags that translate as #ShadowofWar [referring to President Rouhani's claim that the nuclear deal had moved the shadow of a likely war with adversaries away from Iran] and #CostlyCompromise, they started attacking the Rouhani administration and the Reformists at the same time. These users, generally in female disguise, stressed that Rouhani's presidency and the nuclear deal had led to the Daesh attack.
One user satirized Rouhani for throwing the shadow of war so far that it had reached the heart of the capital. Another tweet turned into the subject matter of a story in the anti-Rouhani website 598, named after the UN resolution that ended the eight-year war between Iran and Iraq. "Those who changed "No to Gaza, No to Lebanon, Let's sacrifice our lives for Iran, please! Everything is ready for you to sacrifice," read the tweet.
People who voted for Hassan Rouhani were also lambasted, as they were asked to fence Tehran borders, when they are done with their trivialities, probably a reference to civil rights.
Bellwether Principlist Kayhan daily took the debate to a whole new level when it quoted exiled analyst Darioush Sajadi, often consulted by hardliner outlets like Tasnim, Kayhan and the like, proclaiming that the terrorist attacks are direct result of President Rouhani's blinkered approach. "During your campaign, you pictured an image of Iran where you weakened the IRGC by accusing it of missiles-throwing and you questioned all the past 38 years [of history of the Islamic Republic]. These claims provided a good opportunity for the US, Saudi Arabia and Israel to activate the fault with a security challenge. You thought the Americans are mad about you, coming to lick your boots. You used every trick to steal votes and these terrorist operations in the heart of Tehran are the first results of those election games," Darioush Sajadi addressed Rouhani.
If Raisi was president
Pro-reform analyst Sadegh Zibakalam calls these accusations partisan vendetta. He questioned the link between Tehran terrorist attacks with Rouhani's reelection or the tough nuclear negotiations led by Javad Zarif in an interview with Fararu. "If a political group believes in détente in foreign policy and cooperation with the world, it is no reason to blame it for terrorist attacks," Zibakalam told Fararu. "Some have claimed that a military institution has been weakened by criticism over its involvement in politics and economy and thus terrorists have arrived in Tehran! Is it possible to weaken a military force by criticism? If Mr. Raisi [Hassan Rouhani's conservative rival in the recent presidential election] were the president, would the terrorists change their minds?" He further cited the Ahmadinejad tenure, when a number of nuclear scientists were assassinated, as evidence that it makes no difference for the terrorist if we adopt moderate or harsh policies.
Lawmaker Darioush Ghanbari also expressed regret that some political parties have started revenging their rivals while the public is grief-stricken. "Political differences and rivalries are natural and common among countries, but these are seldom used to challenge the rival when lives are endangered or lost," he added, saying the administration has also been targeted in the attacks, alongside ordinary people. He condemned such manipulations by Principlist enthusiasts, comparing their reaction with what happens in other countries, where every side tries to condole victims. Ghanbari said those on cybersphere, who have used the terrorist attacks as a pretext to criticize the administration and Reformists, represent the camp people have turned down in recent elections.
* This piece was originally published in the moderate website Fararu.