Saudi Arabia and Turkey May Be Ready to Mend Fences with Tehran
An unprecedented visit to Turkey by Iran's Chief of Staff for the Armed Forces is viewed as a remarkable sign that the two countries have reached common ground on some sensitive issues.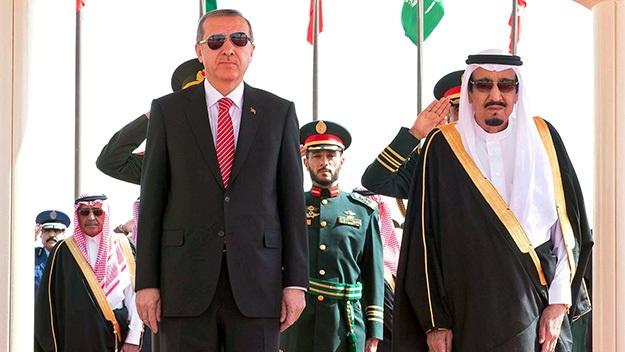 It was said that despite their common approaches in major political issues, and close economic ties, Tehran and Ankara had serious differences in security issues regarding Iraq and Syria. Major general Mohammad Hossein Bagheri's Ankara visit, upon an official invitation by Turkish military officials and agreed by Supreme Leader Ayatollah Ali Khamenei, indicates the development of a new situation in the region. Further proof lies in the shift seen in Saudi Arabia' conduct regarding security affairs. There are a few points to discuss about the new developments:
From the onset of crisis in Syria until quite recently, Turkey has enjoyed extensive ties with terrorist groups such as Al-Nusra Front and demanded regime change undemocratically at the same time. Ankara had actually turned into the most influential opposition to the Syrian government. Turkey's stance against Assad's government not only overshadowed the two countries' mutual ties, but also seriously harmed ties between Iran and Turkey, recently leading to harsh remarks by Turkish officials. Although the situation proved costly for Syria and its most important ally, i.e. Iran, it failed to change the equilibrium in Syria or Tehran's mind. The last summer coup attempt, after which Saudis and Americans could not hide their happiness, was a blow to the ruling party in Turkey, so much so that in a few days Erdogan promised to declare the country's new positions on the Syrian crisis. There was no change in his rhetoric but the shift took place rather significantly in practice. Turkey's engagement in Astana peace talks, which was evidently an alternative to Geneva and disapproved by Saudis and Americans, was a clear sign Turkey was changing its approach toward the Syrian crisis. In contrast to the tedious Geneva talks, Astana talks gradually grew to embrace a wider scope and reached tangible results after a short while, including ceasefire.

Astana talks have three supporting sides: Russia, Iran, and Turkey. Given the already close relations between Iran and Russia, and their joint efforts in Syria, most observers believed the talks would be more inclined to benefit the duet, rather than Turkey, a less influential actor in the Syrian crisis. This made Turkey invigorate its separate ties with the two, which eventually put the country in a better position, while also causing ambitious expectations for the Erdogan government. The invitation of General Bagheri, militarily only second to the Commander in Chief, i.e. the Supreme Leader, is on the one hand an effort to deepen ties with Iran and to help resolve some security concerns in Turkey on the other hand. Turkey has expectations about Idlib, asking Tehran and Moscow to accept Turkey's central role in the province, which mainly controlled by Al-Nusra. While Idlib is in a sensitive state, Iran as an actor trusted by Syrian people and government cannot accept something it know would turn into a "Gordian Knot". Ankara is also concerned about the situation after the liberation of Syria from the hands of Takfiri terrorist groups. Because at the end of the war, these terrorist would expect a place inside Turkey in return for years of cooperation with its intelligence service and army on the one hand and the country could be their best home because of its geographical and economic characteristics as well as its ethnic diversity. Naturally, Turkey will be alone in its concern if no solution emerges in Astana. It should be added that Turkey is playing the game in Syria to exert influence on parts of the neighboring country it has occupied. However, it has no official ties with the Syrian government and Damascus has no trust in Ankara's plotters. Therefore, as Syria gets closer to peace, Turkey will need the more active political ties in the Syria file. Since the ice between Damascus and Ankara is yet to melt, Turkey has resorted to Syria's ally, hoping to unlock ties.

Turkey's insistence on cooperation of Tehran and Moscow with Ankara's plan for Idlib is unlikely to reach anywhere because to relegate Idlib ceasefire to Turkey could reinforce Al-Nusra, as the country's military involvement from Azaz to Manbij, could lead to a coalition with Al-Nusra Takfiris, considered Turkey's allies from 2013 to 2016. To give Al-Nusra time and a free hand in Idlib could threaten other liberated areas including Aleppo, Palmyra, Arsal, Homs, and Hama. Therefore, the Syrian government cannot concede to a so-called de-escalation zone, where only Turkey guarantees the implementation of conditions agreed upon in Astana.
Another important point is that Syria prefers Idlib to be under Al-Nusra control than under Turkey's or both, because it views Turkey's conduct as irritating as Al-Nusra's. Thus, both Syrian and Iranian governments stress that if Idlib is to be called a de-escalation zone, paving the ground for refugees to return based on agreements in the fourth and fifth Astana summits, its necessary precondition, i.e. a guarantee for the Resistance front, must be taken into account. The argument is if Al-Nusra is not controlled, Syria's security crisis will continue. Given Al-Nusra's arrogance and the grudge still seem among Turkish officials against the Syrian government, only the Resistance axis could control Al-Nusra and bring them to the table. In the meantime, Syria cannot turn a blind eye on Turkey's claims on the region, made before and even during the Syrian crisis.
Nonetheless, Turkey visibly faces a large number of limitations, which has made it draw a new conclusion. Turkish officials have no choice but to compromise on Idlib because it will not reach anywhere without talks with Syrian and Iranian officials. Turkey's biggest weakness in the Syrian file is the cessation of official ties, whereas the two other Astana parties either have strategic ties with the Syrian government or are close. If Turkey wants to play a determining role in Syria, it should stop wasting time on resuming contact with Damascus.
Signs coming from Saudi Arabia also indicate a level of readiness among Riyadh officials to redefine political ties with Tehran. Saudi Arabia has issued an official statement denying remarks made by Iraqi Interior Minister Qasim al-Araji, in which he said Saudi Crown Prince Mohammad bin Salman had asked him to mediate between Tehran and Riyadh. However, everyone knows al-Araji could not just make up the story. Other signs include Saudi Arabia's moderate behavior with Iranian haj pilgrims, its allocation of three diplomatic bureaus to Iran's foreign ministry to help resolve haji issues, and Riyadh's request to send a delegation to visit its closed embassy in Tehran.
Although it is early to judge, there are signs that like Turkey, Saudi Arabia has reached the conclusion that its policies cannot go on after costly support for Takfiri terrorism, military invasion on a neighboring country, and being left alone in the military scene, now leading to conflicts with previous Arab allies. Therefore, it can be said that despite Mohammad bin Salman's unsophisticatedness to make a quick U-turn, empty hands keep reminding him of the need for a reconsideration.
True Turkey and Saudi Arabia are incomparable in many aspects. However, since they have been through a similar narrative in terms of the rise of Takfiris in the region, they will naturally experience the same situation after Takfiri militias are defeated in Iraq and Syria. The wisest path for them is to open their shut windows toward Iran, letting in some fresh air in Riyadh and Ankara.
* The piece above has been adopted from Sa'dollah Zarei's Persian article, published in conservative Kayhan daily.